Buying life insurance can be the hardest part of adulting because it's morbid. You must face the reality of your death and your family member's deaths. No one wants to talk about it. Plus, there are so many unfamiliar terms you may not know about life insurance policies. As we wrap up September's Life Insurance Awareness Month, I wanted to explore some important insurance terms/factors that can guide you in your life insurance decisions. As the COVID crisis has taught us all, life can be cut short. There is no guarantee that you'll grow old, retire and live long enough to see your grandchildren grow up.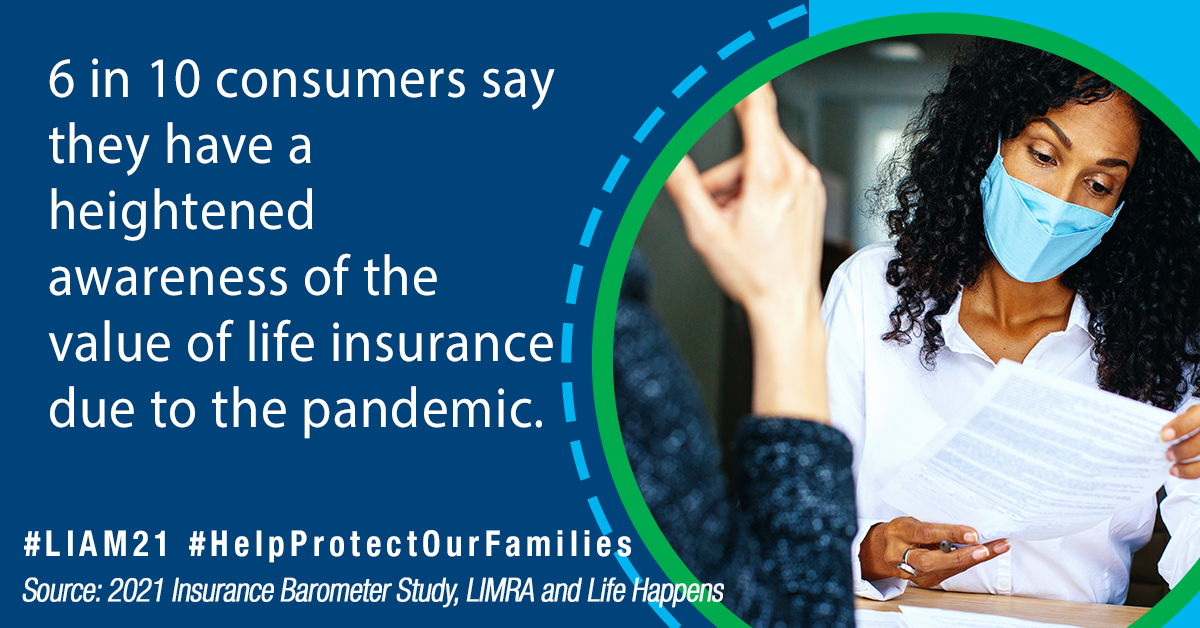 If you're the breadwinner in your family or the primary caretaker for your children, your death could have far-reaching financial repercussions for your family.
After you're gone, your family will be concerned with:
Funeral expenses
Loss of income/childcare
Housing & living expenses
Debt repayment (medical & personal)
Grief
Although the loss of my income wouldn't upset our family's financial outlook like my husband's loss would, women can't devalue their labor at home that doesn't come with an income. Typically, we handle or manage childcare, along with household management.
Reminder: Stay at home parents need life insurance coverage too!
Look over these top misconceptions about life insurance by Life Insurance and Market Research Association (LIMRA).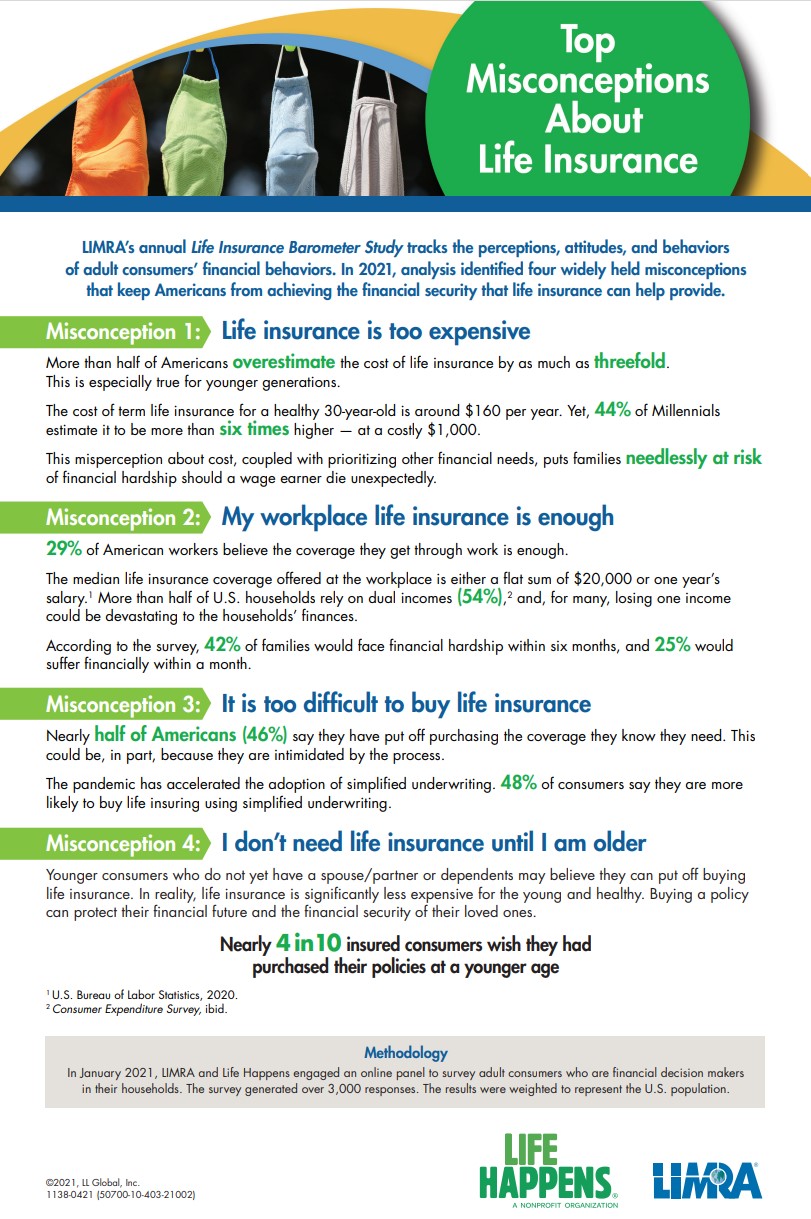 Do you think life insurance will be expensive or too difficult to buy? Are you confused or overwhelmed by the prospect of buying life insurance?
Life Insurance Terms You Need to Know
Death Benefit: The amount your beneficiaries will receive upon your death.
Premium: Fixed monthly and yearly payments to cover life insurance policy. The younger you are, the cheaper your life insurance is. The older you are (are more likely to die), the more expensive your insurance is. Waiting until you're in your 60's and up to purchase life insurance can be unaffordable. Medical issues could also influence whether you're eligible.
Term life insurance: Life insurance that has a set term of coverage (10 or more years). At the end of the term, you're no longer covered.
Whole life insurance: Life insurance you typically pay until you die unless the investment portion of this option covers your premium. You can borrow against a whole life insurance policy and pay it back.
Workplace life insurance: Your employer may provide an affordable life insurance option because they're purchased as a group. In many cases when you leave your job, you leave your insurance benefits behind. Many financial planners will remind you to get life insurance from an independent company that's not tied to where you work.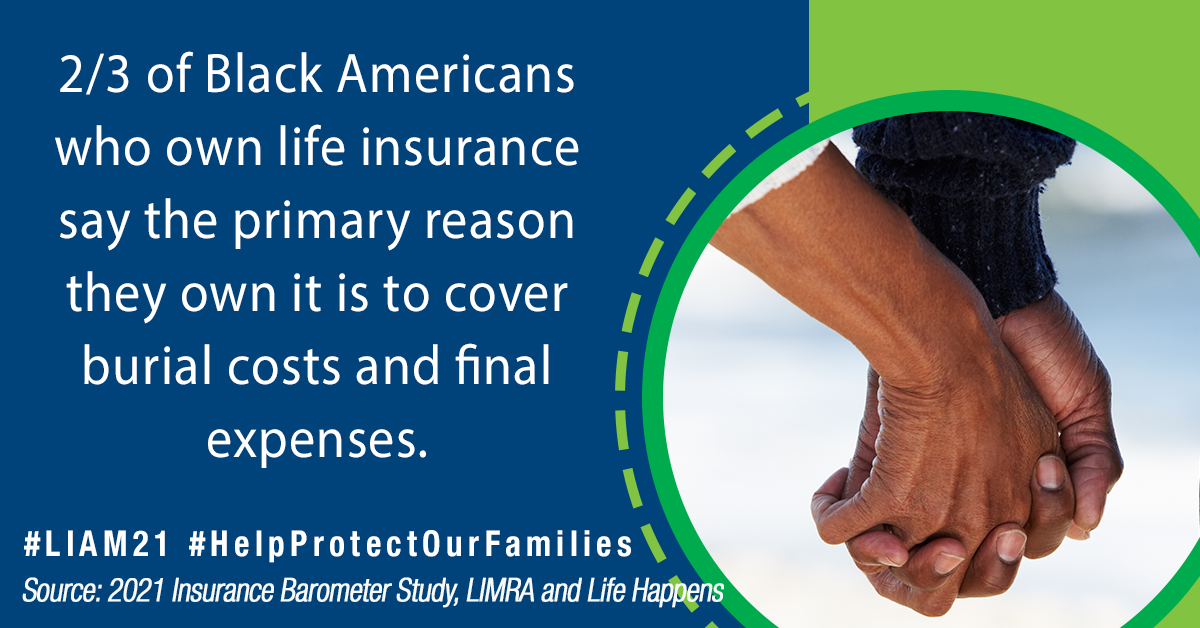 In case you missed it, I shared several posts on parenting, expenses, and important life decisions including:
5 Estate Planning Steps You Take Make on Your Own
12 Life Events That Require a Family Meeting
How We Prepared to Meet With a Prudential Financial Advisor
7 Important Things Parents Should Do at the First of the Month
Our Family's Conversations Talks Are Better Than Ever