Are you a mom who would like to
create your own business,
but you can't find a business idea that suits you?
Would you like to pursue your passion
while having the flexibility to work from home?
As a former TV news anchor and
Emmy award-winning TV journalist,
that's exactly what I've done with my parenting talk show & video blog.
I'd love to show you how can turn  
your skills, expertise and professional background
into a business
with 

Use What You Know: A Business Idea Guide for Moms.
DOWNLOAD IT NOW
$12
Inside this easy-to-read guide, you will:
Get revealing answers from successful mompreneurs who turned their skills into a business. They have backgrounds in everything from 

nursing to photography to business management

. I asked them the burning questions every mom business owner wants to know!

Watch VIDEOS (yes, videos are included) that will help your grow your business using social media.

Get blown away by a super simple business idea you can start today with NO start-up money or marketing!

Discover common newbie business owner mistakes and how to avoid them!

Find links to the online resources all of the featured mompreneurs use to network and manage our businesses.

Tackle time-managment and flexible childcare – two huge hurdles for work at home moms!
Who's featured in the guide?
A mother of

QUADRUPLETS

(yes, she has four daughters)

 whose work is featured in a downtown Atlanta hotel.

A mom who uses Skype to work with clients all over the world!

A serial entrepreneur who has DYNAMIC networking advice and is a pro at getting things done!

A mom who was inspired to create a business that's PERFECT for moms who want flexibility while using their professional skills.

A mother whose EXPERTISE was instrumental in the World Trade Center settlement.

And me – an Emmy award-winning TV journalist who's interviewed Oprah and appeared on ABC's The View twice in my career, then created my own parenting talk show. I do most of my work using low-cost technology while my son is napping.
Rave Reviews from Moms & Bloggers:
"Use What You Know is perfect for all businesswomen from bloggers to those running e-retail stores who are always keen to learn from others who have been there, done that. You will find free and very inexpensive marketing tips from these women and learn how they have pushed from the idea phase to the income generating phase of their business. A brisk 45 pages long you will be able to read Brewer's e-book in one sitting and return to it time and again for motivation and inspiration to start or improve your current business." – Jennifer James, Mom Blog Magazine
"While reading this book I felt as though I was sitting in a room with these ladies sharing their stories and awesome tips.  Needless to say I was very inspired when I was done. I recommend this book to anyone who is looking for a career change, has a hobby they love, in a dead end job or just wants to be an entrepreneur!" – Trina Small, The Baby Shopaholic
"I finished it in one day. Really great advice and encouraging…I love books where I can see examples and having the other moms in there was perfect. Thanks so much for sharing that advice…Thumbs up." – Krystel Spell, Army Wife 101
"With a little creative thinking Joyce Brewer and the moms she has interviewed have come up with ideas that don't require major investments of time or expense to get started. In fact, the book has been an inspiration to my OWN mom, who is a retired RN. I highly recommend Use What You Know as a jumping off point for brainstorming your new business as it features real-live women who have taken their own advice." – Lisa T. Richardson, PhD.
Are you ready for…
The FLEXIBILITY to have play dates any time, stay at home when you child is sick and go on vacation on a whim?

CONTROL over how much money you earn?

FREEDOM from rat race that forces you to spend hours commuting to work?

If you can answer YES to any of those questions…
Read the guide
on your computer OR tablet.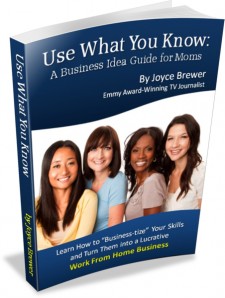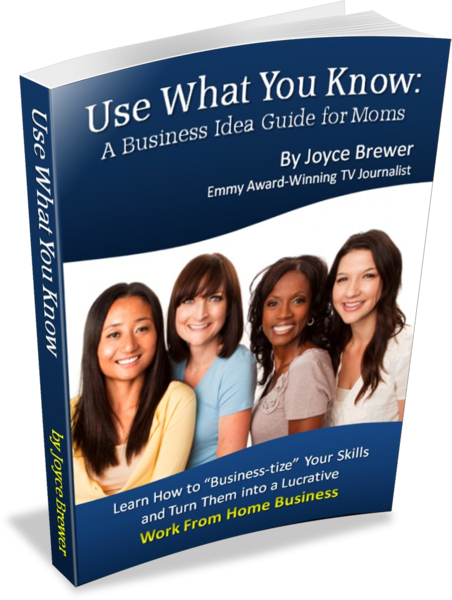 Get instant access to the guide!
Watch videos that will get your business started and making money!