{I failed to live up to my 2018 Focus Word, so I'm using it again in 2019. If you'd like me to explore that idea of failure even more, comment below.} In case you don't know what a Focus Word is, it's an alternative to a New Years Resolution. You can select an inspiring word to set the intention for the year ahead as your Focus Word for the New Year. Throughout the last week of December, everyone I knew on Facebook seemed to be talking about their Focus Word. I saw them sharing uplifting words like…
Soar
Limitless
Fearless
Motivated
I started to feel weird because I had absolutely no inspiration.  The words they'd chosen were not a good fit for me, so I decided to focus in on the overall sentiment I carried through much of 2017.
The problem is 2017 was just OK or slightly below average. But with everything going on politically with the presidential election, the mass shootings in Las Vegas and Pennsylvania, to watching friends lose love ones this year – I just felt bad about feeling bad since my problems were nothing in comparison.
Professionally, 2017 for me was just sub par. It was not great. It was not fantastic. Don't get me wrong I had fun partnering with brands. I covered events here in Atlanta.  I traveled to Orlando and New York for blogging, but it just wasn't as marvelous as I could have made it.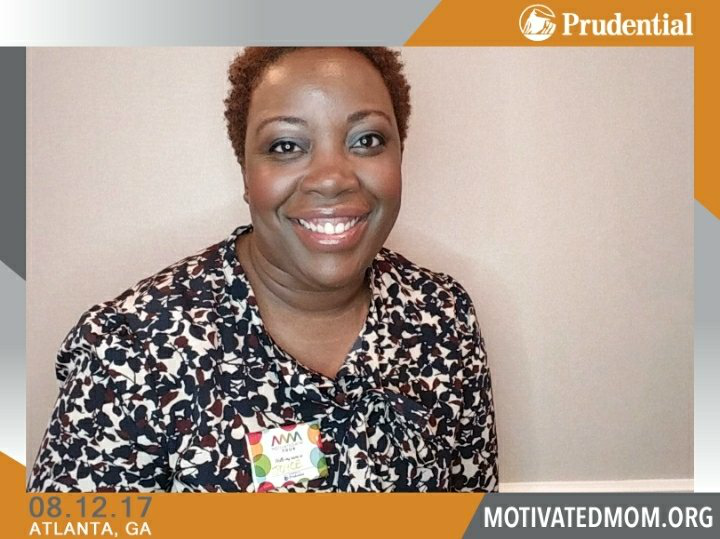 I had no one to blame but myself.
At times I didn't feel qualified, even with my long background in TV and a Master's Degree in Broadcast Journalism, I second-guess myself. I know I'm not the only woman who feels this way. One of my business coaches, Angela Stalcup used the analogy of how a man will read a pamphlet on a topic he's not familiar with – yet he'll feel capable of pitching it as a business idea. Meanwhile, I woman will feel like she needs to earn another degree, take two e-courses and will read countless books before we feel qualified on a topic.
I let opportunities slip through my hands because I didn't feel capable – which helped me create my word for the new year and it is…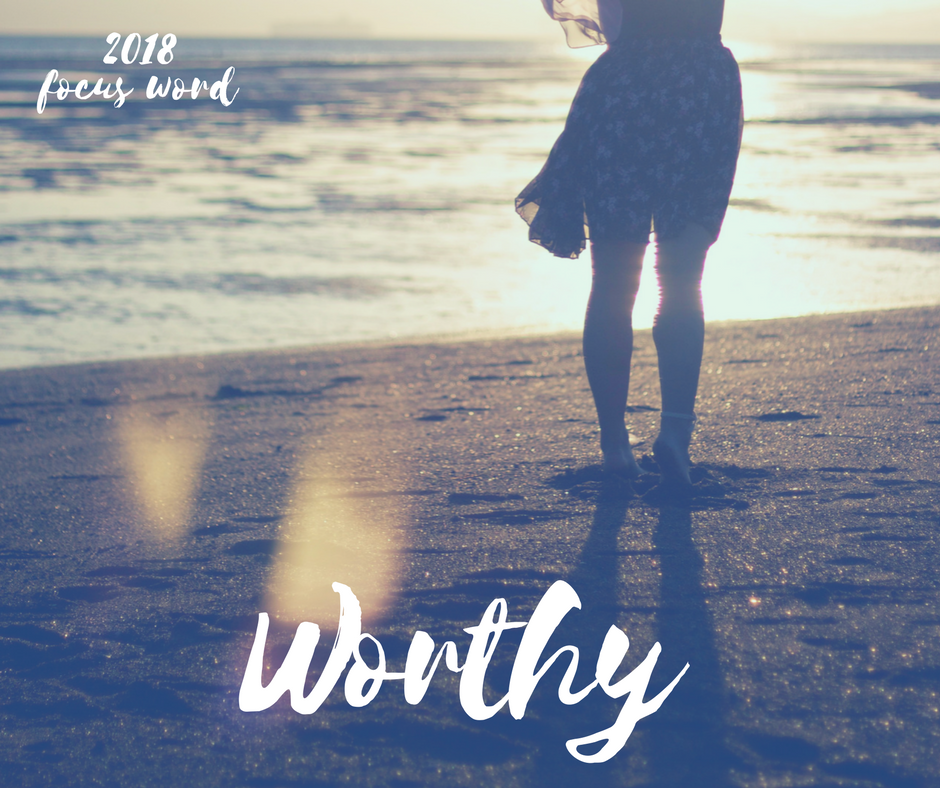 For the last two years I would say I kind of got into a habit of accepting things that were sub par.
I was in this mode of just getting by. It was NOT in a mode of reaching for the stars or standing out.
I was just going along  – to get along.
I realized this most in the last month or so. Our king sized box spring on my side of the bed broke awhile ago. My husband patched it a few times, but it kept breaking. It had been broken so long that I was used to the way my bed felt with it sinking lower than it should when I went to bed. I kept putting off replacing it because I thought the money could be better spent elsewhere. Somehow I forgot that I had a store credit at Underpriced Furniture store that more than covered the cost of replacing the broken box spring.
When the furniture delivery guys set up our bed with the new box spring and I sat on it for the first time, my body almost didn't know how to react.
It had become a reflex to sit on the bed and feel it sink a few inches.
Little did I know I was dismissing my needs to sleep comfortably because I wasn't making myself a priority.
Then I saw Facebook video by actress Jenifer Lewis, who you may know her from her portrayal as a grandmother on ABC's black-ish. She released a new book, The Mother of Black Hollywood: A Memoir, at the end of 2017.  Lewis was featured in a Jezebel video explaining how she had coped with bipolar disorder earlier in her life until she realized she needed to change her life for the better with medication. Warning: NSFW if you listen to it at work with the volume up.
I'll paraphrase her quote because she used  a word some may find offensive:
 "You sit in BEEP too long, it stops smelling.
So come the BEEP outta there."
In other words if you start accepting crap (sub par/basic/low quality), after a while it will stop feeling mediocre. It will feel quite normal. Too normal.
This is exactly what I'm leaving behind in 2017. I'm looking forward to 2018 where my standards, my self-esteem, and my overall well-being reflects that I am Worthy.
By Worthy, I mean: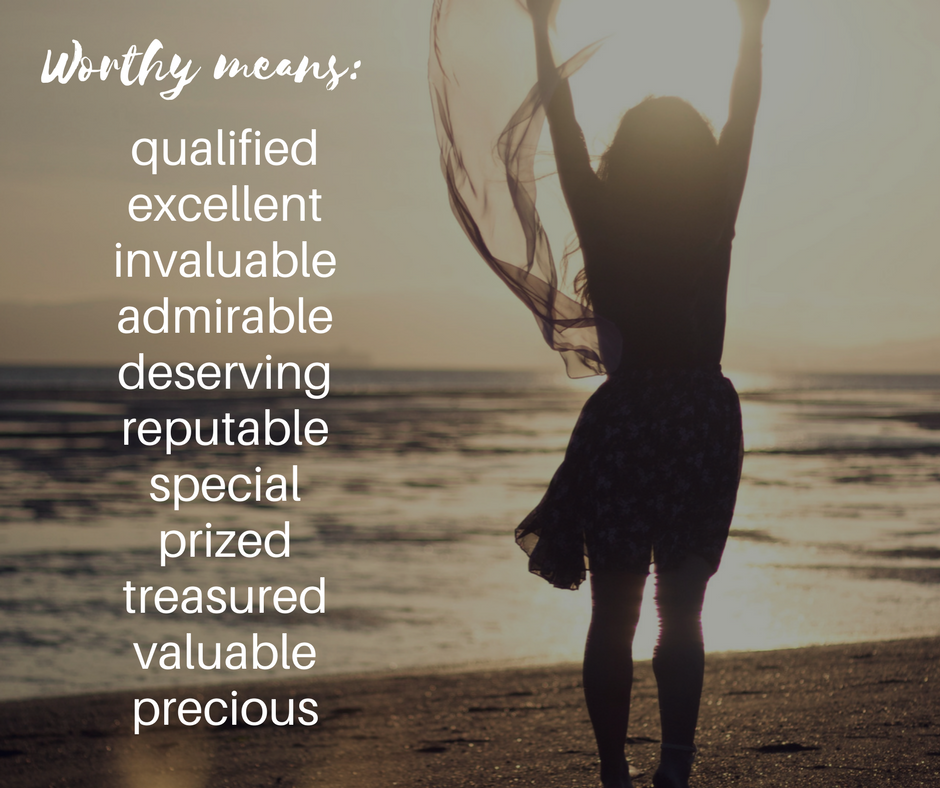 How to Select a Focus Word for the New Year
Reflect on the previous year. What went well? What went wrong? What would you like to replace or do differently?
Visit the journal or calendar section of stationery and craft stores. Look over their cover designs for inspiration.
Select a word that's the opposite of any negative sentiments you felt the previous year. Ex. If you felt overweight and out of shape in 2017, choose a word like Airy, Lightweight, Active, Fit or Athletic. A thesaurus can help you find an array of words
Give yourself time to select a Focus Word. Choose a Focus Word for the week, month, quarter or even for the day.
If there is a feeling or a sentiment from the previous year that made you feel less than, weighted down or unmotivated –  choose the opposite as your Focus Word for the New Year.
If you don't have a Focus Word set by the first of the year, cut yourself some slack. You can set a Focus for the week, month, quarter or just for the day if you really need it.
Here are some helpful goal-setting tips for work at home moms: 3 Daily Goal Setting Tips for Work at Home Moms | 4 Ways Moms Can Make Long-Term Project Goals a Reality