Check out my YouTube video showcasing why I hope people won't compare the new ABC Show black-ish to The Cosby Show and keep reading for more details on the show including its controversial name.
New ABC Show black-ish
Video recap
:
"I feel like I'm especially qualified to tell you to make this distinction as a child who was raised in the 80's, grew up in NY and actually saw a live taping of The Cosby Show – the one where Lena Horne appeared and sang a melancholy song for Denise who was turning 16….plus I'm Black and in some ways Blackish…
So what makes blackish different from The Cosby's – a lot – although their similarities are more apparent.
Both are affluent black families – where one parent is a doctor – in this case it's Tracee Ellis Ross' character – Rainbow – who plays the mom.
There are several cute kids. They live in a beautiful home. But that's where it stops.
Cliff Huxtable – didn't talk about any racial issues he had on the job.
Andre Johnson – talks about it A LOT.
Denise, Theo, Vanessa, Rudy and Sondra – didn't try to be anything other than what they are.
Andre Jr. – wants to have a Bar Mitzvah
All the Huxtable grandparents – popped in for visits. Dropped their nuggets of wisdom during parties and anniversaries.
Laurence Fishburne's character – Pops – is there 24/7  – living with the family and showing his approval or disapproval of his son's parenting skills.
Essentially – The Cosby Show was about a family who happened to be Black. Black-ish – is about a Black family trying to figure out what that means in 2014. It's an in your face, funny and necessary sitcom for
But one way I do hope you compare blackish to The Cosby show  – is in the "historicness" of a Black family sitcom on a major network – which has been lacking for years."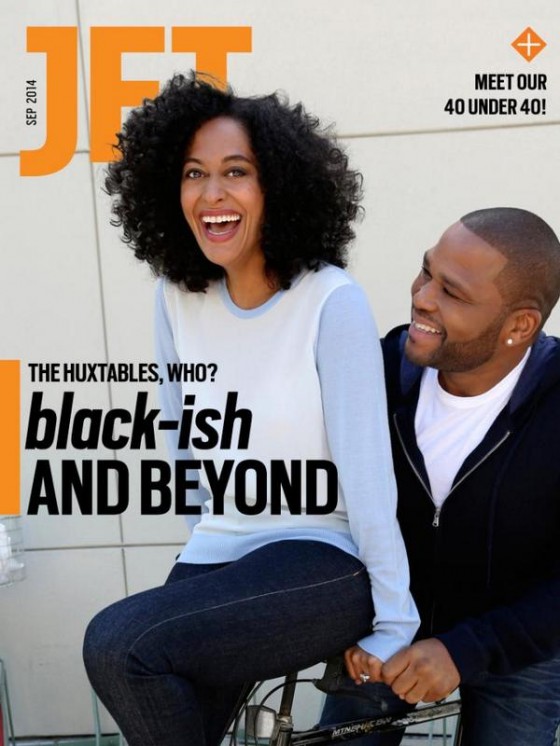 black-ish Creator
Kenya Barris has something in common with comedy legend Bill Cosby. Barris created the Johnson family based on his own: a wife who's bi-racial, they have five kids and live an upper class life. Read his interview with the Huffington Post on the title and pitching the show to major networks. Barris said, "We wanted to make this show the same way for me, growing up, "The Cosby Show" was like, "Oh my God! I want that to be my family." We wanted to make this show aspirational and we wanted to build off of what Dr. Cosby did in a really positive way."
Anthony Anderson and Laurence Fishburne are the show's Executive Producers. It's clear from the premiere episode –  is a well-produced, professional and high quality show.

black-ish Controversy
There's already plenty of controversy about the title: black-ish.
People are put off by the title because they're concerned about what the word means,
Watch Black-Ish first, before you make up your mind. The show is NOT just for Black viewers. It's a family sitcom anyone can learn from.
Granted, there is no show called "White-ish" because there's no need for it. White characters and themes are throughout network television. This will be the first Black family sitcom  a major network that I can recall since My Wife and Kids.
My question for ABC: Are you trying to attract Black viewers or a cross-section of viewers? The screening I attended in Atlanta only had Black viewers in attendance. Others may have been invited, but I didn't see any diversity.
black-ish Premiere
The ABC Show black-ish premieres Wednesday, September 24th at 8:30 p.m. CST/9:30 p.m. EST right after Modern Family.
Follow blackishABC on Facebook and tweet @black_ishABC. I'll be tweeting every Wednesday because I like the premise of the show and not for a paid campaign.