At the end of every school year, I dread planning for summer.
It's hot. It's expensive to feed growing kids. It's a delicate balancing act to keep an energetic boy who's an only child – busy.
I want nothing more than to sit around at the pool every day and relax. But when you're self-employed, there are no days off without a lot of planning.
This summer, we raced from camp-to-camp every week in June, then took most of July off from daily demands.
I wish I could say A.J. didn't have any tears or disappointments or emotional bumps and bruises this summer. But he did.
A.J. grew quite a bit in the weeks since he finished first grade.
Physically  – he looks longer, leaner and finally weighs more than 50 pounds.
Emotionally – he still a big boy, but becoming a little man.
He's still very much attached to me and laid on the mommy guilt thick & heavy before I left for a conference in Orlando, Florida. In case you missed it, check out "I Haven't Even Packed for My Conference and Already I'm Filled with Mommy Guilt."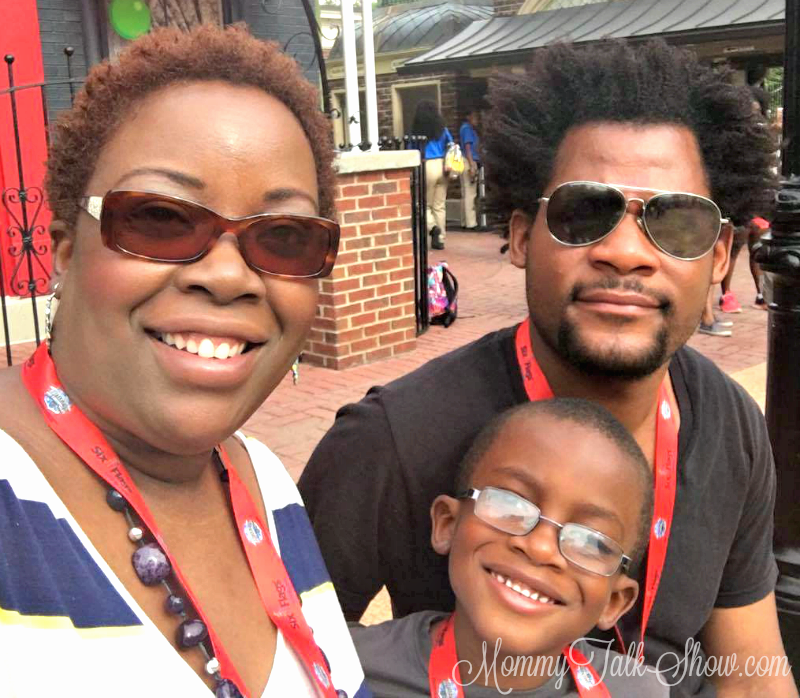 This summer A.J. learned a lot of lessons that we didn't know were ahead. We're proud of how he's handling the process.
Every camp day isn't fun.
He attended four different camps this summer. I think he expected it to be non-stop entertainment, unicorns, popcorn and cartwheels. Each camp had its own structure and activities. Although he came home some days and complained that camp wasn't fun, I reminded him that there are plenty of things we have to do in life that aren't fun.
Washing dishes isn't fun. Washing the car isn't fun. My job has tons of non-fun duties.
That's life! Have you ever met a 20-something who's self-absorbed and used to the world catering to them? We refuse to raise an irritating adult.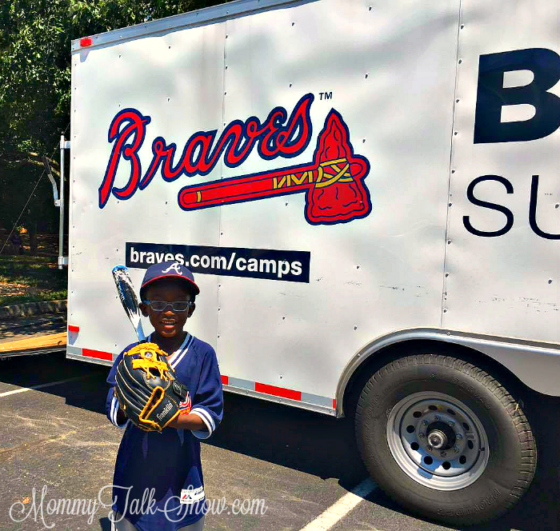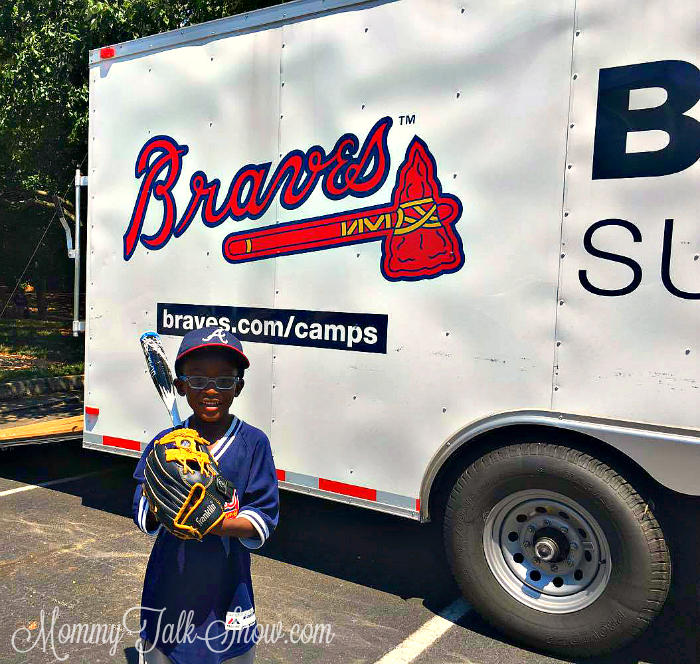 Sports Camps can be tough.
Both Braves Camp last year and this year's Jr. Hawks Camp were a physical and emotional stretch for A.J. He didn't start playing formal sports until he was six. In the South, that's about three years behind the average student. I was amazed at how early boys start playing tee-ball.
This year, he got some negative feedback from kids at Jr. Hawks camp. Although the other kids' words, "You can't play", "You can't shoot 3's" and "Get off the court" were NOT sportsman-like conduct, we talked about how he would treat younger, inexperienced players on his team.
A.J. said he's going to remember how horrible their words made him feel, so he won't treat anyone else that way. I pray this lesson sticks with him.
Everyone says he's getting taller.
Something happened this summer although I'll need to go back to the pediatrician for his measurements to confirm.
But every time I dropped him off at camp, then picked him up the same day – he looked taller. I guess summer growth spurts happen during daytime hours.
This was the perfect summer to try a new fashion line for children and moms, Minnow and Mars that we received to review.
Here's A.J. in his Minnow and Mars Red Chambray Pocket T-shirt. The color block t-shirt was perfect for our summer fun and the shorts are 100% cotton.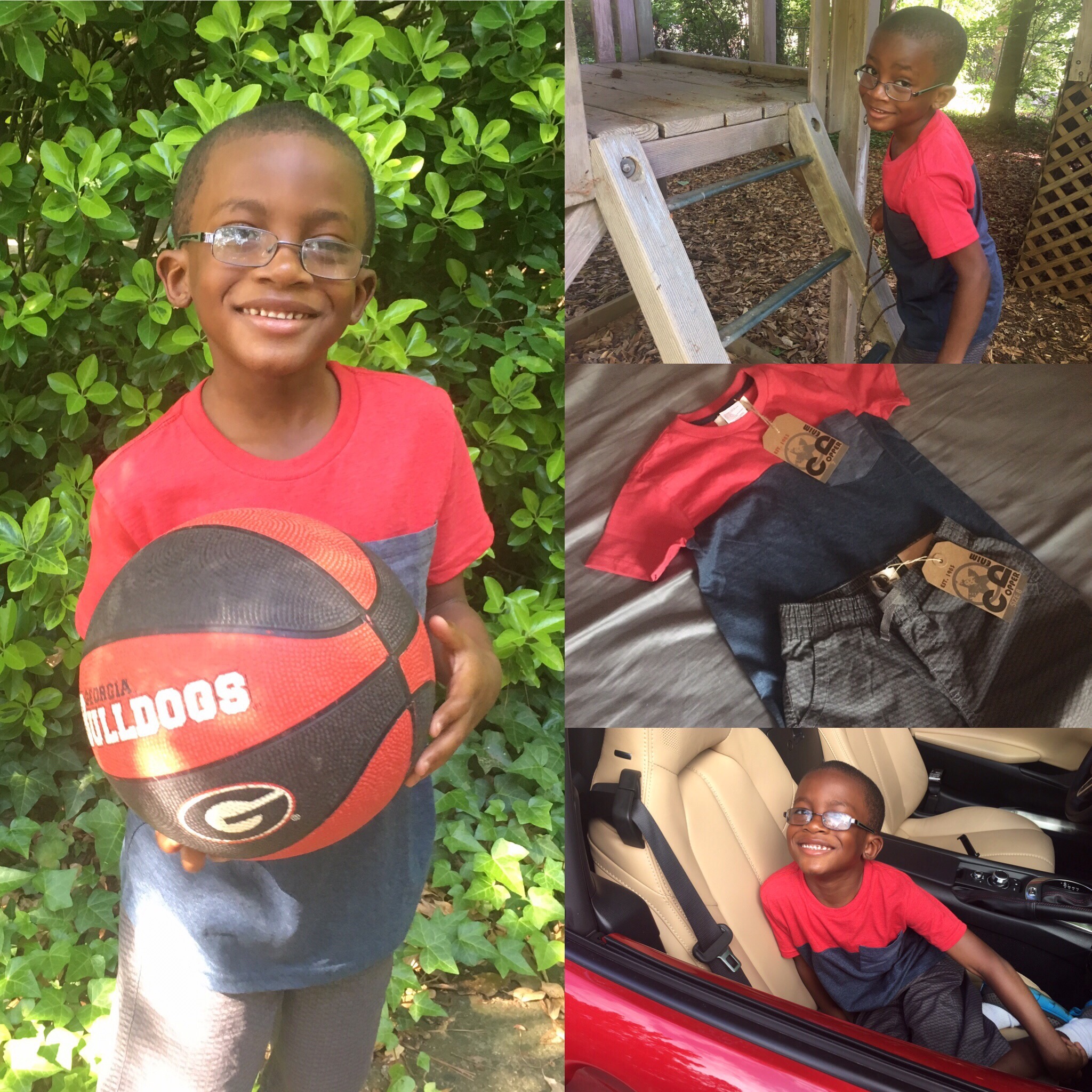 He can shower, shampoo, and dry himself.
Every kid's progression is different.  For us, seven seemed to be the ideal age to give him the task of bathing himself. I asked several parents on the Mommy Talk Show Facebook page for their opinions and opinions:
At this age, A.J. can keep track of the important places to wash, keep the shower liner
inside the tub
, as well as limit his use of body wash and shampoo.
Hint:
Pump bottles of products are great for the littles who are starting to bathe themselves. I can explain that two pumps of body wash and two pumps of conditioner are just right.
Parents will comfort you, but not make things easy for you.
When I shared on my personal Facebook page how A.J. had his first dose of how mean kids can be, several of my friends were fired up. They wanted to talk to those kids, the coaches, and everyone who's involved.
Unfortunately, the world isn't full of nice people. Every person isn't going to like A.J.
Much of what was said to him was outside of the earshot of the basketball coaches. Mean kids are pros at this, just like adult bullies who whisper things under their breath.
So we are here to comfort and remind him that we love him, that God loves him, that he should be a reflection of this love – even if other kids don't reflect it back.
For more insight on enjoying your summer with your family check out:
25+ of the Best Summer Movies for Boys | Where to Find Free Kids Events | 10+ Questions to Ask BEFORE You Register for Summer Camps