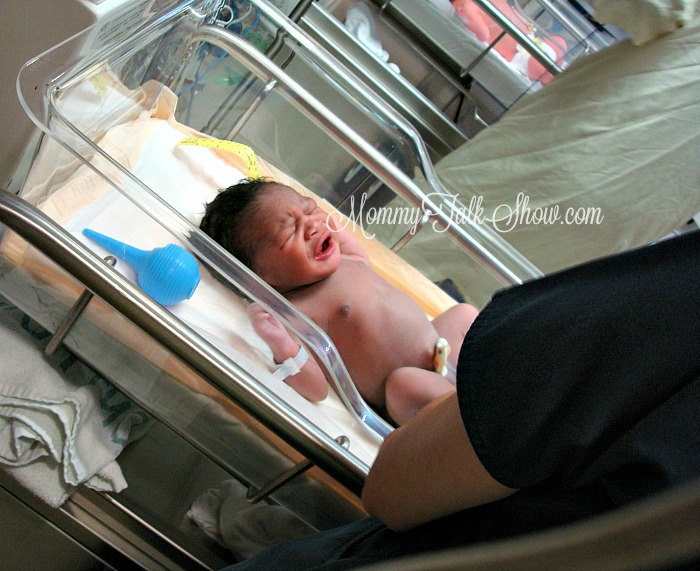 I remember reading endless pregnancy and baby books as soon as I found out we were expecting. I was set on having a healthy pregnancy, by limiting my junk food intake and doing everything to keep our son healthy. I visited several Atlanta pediatrician's offices to see which one would be a good fit. With Atlanta traffic and the number of visits to the pediatrician in the first six months of a baby's life, I chose a nearby office. I remember during one of the tours with a group of parents, vaccination schedules were a huge topic. I already knew we'd follow the recommended schedule for infant vaccinations.
When A.J. was born in 2010, he received the Hepatitis B immunization in the hospital and all of his recommended shots since then. Aside from his food allergies, vision problems and drooping eyelid, as well as the occasional case of the flu (the year we I forgot to get the vaccine) – he's been very healthy.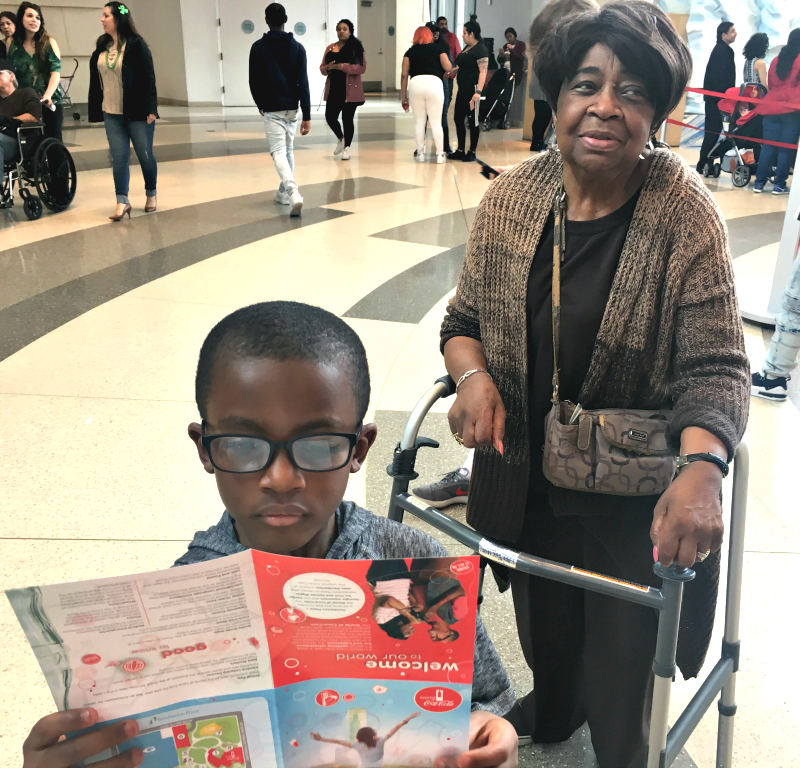 The last nine years of his life have been a blur.  A.J. is headed to the fourth grade in the Fall, he's into video games and I'm suddenly quite embarrassing to him. He's even taken after his TV Mom and Dad by acting as a "kid correspondent" on board our 2015 Carnival Cruise. He loves visiting attractions around Atlanta, like World of Coca-Cola and the Children's Museum.
At a "tween" he's really starting to blossom and become his own person. His opinions are strong! So are his likes and dislikes. Thanks to many of the health decisions we made when he was an infant, he's healthy enough to live out his dreams and his love for math.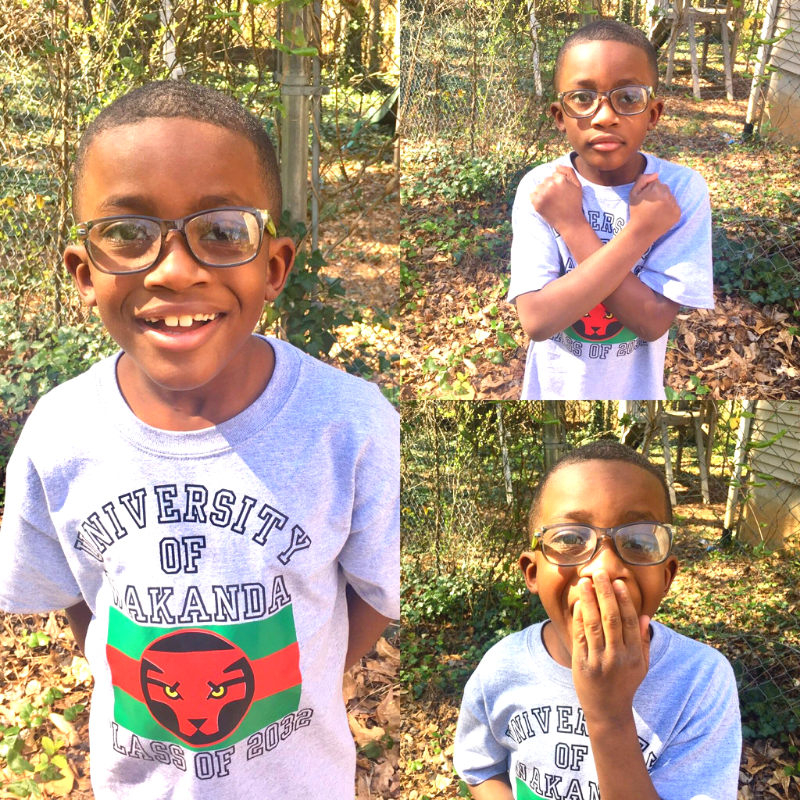 I'm proud to team up with the Centers for Disease Control (@CDCGov on Twitter) for National Infant Immunization Week. All week long you'll find great resources for parents to get answers to your immunization questions on the CDC's profiles.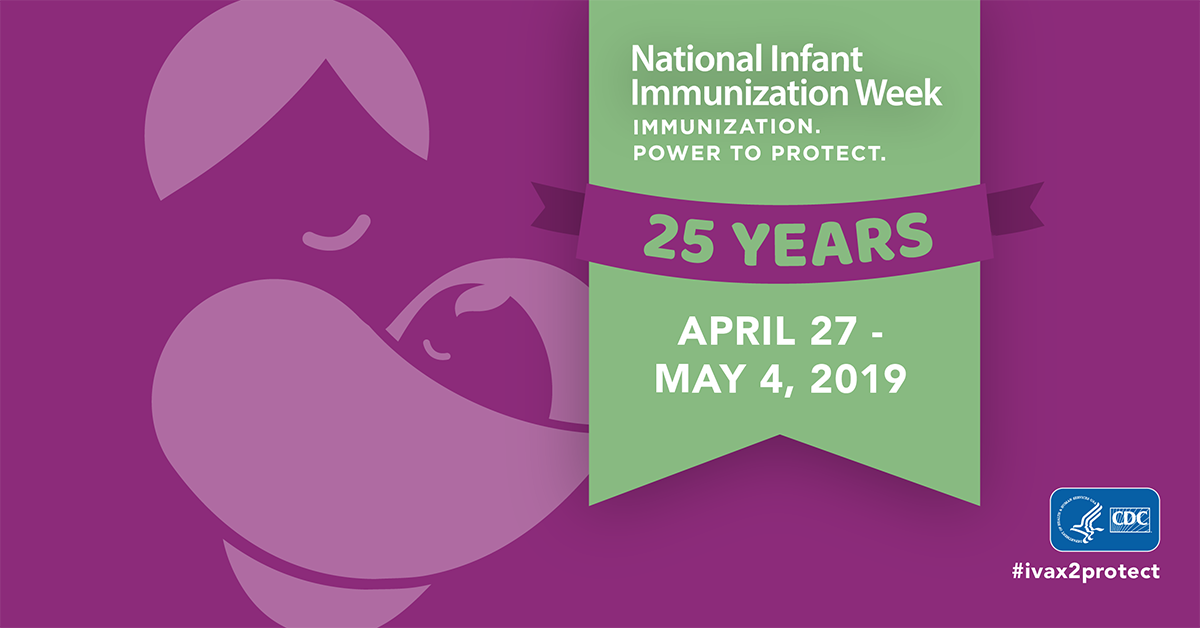 #ivax2protect Twitter Event
Join this week's Twitter Chat where health experts and parents will provide life-saving information on how to follow a recommended vaccine schedule and how to handle the common reactions after your child gets their shots.
Date: Tuesday, April 30, 2019
Time: 7-9 p.m. EST
Participating Twitter Accounts:
@CDCgov (CDC)
@DrNancyM_CDC (Dr. Nancy Messonnier, Director of National Center for Immunization and Respiratory Diseases)
@AmerAcadPeds (American Academy of Pediatrics)
@healthychildren (Official Website of the American Academy of Pediatrics)
@whattoexpect (Source for parenting and pregnancy information)
@heidimurkoff (Author of What to Expect When You're Expecting)
@CDCDirector
CDCFlu
RETWEET TO SHOW VACCINATION SUPPORT: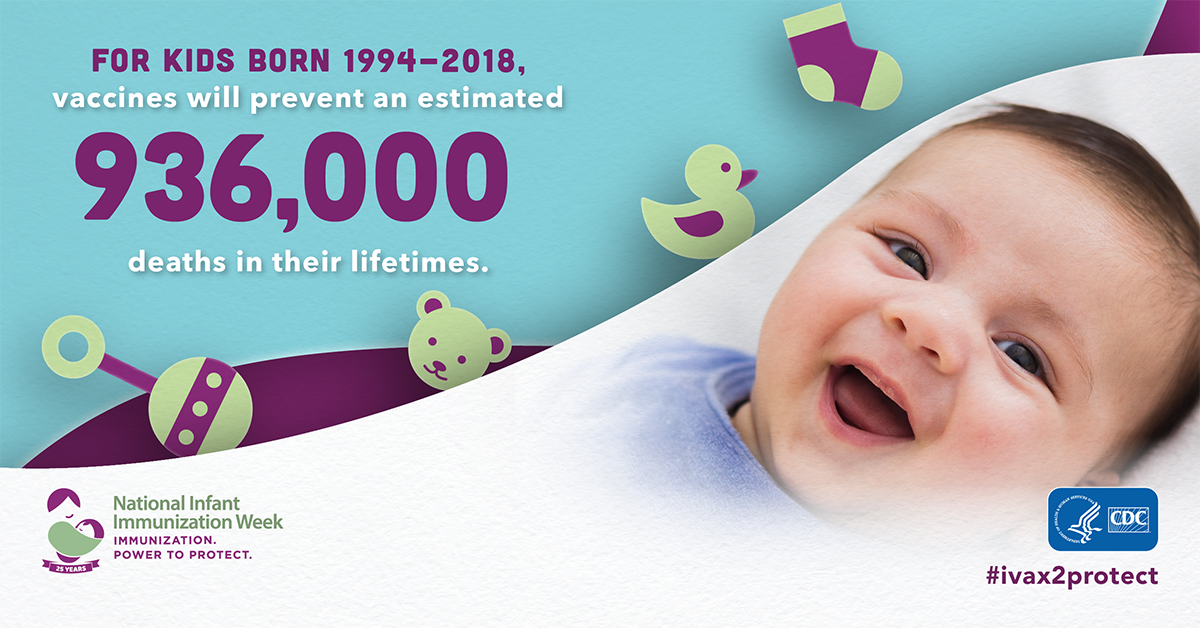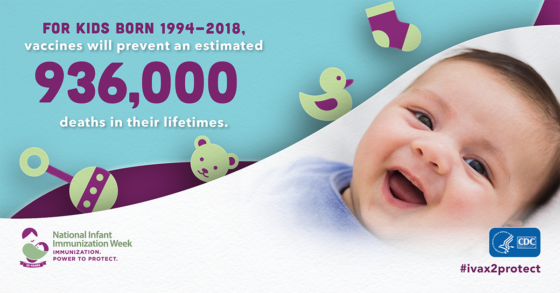 Infant Immunization Resources
"Defend your baby against 14 serious childhood diseases, like measles and whooping cough, with the safe, proven protection of vaccines. Giving him all the recommended immunizations by age two is the best way to protect him. For more reasons to vaccinate, visit CDC's vaccine website for parents: http://www.cdc.gov/vaccines/parents/"