I can't wait for the 2016 365 Black Awards presented by McDonald's this week. You can watch the 13th annual event live on Black Entertainment Television (BET), September 1st at 8 p.m. CT/9 p.m. ET. But you can also get social during the event at the #365Black Awards Twitter Watch Party. Join me because I'll be tweeting about the honorees and music live in this fun, paid partnership with McDonalds.
#365Black Awards Twitter Watch Party
Date: Thursday, September 1, 2016
Time: 8 p.m. CST/9 p.m. EST
Hosts: @365Black @TheNetworkNiche @MommyTalkShow @PhilZendia @TheKylaLive @LittleTechGirl @SesyNurse
Prizes: TBA
Click to tweet:
I'm joining @365Black for the #365BlackAwards watch party and #Twitterparty! RSVP https://t.co/FE1LWGzIIQ pic.twitter.com/D13c5ji7Q3

— Joyce Brewer (@MommyTalkShow) August 31, 2016

As a parent of an energetic, smart boy I'm most interested in hearing about the youth who'll be honored at the 365 Black Awards. Two young honorees will receive the Community Choice Youth Award (CCYA). You can read more about their contributions on the McDonalds website.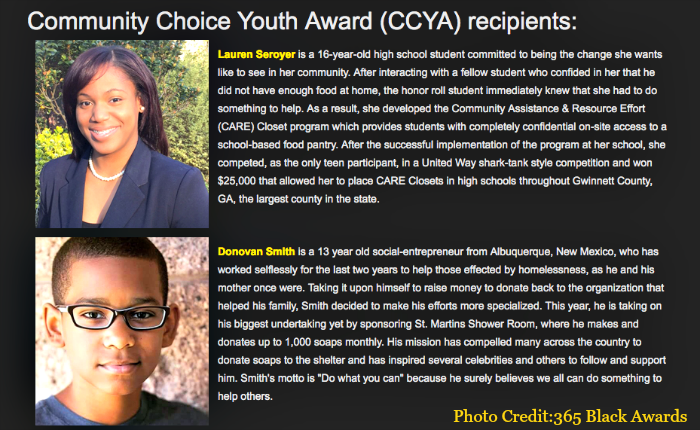 The other 365 Black Awards honorees include Grammy winner Toni Braxton, actress Wendy Raquel Robinson along with athletes and community activists. Expect to see performances by The Braxtons to honor their "big sister," as well as plenty of fun from hosts Amber Riley and Lance Gross.
In case you miss the #365BlackAwards Thursday night, it will re-broadcast "Sunday, September 4 at 10:30 a.m. EST/9:30 a.m. CST on BET and on CENTRIC-TV on September 11 at 11:00 p.m. EST/10:00 p.m. CST and again on September 12 at 10:00 a.m. EST/9:00 a.m. CST."