I asked my buddy Amy Parsons to share her thrifting expertise today on the show. Every time I see her  – her family is sporting something new that she nabbed at a fraction of the cost at a second hand store. Enjoy Amy's Thrifting Guide for Newbies and share it!
If you've never shopped second hand stores I encourage you to give it a go and discover the joy of the hunt, as well as the savings. You'll be surprised by the high quality items you can purchase there  I'm always in pursuit of filling a need, or upgrading our home goods, be it clothes, furniture or accessories. As a single income family with lots of needs and growing children, I've learned the "Art of Thrifting."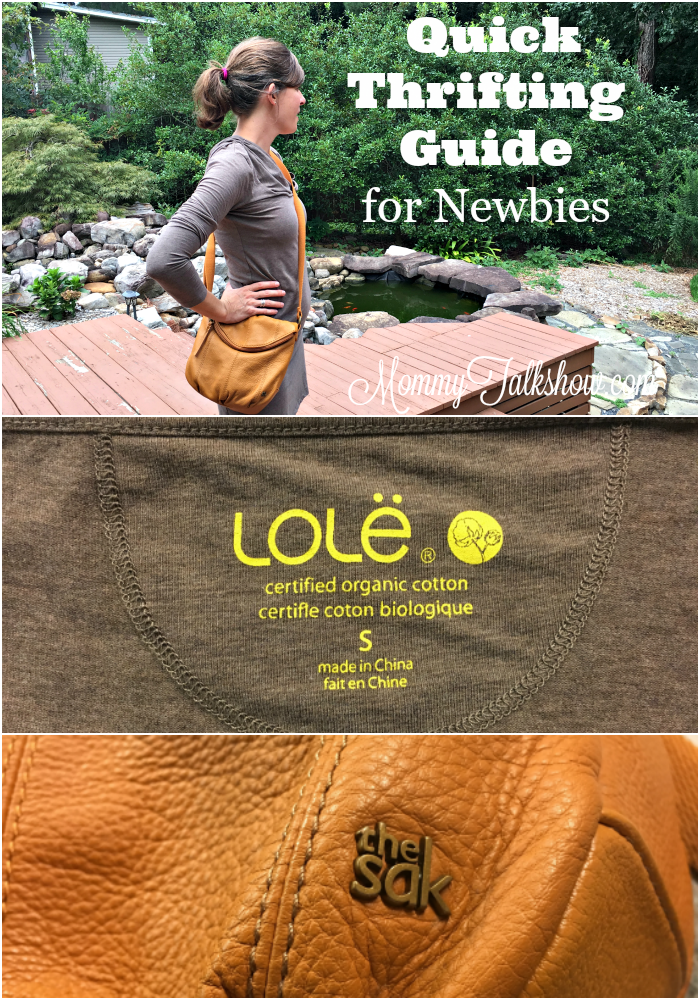 Just yesterday, I scored a brand new-to-me purse. It's a mint condition shoulder bag from the well known designers of The Sac. I'll wear it with an organic cotton dress from LOLE Women's Tunic (value: $60).  According to my online research, the two items alone would have cost close to $200 brand new. I scored them both for a grand total of around $11.
Here's how I scored
purchase high-quality items for less
reduced my carbon footprint by purchasing second hand
supported local jobs at second-hand stores
Thrift Stores Have Sales
Most thrift stories like the Goodwill or Salvation Army have daily or weekly color-coded deal where you receive an additional percentage off. On a recent thrift store trip, the color of the day was blue. So anything with a blue tag or writing was automatically 50% off which is how I scored a new-to-me cardigan for less than $3.  Our local Value Village actually offers half off of anything in the store, on the last Wednesday of each month. 
[Tweet "Shop the color coded discount day at thrift stores to save more!"]
Make a List
Just like a grocery list keeps you on track with what you need to refill your fridge, the same goes for thrift shopping. It'll keep from falling into the trap of buying things just because "it was too good of a deal to pass up." Sometimes thrift store finds are just too fun and exciting. I may have done more than one (or a dozen) excited joy jumps in the middle of the thrift store when I find a seriously awesome score.
If you are shopping on a whim with no specific goal then you may end up with some seriously awesome deals, but they won't meet your needs.   By far, the best scores of all are the ones that also have real purpose for you or your home.
My husband has laughed at me more times than I can count, when I admit to him that I went to the thrift store to make a donation, and then followed it up by shopping for more "things." Some of these "things" turned out to be useful, and purchases that I still adore. But there have been plenty of times also where I got home and thought, "what a cool score," which quickly turns too "what am I going to actually do with it, though?"
Thus, I have learned to shop with intention. Sometimes this means I shop with an actual hard copy list that I carry as I browse, or a mental list that I walk in with, in the very least.
[Tweet "Go thrift shopping with a list to stay on track!"]
Select Specialty Stores
There are an array of second-hand stores like well-known brands like Goodwill or The Salvation Army.  You can also choose from a local mom and pop shop, ministry or non-profit group depending on your town and location.
Decide which store in your area is best for clothing, furniture or children's products. This way you can shop with an even clearer purpose.
While we can debate all day about each group's reputation or community accountability, I personally try them all and hope their intentions are good. Anything beyond that it is out of my control.
I had a wonderful experience at the new North Decatur Goodwill this week. The employee who rang me up was not only friendly and all smiles, but he also spoke very highly of the organization and his job. Thus, I felt extra proud of my fancy dress and purse scores.  Now I'm just waiting for a good Groupon or Scout Mob deal for our next date night.
Quick Tips for Thifting:
Shop with a list and clear intention.
Find out what the extra deals are for each day or week, at your local stores.
Score even bigger, if you make your list first, and then shop based on what deal is at which shop.
Decatur Thrift Stores
Goodwill (Several locations and extra savings through weekly color-coded sales).
The Salvation Army (Several locations around Atlanta and daily and weekly extra savings through color coded sales).
Second Life (Benefits Animal Rescue and offers additional daily savings through coupons as well as color coded sales).
The Edge (Non-profit serving the local community and offering additional daily or weekly sales).
Although Amy is a pro at thrifting, I've shared some of my shopping expertise and solutions here:
4 Frustrating Things About Back to School Shopping for Boys
Shop the Multicultural Back to School Products