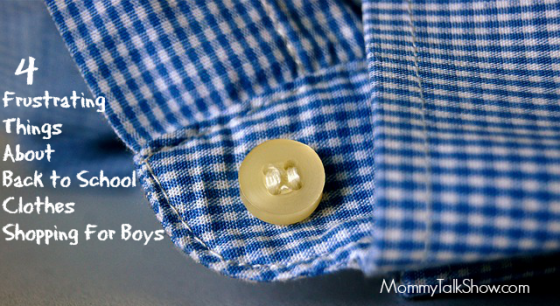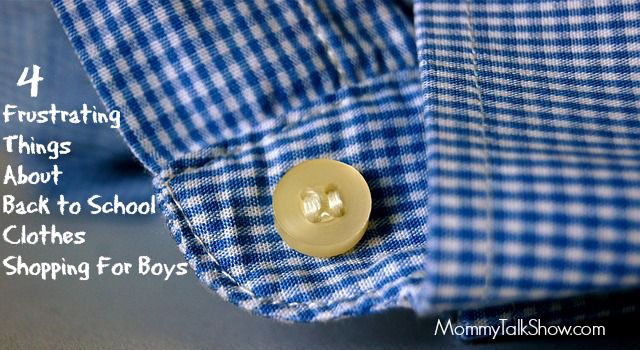 Shopping for boys' clothes is big pain in the butt. Then back to school season comes and it gets even worse because parents of boys come face to face with the limited options we have to choose from. So here's what frustrates me about back to school clothes shopping for boys and the solutions I'd like to see.
Sales and deep discounts are too early in the season. I'm really not thinking about back to school jeans and sweaters for our son in August. He's still being rough and tough on his shorts and t-shirts. Especially here in Atlanta, children can rock shorts to school through the month of September because it's so warm. SOLUTION: Kids Clothes companies need to coordinate with the National Weather Service. At the first hint of a cold snap, put boys back to school clothes on sale and we'll grab them up.
Colors and styles for boys' clothes are extremely limited. It pains me to walk through the girls clothes department to see the array of pinks, purples and everything in between. Then there are leggings, dressings and skorts for their parents to choose from. Walk through a boys clothes department and your options seem to just be grey, blue and black. Ughhhhh. SOLUTION: When you see a unique color or design for boys' clothes grab it quickly before it's gone. If you're lucky enough, buy it in a larger size for them to grow into.
Growth spurts and estimating sizes are torture. We haven't quite reached this phase yet, but I can feel it's coming. For now, A.J. is pretty much on target for his age. He's 4 and wears a size 4. But his feet are growing fast.  SOLUTION: Just like the tip above – buy AHEAD for their size. Thanks for a few consignment sales I hit last year, I was able to buy him some shorts sets all the way up to size 6. It's weird to look in his closet to see such big clothes, but it's also a relief.
The best deals are often online. I like to shop in-person as much as possible especially if it's a certain item I'm looking for like a shirt or pantsuit for a special occasion. But the best deals can be found online with free shipping and other coupon codes. SOLUTION: Get out of your comfort zone (I'm preaching to myself here) and start looking online for deals. You may find the a great Easter outfit now – that your son will fit in 2 years – thanks to an online deal.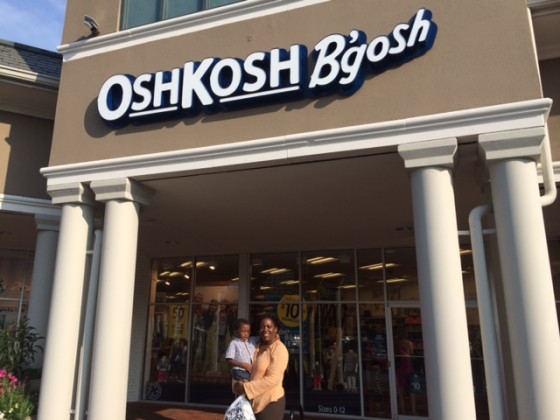 One glimmer of hope for Atlanta moms like me is that OshKosh B'gosh and Carter's just opened their first store inside the perimeter.  We took a blogger tour last month and got a look around the store.
Address & Info:
Oshkosh B'gosh Peachtree Battle Shopping Center
2345 B Peachtree Road NW
Atlanta, GA 30305
404-869-3373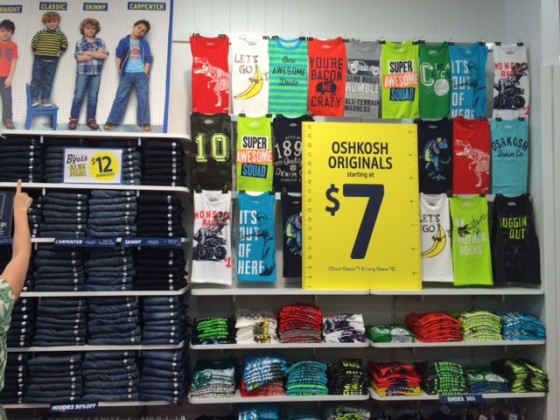 Last year when I've shopped at OshKosh B'gosh, I had to drive 30 miles to the Mall of Georgia location for a holiday shopping campaign. I'm relieved that there's a closer location for us to find A.J.'s jeans and sweaters this winter. The sales items are clearly displayed around the store!
Comment below: Whether you have a son or daughter, what frustrates you about back to school clothes shopping? Have you found a solution or shopping tip?