When children see other children with their same skin color and hair texture in everyday products – amazing things happen. They identify and relate. Just like our son A.J. recognizes when he sees other children who wears glasses like he does. So this back to school season I wanted to feature multicultural back to school products that show children with an array of skin colors, textures and designs. What surprised me is how FEW companies there are that celebrate Brown, Black and Mixed children with products. But the list is growing – thank goodness! Below you'll find clothing lines and school supplies that celebrate people of all colors. Affiliate links are included where I'll earn a commission if you purchase something.
Multicultural Back to School Products
Mixed Up Clothing
Mixed Up Clothing is the brainchild of mompreneur Sonia Smith-Kang. I met Sonia at a 2014 blogging conference at Disney World and I've followed her online ever since. Sonia is married with four children which inspired her to create a fashion line celebrating ethnic diversity with an array of textures, tones and images. A.J. received a fun shirt from Mixed Up Clothing to wear. I love this shirt because it's not something you see kids wear everyday. It celebrates the Latino culture and features sombreros which are wide-brimmed hats typically worn in Mexico.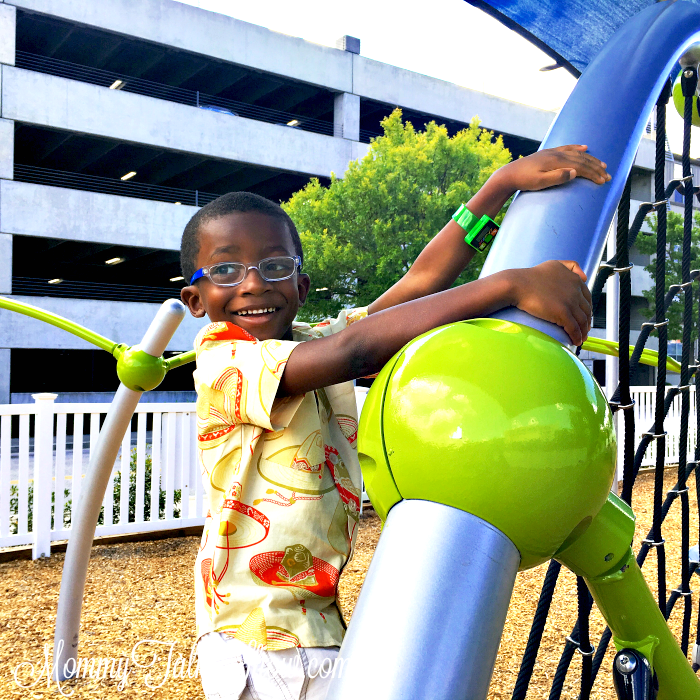 Sonia told me, "We know the self-esteem boosting effect when children see themselves reflected in media, in fashion magazines, on runways, as toys, dolls, and in the beauty aisles and Mixed Up Clothing wants to do its part to make sure that happens. That's why our clothes showcase different cultures and styling. From fabric sourced from all over the world, to models of different skin tones, hair textures and ability, we want to let multicultural children feel validated and worthy. One of our goals is to let them know that we see you and they matter-representation matters."
Boys clothes can be boring and monochromatic. Not at all when you shop Mixed Up Clothing.
Tea Collection
I've worked with Tea Collection for a few years when A.J. took an interest in Chinese and we reviewed their Chinese-inspired fashion line. From the models to the images on their clothes, Tea Collection celebrates Asian, Italian, Japanese and world-wide cultures in its clothing.
A.J. is wearing Tora Graphic Tee ($22.50) and Railroad Stripe Playwear Pants  ($35) on this recent visit to our neighborhood park.
Tora is "Tiger" in Japanese and wonderfully describes his energy level. The pants are reminiscent of a conductor's uniform but very sturdy.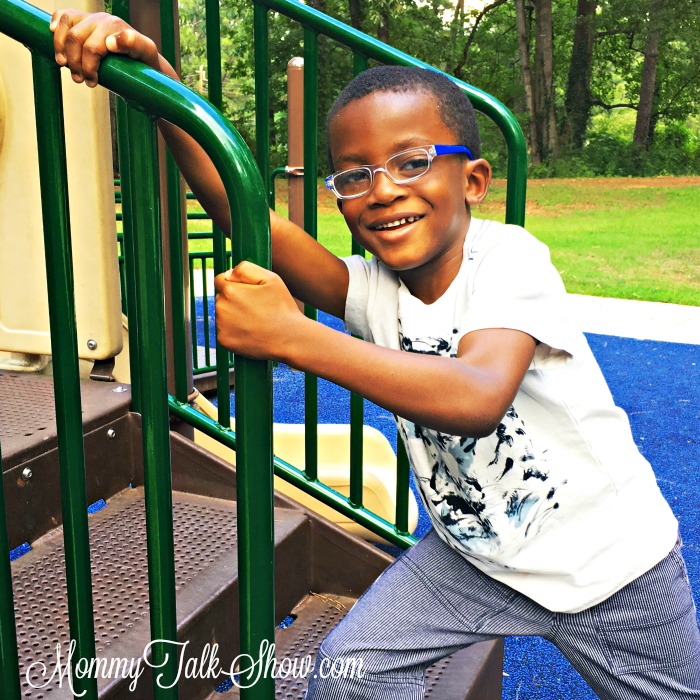 You can also work with Tea Collection for a School Days fundraiser.  Tea Collection gives your school a unique promo code that you can share with your school community, friends, and family. Shoppers will have seven days to enter the promo code at checkout. They'll get Free Shipping (6-10 Business Days) AND Tea will donate 20% of the order total to your school! The more people shop, the more Tea donates! And there's no limit. It's that simple.
Coco'Pie Clothing
From onesies to totes, earrings and graphic t-shirts  – Coco' Pie clothing celebrates Black girls and their afro puffs. Again, Facebook was how I found out about this brand. Their motto is "There's power in these puffs!" As a woman who didn't get to know her natural hair texture until she was 35, I'm all about celebrating little girls and their gorgeous hair.
The mom who created it explained on their website: "Coco'Pie itself derives from the nicknames I gave my girls to describe their beautiful skin. Both Kennedy and Mikayla are very active in every stage of the design process now. I can see firsthand how it creates undeniable self-esteem and worth."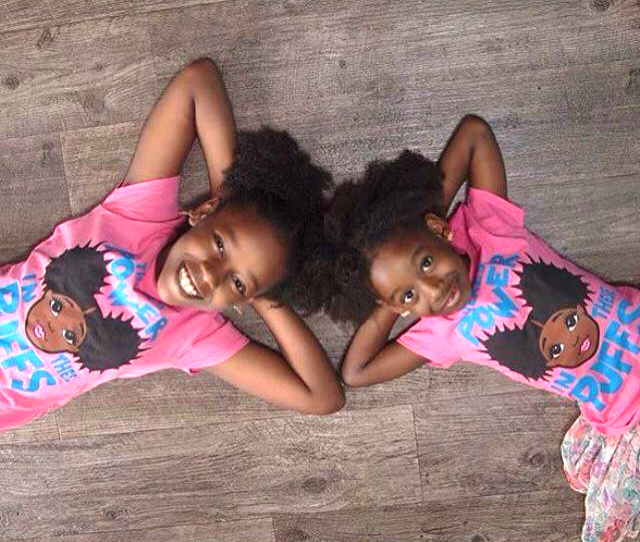 Miss Zee
Backpacks and books are the focus for Miss Zee's afro celebrating product line for girls.  Inspired by a mom who realized her daughter wasn't seeing any images that reflected her in products. She first launched a coloring book, then expanded to other products.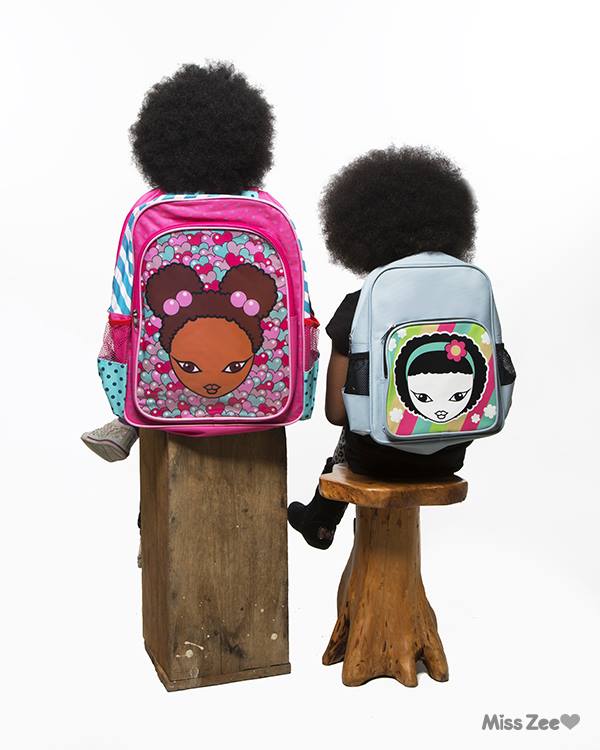 Innovative Supplies
I heard about this brand on Facebook because its product line sold 8500 products and sold out in days.  Mompreneur Nneka launched Innovative School Supplies to celebrate brown and black images in amazing notebooks. For hand-drawn images of brown women with amazing afros, Tupac Shakur, Black girl scientists and a Black Lives Matter Notebook, this is your spot. Order now since the company is still catching up on orders.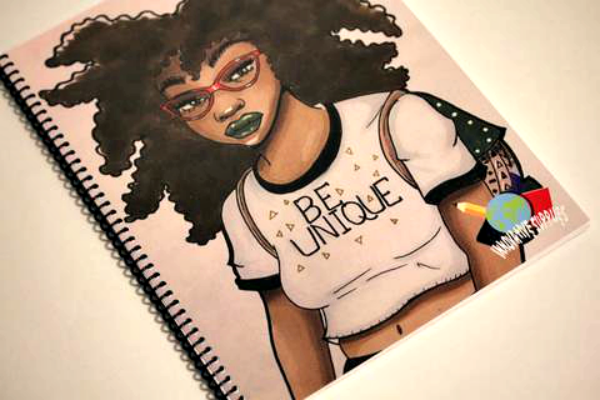 Brite Colours
These colorful notebooks, shirts, and decor also come from a mompreneur LaShanda Henry. Brite Colours has a goal of giving back to the community, by supporting women and girls in technology.
BRITE Stands for: Brilliant. Radiant. Intelligent. Talented. Exceptional.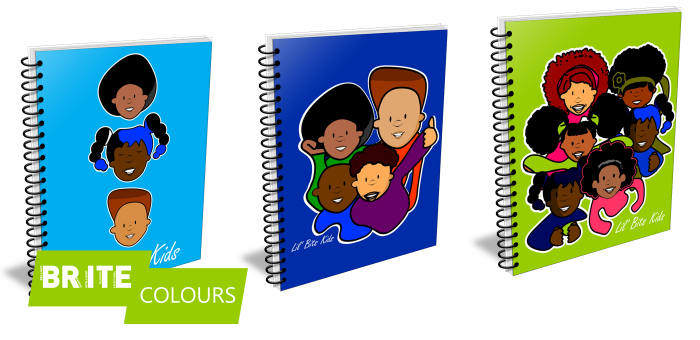 Comment below: Are you familiar with these multicultural back to school products? Add another company's name in the comments below! When children see Brown and Black faces on products, how can it affect them?