Every major television network and my entire Facebook feed is filled with news about the astronomical cost of the EpiPen auto injector for food allergy families. I told you back in July to prepare for sticker shock when you fill your next prescription. When I asked our local pharmacy what the cost would be this year, I was told $623! Watch my video on ways to survive the EpiPen price hike, then scroll down to see an interview I did with the Associated Press explaining what our out-of-pocket expenses will be.
Disclaimer: I am not a medical or health professional. Consult your doctor for the best advice.
Video: 4 Ways to Survive EpiPen Price Hike
1. Extend Expiration Date
Ask your pediatrician or family doctor about using the EpiPen past its one year expiration date. Many people believe the shelf life of the medication is longer than the expiration date on the box.
One of A.J.'s EpiPen Jr.'s expired in July and I'm still holding on to it through September, at least.
2. Tell School Nurse About EpiPen4Schools.com
Although Mylan has hiked the price for consumers, it has a free EpiPen program for schools in most U.S. states. Depending on where you live, your child's school nurse can apply on the EpiPen4Schools.com website to receive two adult and two junior injectors.  Considering that many families leave a set of pens at school and a set at home, this program could "potentially" alleviate some of the cost.
[Tweet "Tell your school nurse to apply for free #epipen EpiPen4Schools.com"]
3. Get a Friend/Family Member's Pen
If you have a friend or family member who's already met their deductible and their out-of-pocket expense for an EpiPen prescription is $0, consider asking them to fill their own prescription and giving it to you. I know it's not technically "legal," but I'd hate to hear about a child who needs the pen but their family can't afford it.
4. Find Generic Auto Injector
Adrenaclick and other generic auto injectors are lesser-known options. Ask your physician and pharmacist how much it would be. When I asked our local pharmacist, the difference in price was not that significant.
5. BONUS: EpiPen Coupon
Download an EpiPen Coupon and use it where you fill the prescription.  As of August 24, 2016, Yahoo is reporting Mylan Pharmaceutical expanded the savings to cover as much as $300 of out-of-pocket expenses.  Previously this coupon covered $100 of the co-pay expenses.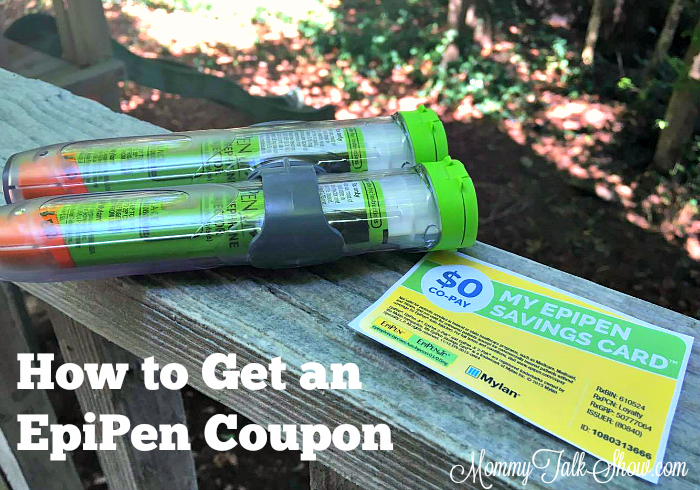 In case you're wondering why the cost of EpiPens has more than tripled over the years, Mylan Pharmaceutical gave me this statement to explain. I think it's totally ridiculous. Don't use our "high deductible health" plan as an excuse to line your pockets.
The CEO Heather Bresch saw a salary increase from $2.4 million dollars to $18.9 million in eight years according to the Chicago Times. SERIOUSLY? I wonder how the company afforded that?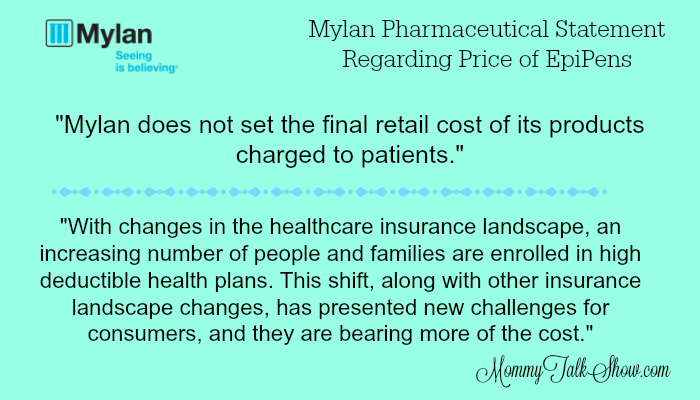 Video: 
Concerns Grow Over Rising Cost of EpiPens
I did an interview with the Associated Press on the huge chunk of our family budget we'll need to spend on EpiPens.
Comment below: How is your family coping with the EpiPen price hike? What do you think needs to change with drug maker pricing in our country?