8 Ways to Support the Blogs You Love to Read
First of all, thanks for tuning and watching MommyTalkShow.com. There are so many distractions and places online where you can spend your time. That's what inspired this topic because it's quite competitive in the blogosphere. Consider the blogs you love to read and use some of these recommendations to help them reach a bigger audience, have better relationships with brands and make more money through sponsorships.
1. Become a Facebook fan. Every blogger I know has a Facebook page they use to update fans on their new posts, interact and chat with. The number of Facebook fans/likes a blogger has is influential on how they're viewed by public relations representatives and marketers. You may have noticed that your favorite fan pages don't always appear in your news feed. I shared with the Mommy Talk Show Facebook fans a video that explains how you can make sure you get an alert any time I share a new talk show topic, product review or giveaway.
2. Share the blog posts
. Nothing helps an interesting or informative blog post go viral like a share on social media. Most blogs have buttons you'll see on the bottom of a post that gives you a way to share it on Facebook, Twitter and Pinterest. We can even track how many people share our content and man does it feel good to see you work spread to a wider audience.
In fact, you can easily share this post on Twitter:
8 Ways to Support the Blogs You Love to Read http://t.co/UW2p9VY0nW via @MommyTalkShow http://t.co/liAQw8hrSM

— Joyce Brewer (@MommyTalkShow) February 21, 2014
— Joyce Brewer (@MommyTalkShow) February 21, 2014
3. Subscribe. Did you know that you can sign up to get your favorite blog's updates sent to you via e-mail?  There's usually a button on the right side that yells SUBSCRIBE or get DAILY UPDATES. I send out a daily feed via e-mail, along with a bi-monthly e-newsletter. You'd be amazed at how much this type of influence means to brands and PR representatives. Quite often, then ask how many subscribers a blog has!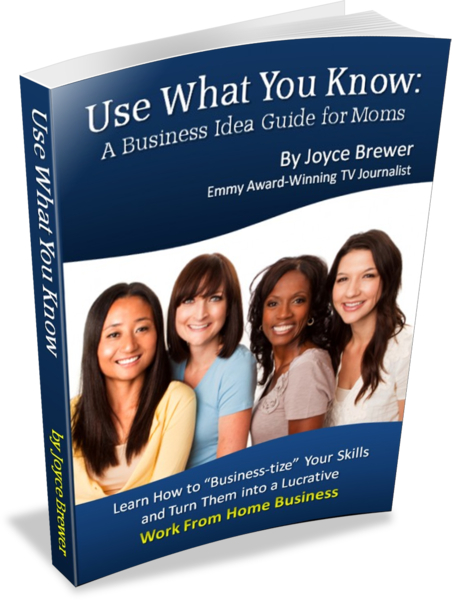 4. Buy their products. Almost all of the bloggers I support have a product, service or e-book to sell. My e-book, Use What You Know: A Business Idea Guide for Moms, features interviews with successful mompreneurs. It's also on sale for $6 through February 28, 2014 before I move all the sales to Amazon.
Danyelle Little of TheCubicleChick.com has written several e-books including her latest free download, Shine: 10 Tips for Effective Work-Life Balance.
Bernetta Style rocks natural hair, so she created her signature Soft Butter for skin and hair.
Busy mom of six children, Tiffany Wong of Real Mom Talk, share her expertise on cooking affordable meals in $5.00 Dinners Cookbook. Tiffany was also a guest on my webcasts, E-book Author Moms.
5. Tell a brand you heard about them on a blog. We are considered influencers because people learn from us and often take an action based on what we share. My friend, Nailah,  told me she rented the Bisell Deep Green Machine after she read about my review. My other friend, Nicole from MomsGo2.com, bought the 2014 Kia Sportage after she watched my video reviews on the vehicle's safety features. It's wonderful to hear from your friends, but it goes even further if you mention to a sales rep or on a brand's Facebook page that you heard about them on a blog and it influenced you to buy!
6. Attend their events (in-person and online). Bloggers have a life outside of sitting behind our computer screens. We create events and are hired to co-host. For instance, I'm hired by local businesses to bring the Mommy Talk Show audience to their store, play space or class. Having your support in person goes a long way.
Lamar and Ronnie Tyler of BlackandMarriedWithKids.com have expanded their e-books and documentaries to include hosting a 2014 marriage cruise in July.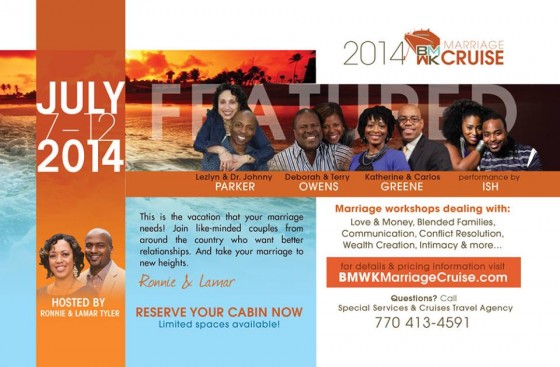 One of the online events I've been hosting more frequently this year are Twitter parties, so I'd love for you to take part and tweet with me. I've even established a Twitter Party Calendar for my events and ones for my blogging colleagues.
7. Sponsor. Buy a banner ad, hire a blogger as a consultant, book a blogger to speak to your group or organization, take their class/webinar. I love to hear it when people recommend me for video work, including videos for Atlanta-area schools.
8. Comment. Whether you agree or disagree with a blogger's view, it only take a few minutes to leave a comment. Our egos need to know you're here 😉 If I missed anything in my list, comment below! Have you supported a blog you love in another way?
Joyce Brewer
Creator & Host of Mommy Talk Show. Emmy award-winning TV journalist.Wife & Mommy; Mom Blogger; Social Media Coach; Long Island, New York transplant living in Atlanta, GA. Follow Joyce on Twitter @MommyTalkShow Author of Use What You Know: A Business Idea Guide for Moms featuring interviews with mompreneurs who created businesses using their skills & backgrounds.