Even though I try to remind my husband and A.J. to remove their shoes when they come inside our home, our carpets still need some attention. Several times a year I get our carpets professionally shampooed. Before I hosted a few friends over for a Nick Mom show gathering, I knew I needed to freshen our carpets. I'd called a few local carpet cleaning companies for estimates, then I got the opportunity to review the Bissell Big Green Deep Clean Machine. I'll let you see the before and after photos and explain how you can get the same results.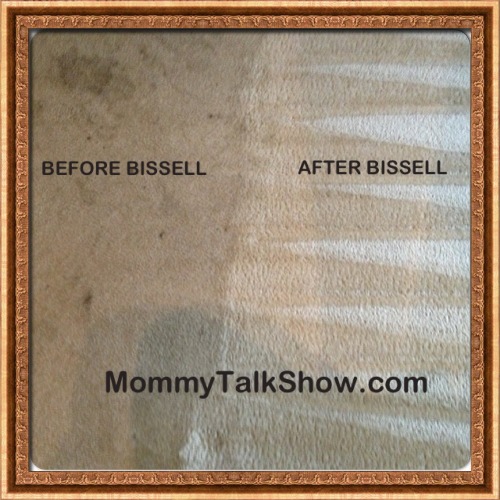 Our living room carpet looks the most "lived in" because A.J. and my husband spill things there. They track dirt in from the back patio too. That's where I started the big job.  I read the instructions for the Bissell Big Green Deep Clean Machine, filled the water tank with hot water from our bathroom and filled the cap with cleaning solution as instructed.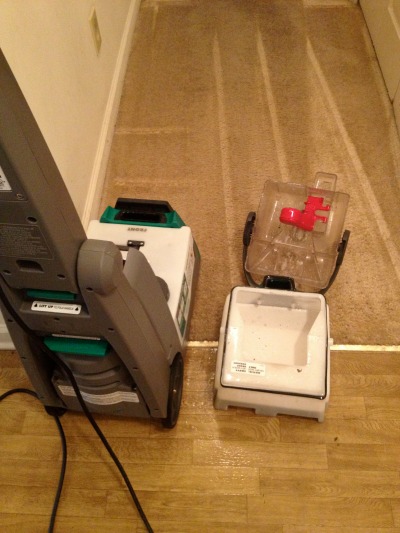 I've got to be honest. Now that I'm 40, my back and neck have been bothering me more than usual (note to self: get a massage), so I took two Tylenol before I started this job. I had to empty the clean water tank several times to finish all of the bedroom, living room and hallway carpet. In the end, I was happy with the results. What's gross is dumping out the dirty water and seeing how much "yuck" your family has around the house. Dry time was about two hours, so plan accordingly before you have people over.
You can rent a Bissell Big Green Deep Clean Machine at Lowe's locations across the country. A 24 hour rental is $24.99. You can also rent it for longer periods if you need it. There are money-saving coupons at BissellRental.com Considering how a professional carpet cleaning would have cost me about $85-$100, with an area rug included your family can save quite a bit. See the selection of Bissell products on Amazon.com.
Comment below: What do you think of my Bissell Big Green Deep Clean Machine results? Do you get your carpets professionally cleaning or do it yourself?
Disclosure: I received a complimentary Bissell Big Green Deep Clean Machine rental to facilitate a review of my honest opinions and experiences.