This is a guest post by Janelle McCloud, the creator of World of Little Fashion.
Read more on how her daughter's special needs inspired a new business venture, offering fashion for little people.
Six years ago (September 2007) I was blessed with a beautiful baby girl who cried her heart out filling my ears with pleasure and love for the Lord's mysterious acts. Soon though, I realized she was suffering from dwarfism when her growth seemed hindered compared to that of other babies. She has achondroplasia dwarfism. Right after discovering this, I plunged into a deep regretful state unable to understand why my baby had to begin life in such an unfortunate manner. What had she done wrong? So how did this experience mold my views on life and business?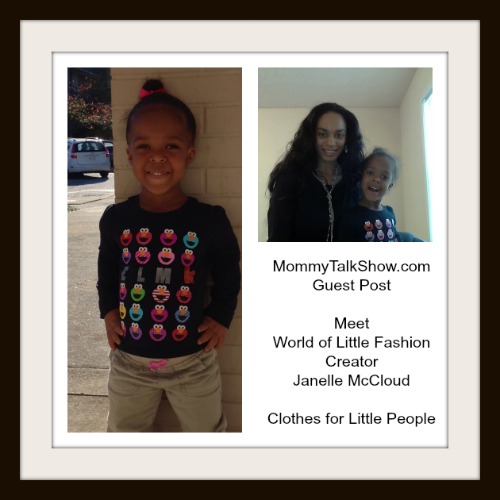 For starters, if it weren't for my daughter I would never have realized the dearth of fashion in the realm of littleness. The early years wasn't difficult as I usually got clothes meant for younger babies but as she began to grow I felt let down by the fashion industry's lack of sensitivity towards unconventional sizes. I was even more astonished to find that fashion had already started taking notice of oversized men and women, but did not consider dwarfism a human condition necessary to explore further and this is when I decided to help my daughter fulfill her dressing needs, as well as others around the nation.
I struggled day in and day out to find fashion for little people. I would see clothes for the big and tall but nothing for the little or small. Then I said to myself "God, if I am struggling this way and I am sure all the little people struggling like this too?!" And with that it was very alarming for me to discover the lack of choices in the market for little people, especially adults! I began sourcing designs, inspirations from the internet, making my own styles and reproducing them for my daughter, in the process creating a few extras that I sold online. Soon enough I had begun designing clothing lines for adults. So then I went through the painstaking process of getting the paperwork ready for my business. All the hard work I put into finally culminated in a booming recognition among internet peers and a recent interview with Joyce Brewer on the webcast "Empowered Moms of Special Needs Children," which led me to believe that there are mothers out there with plenty of unique business ideas unable to express themselves. So, here are a few things I learned from my daughter that I hope can help you get your creative side churning.
•If you are having a hard time finding a solution, product or idea then it is likely that there are others experiencing the same. This is your pot of gold waiting for you, should you choose to pursue it as a business career.
•Often, opportunities in life are disguised as hardship; you just have to see through the smokescreen to believe.
•If you believe in something then don't let go. Work until you achieve it.
•No idea is ever small or big. It is the thinker who makes it so.
Honestly, it all started with a great idea and a little (well lots) of hard work! I relished the opportunity but was also dead scared of what I would say. Today I am excited, blessed, and proud to provide quality products directly to the LPA community through an experience they will enjoy. Having reached the completion of my post, I must say it feels liberating to do something that I normally would never have done. Ladies get those brain cells firing and take a bolder step today.  Who knows? You may just be the next role model of millions of moms all over the globe!