It's been way too long since I've had a Ladies Night Out where my mommy friends get together to chat, relax and eat. Thanks to sponsor Pepperidge Farm I just had a fun night with my blogging buddies where we tasted some creative recipes made with puff pastry.  It inspired me to create my own Blueberry Puff Pastry that I'll share with you.
Can you tell Amy and Karen had fun? We enjoyed an array of sweet and savory puff pastry recipes at our host's home including: elephant ears, Nutella & chocolate, ham & cheese, and a sweet strawberry pastry. They were perfect finger foods for entertaining. Find your own recipes for the next event you're hosting or bringing  dish on the Pepperidge Farm website.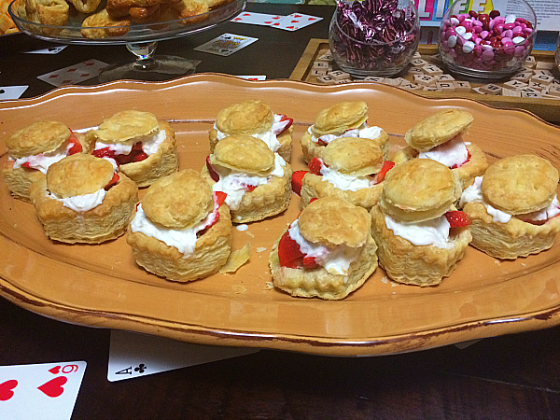 Food wasn't the only focus though. We really got to see who's the most competitive in the bunch (raises her hand) when we played Puff Pastry Bingo along with one of those "what's in your purse" games from baby and bridal showers. I didn't win either game, but it was fun nonetheless.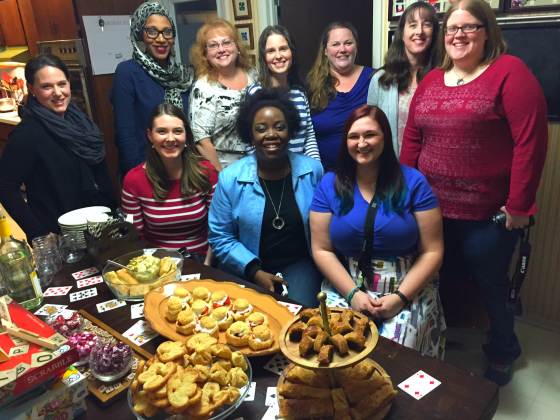 Blueberry Puff Pastry
Although I try to have a healthy breakfast every morning around 6 a.m., by 10 a.m. I need a little something to boost my energy. It's also when I take a short break to catch up on all the gossip on The Wendy Williams Show. So I used the Pepperidge Farm Puff Pastry our party host gave us to create a Blueberry Puff Pastry and enjoyed it on my patio with some coffee.
I took the Pepperidge Farm Puff Pastry Sheets out of the freezer when I left to drop A.J. off at school and so it would be ready for rolling shortly after I returned home. I found the recipe from Dinner with Julie's site and made a slight adjustment by using less sugar.
1 cup of fresh blueberries
1 1/2  Tbsp. sugar
2 Tbsp. cornstarch
1 Tbsp. lemon juice
1/4 tsp. cinnamon
dash of  salt
1/2 pkg. Pepperidge Farm pastry sheets, thawed
1/2 tsp. butter
1 egg, lightly beaten
granulated sugar
I preheated the oven to 425F, then combined the first six ingredients into a bowl. Roll the Pepperidge Farm Pastry Sheets into a slightly larger square.  Cut it into equal four quarters and place each piece on a parchment-lined baking sheet. A large cookie sheet worked just fine for me.
Scoop equal parts of the blueberry mixture into each pastry,  dot each square with a bit of butter, fold the edges of the pastry about over on all sides to contain the berries and create a crust. Brush the pastry with some beaten egg and sprinkle with sugar.
Bake for 20 minutes. You'll have a pastry for yourself and three guests. Double or triple the recipe according to the crowd you're expecting.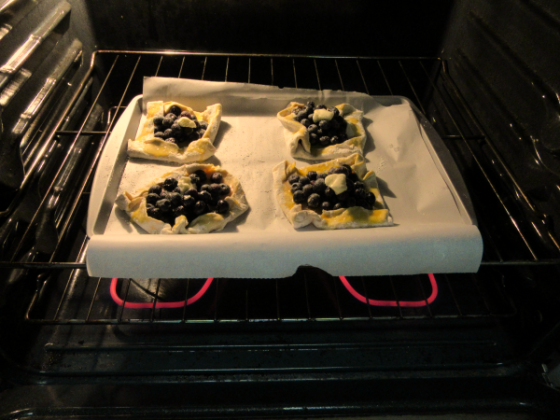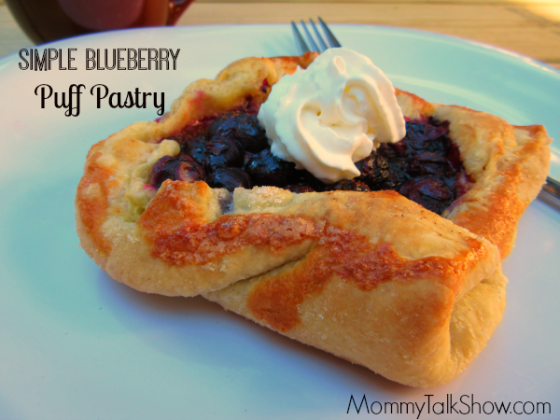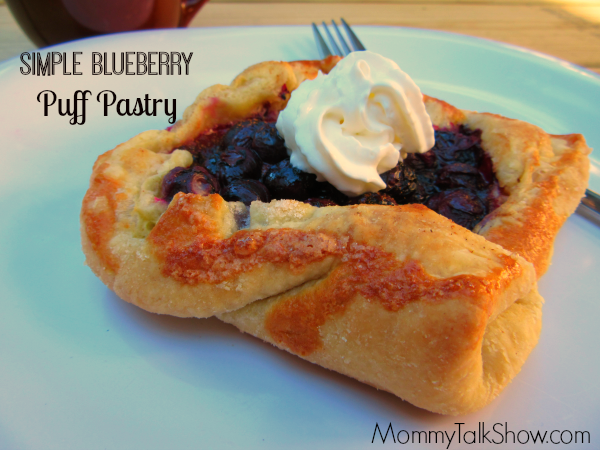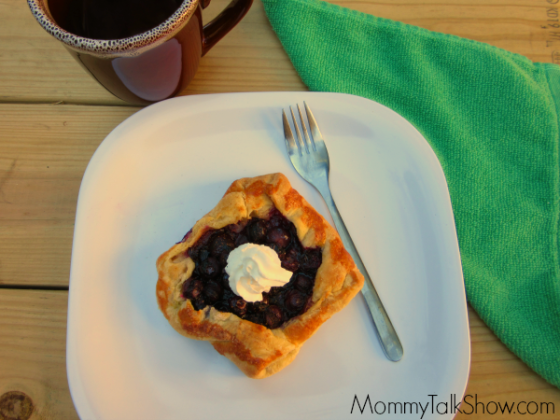 What would I do differently next time? I'd make smaller squares to stretch the recipe and serve it at brunch for my Mom's next visit or to serve at an after school playdate for A.J.!
This is a sponsored post written by me on behalf of the Pepperidge Farm Puff Pastry.