Watch Live 2013 Holiday Gift Guide Show
Interact live with the webcast and guests via the 2013 Holiday Gift Guide Spreecast.
Just in time for the holiday season, check out the mix of mom-owned  brands who will be featured in the 
2013 Holiday Gift Guide 
and live webcast Tuesday night at 9 p.m. EST.
You can watch it live right here
!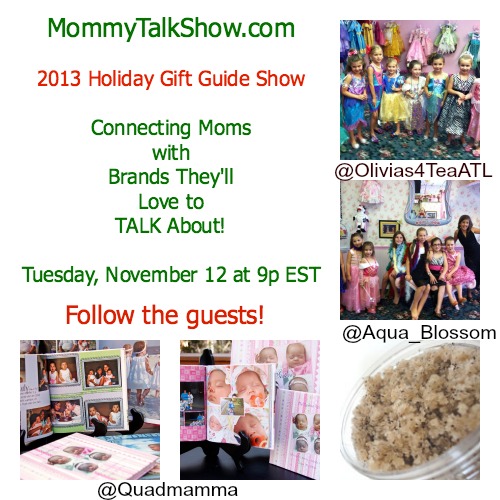 Holiday Gift Guide Show Sponsors
Learn more about these mom-owned businesses live webcast Tuesday, November 12th at 9pm EST.
Scrapbook Mamma is owned by MaryBeth Reeves, a wife and mom of quadruplet daughters. She creates custom photobooks for families, businesses, organization and groups. The photobooks will make great gifts this holiday season. See the video review I did of the book MaryBeth created, A.J.'s Adventures. Follow @QuadMamma on Twitter.
Ashley Wallis owns Aqua Blossom and makes all-natural body scrubs, lotions and lip balms. Hear about the gifts you'll love to TALK about this holiday season.  Scroll down to see the video review I produced for Aqua Blossom body scrubs. Follow @Aqua_Blossom on Twitter
Brandi Hightowner just opened Olivia's Dollhouse Tea Room Atlanta in Johns Creek. It's an exclusive dollhouse part venue. Olivia's has an array of holiday camps and events your princes and princesses will love. Follow @Olivias4TeaATL on Twitter.
I'd love to keep you posted on all of the 2013 Holiday Gift Guide Show. Get the Mommy Talk Show e-newsletter twice a month!
Watch videos featuring each of tonight's sponsors:
[youtubegallery]
[/youtubegallery]