This is a sponsored post written by me on behalf of Sudafed. As a work at home mom who juggles work and caring for our three year old, any time I lose being sick affects the whole family. I usually take longer than usual to bounce back because I don't take time off. When I've been wiped out with a sinus infection, my husband had to stay home to take care of me and our son. Cold season is upon us and I'm doing all I can to stay healthy  (getting my flu shot this week), but in the mean time Sudafed is here to help us through any sinus pain, plus you can enter to win a $5,000 contest. Keep reading for details!

Does sinus pressure keep you down for the count? What does it feel like when you're suffering from a cold?
If you'd like a good laugh and to open up about your pain, head over to the Sudafed OPEN UP™ app on Facebook. Share a funny sketch of your sinus pain experience. Use a photo from your Facebook profile as a basis or start from scratch. My artistic skills are lacking so I'm going to give it a try with one of my profile pics to share how much my nose runs when I get colds.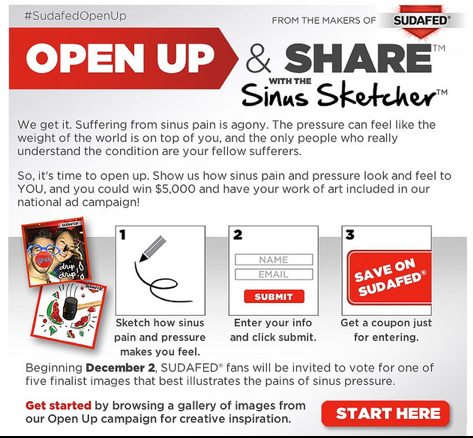 You'll earn a money-saving coupon even if you're not a finalist for the Open Up campaign contest.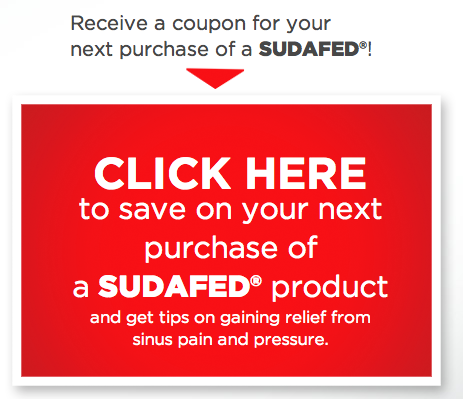 Sudafed knows that suffering from sinus pressure and pain can leave individuals feeling crushed, beat down, congested and even squeezed, desperately looking for a way to open up. Serious sinus sufferers are invited to creatively share how their sinus pain and pressure looks and feels to them by using Sudafed's OPEN UP™ application on Facebook.

Then, beginning on December 2, the Sudafed Facebook community will vote for one of five finalist sketches that best illustrates the pains of sinus pressure. The winner will receive $5,000 and a chance to have their work included in a Sudafed advertising campaign. For more information, visit the Sudafed Facebook page.
Disclosure: This is a sponsored post written by me on behalf of Sudafed.