Thank you to the DoubleTree by Hilton for providing a complimentary stay to share a review of the Perimeter/Dunwoody, Georgia location.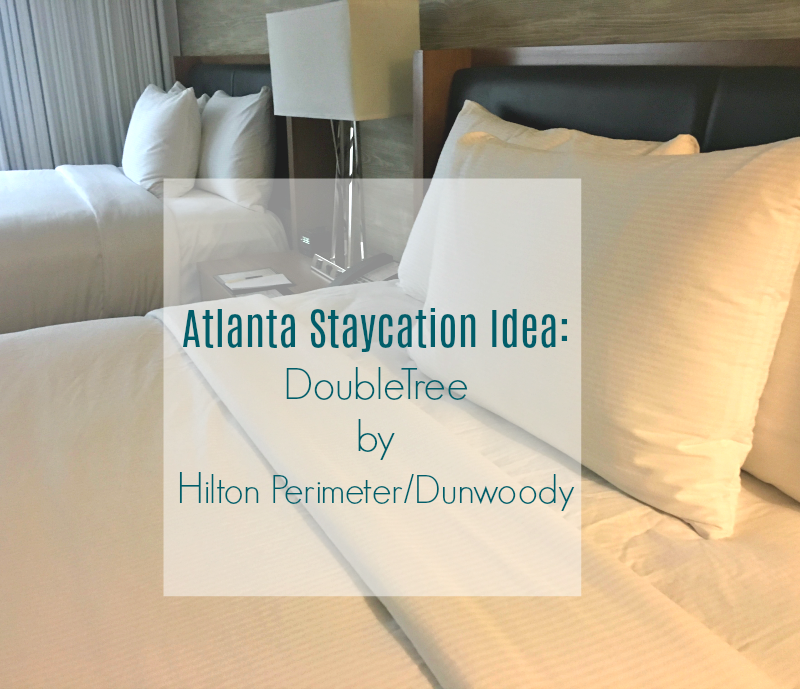 Our school year started without any major hiccups until we experienced Tropical Storm Irma. Thankfully. we were able to squeeze in a relaxing Atlanta staycation a nearby hotel before the weather put a damper on our back to school routine. I'll walk you though everything we experienced during our visit and make recommendations in case you decide to enjoy it too.
Minutes Away…
After our short ride north on I-285 Saturday afternoon, we arrived at the DoubleTree by Hilton in Perimeter/Dunwoody. Unlike Downtown Atlanta hotels, the Perimeter location offers free on-site parking.
The lobby has plenty of seating for your family to hang out while you wait for your room assignment and key card. Antoine & A.J. walked around the lobby and looked local artwork which you'll find throughout the first floor lobby.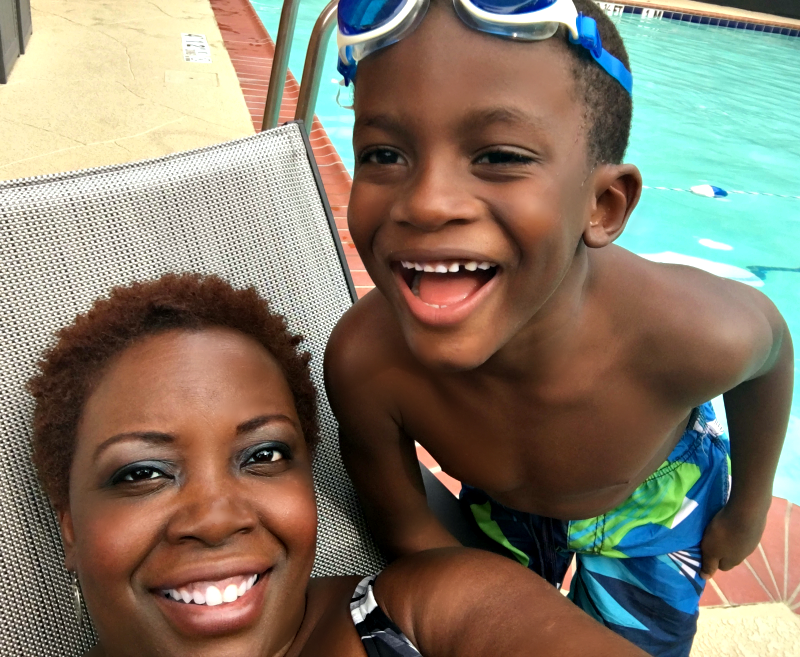 Play at the Pool
Through September and often early October, Georgia weather is still warm enough to swim outdoors.
One of the first places A.J. wanted to visit was the DoubleTree's pool. There were plenty of lounge chairs and room to spread out for other families. This was his very first time in the pool without his flotation jacket, which was worth celebrating. We brought along his "sponge balls" so the guys could play catch.  Here's a slow motion look at their fun from the Mommy Talk Show Instagram profile.
Southern Grove Restaurant
Just past the DoubleTree's lobby, we had dinner on-site at the Southern Grove Restaurant. I wasn't sure how much A.J. could eat on the menu due to his food allergies, but he selected what he wanted.
What I ordered: Smoked Tomato Bisque + Fish & Puppies (with greens and hush puppies)
What Antoine Sr. ordered: Shisito Peppers & Charcuterie plate (with no beef)
What A.J. ordered: Empire City Burger with veggies (instead of fries because seafood is cooked in the same fryer)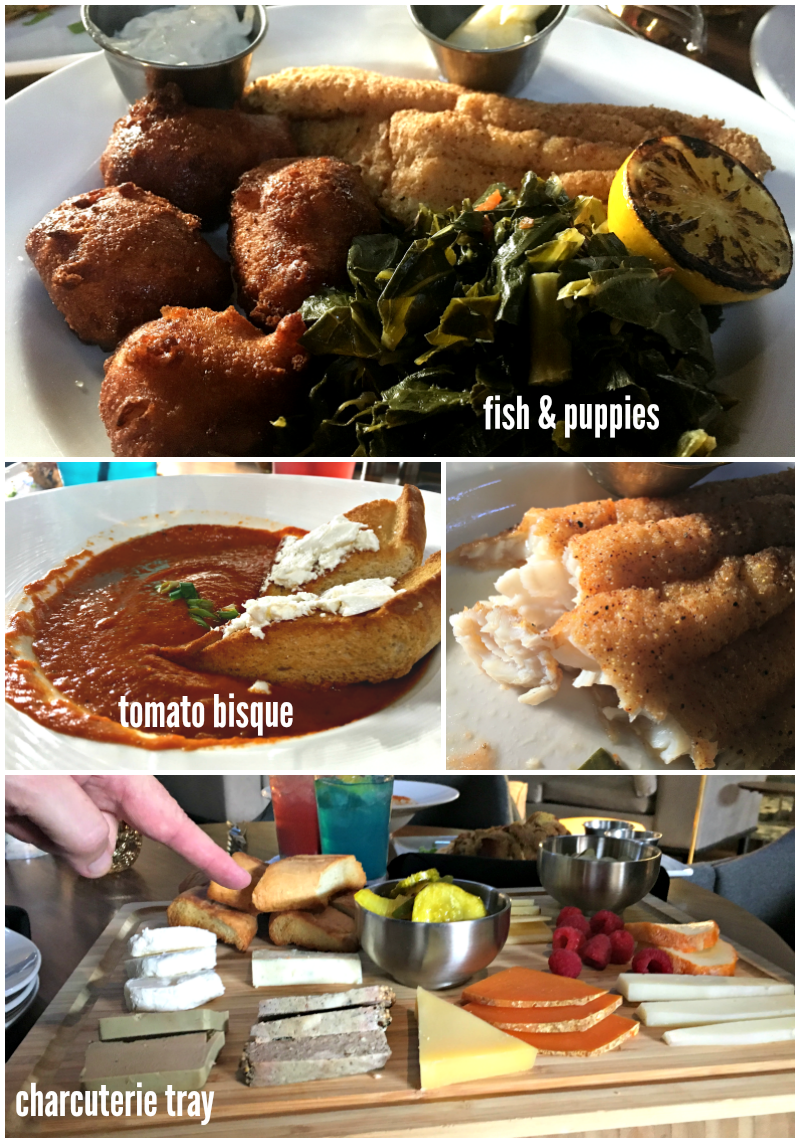 If you pay attention to the Mommy Talk Show fan page, you'll see I post some of the delicious foods my husband makes on the weekends. So when the Southern Grove's Executive Chef Ken Kuiken stopped by our table to chat it turned into an hour-long conversation. I started to wonder if the kitchen would send out a search team for the chef because my husband was asking him so many questions.
Since then we've talked about back to the Southern Grove for a date night dinner. Everything we ate was perfectly seasoned. I've never tasted catfish served at a restaurant that was so exquisite. See the Southern Grove's Dinner Menu for yourself and you won't be disappointed.
Movie Night Before Bed
After dinner, we settled back in the room and relaxed to watch TV. I called down to the front desk to ask for the freshly popped popcorn we could eat as we flipped channels and checked out the cable guide.
Minutes to Perimeter Mall
Sunday morning we woke up, had our leftovers as breakfast, checked out of the hotel, then drove a few miles to Perimeter Mall. I had a gift card to Soma Intimates, as well as a gift card and birthday bonus from Sephora Beauty I was excited to use. While I shopped, The Antoines stopped by the Microsoft Store to play X-Box.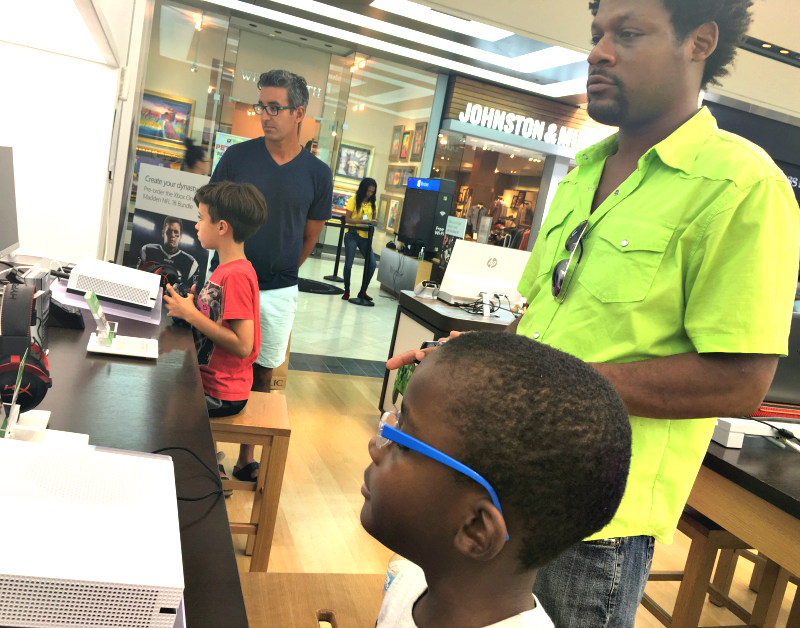 We saw several families and business people at the DoubleTree during our stay. I walked by the gym and business center, even though they were services we never used. I'd recommend the DoubleTree by Hilton Dunwoody/Perimeter for out-of-town visitors, another Atlanta staycation for Fall Break or a long weekend like a Teacher Work Day.
Thanks to this staycation, we had a relaxing family weekend together where we didn't have to cook or clean. Every member of our family got to do something they liked to do – without feeling left out.
For booking and more information, visit the DoubleTree by Hilton Atlanta Perimeter Hotel Website.
Click to Retweet:
See @MommyTalkShow's hubby & @DoubleTree Exec. Chef chat about the southern cuisine menu you'll love: https://t.co/SRmNwoITxT #hosted pic.twitter.com/tXVTD4CfKA

— Joyce Brewer (@MommyTalkShow) September 25, 2017