Whether you're new to Atlanta or lived here for years, I'm sure you've noticed all the fun things for kids in this large, diverse community.
If you love outdoors, visit Stone Mountain Park or the North Georgia mountains for a hike.
If you're a history buff,  take your children to the Atlanta History Center to learn about the state's history from its indigenous people to the Civil War to the Civil Rights. Dr. Martin Luther King Jr. was born here, preached here, lived here, and is laid to rest here. You can visit the MLK National Historic Site for free year-round.
If you're a bookworm, there's the annual Decatur Book Festival along with locally owned bookstores like the Little Shop of Stories in the heart of Decatur. Those bookstores and festivals are where you can often meet some of the creative Georgia Children's Book Authors. Georgia libraries also do a fabulous job of promoting authors and inviting them for readings.
My affiliate links to some amazing Georgia Children's Book Authors are below. I'm delighted to say I know two of these authors personally!
1. Denene Millner
Denene Millner is a New York Times best-selling author. She's co-authored best-selling celebrity biographies for Steve Harvey, Taraji P Henson and launched one of the most well-known sites for black parents, MyBrownBaby.com.
Back in my post-college days when I was navigating working-single-womandom, I bought her book,  The Sistahs' Rules: Secrets For Meeting, Getting, And Keeping A Good Black Man Not To Be Confused With The Rules. Little did I know that we'd both graduated from Hofstra University in New York and would meet in Atlanta years later.
Denene also found time to create a children's story, Early Sunday Morning, which follows a Black family as they get ready for Sunday church services. What's amazing to me is that Denene pitched this book idea more than 10 years ago and now it's finally come to life. She just wrapped up book events in Detroit and Columbus, GA.
Budding authors are getting her support with Denene Millner Publishing. You can also catch Denene on her new show, A Seat at the Table, on Georgia Public Broadcasting where she discusses hot topics for African Americans with her co-hosts.
2. Eric Litwin & James Dean

During A.J.'s kindergarten year his class went bananas for the Pete the Cat book series. Pete the Cat is illustrated by James Dean and written by Eric Litwin.
I found my 44-year-old self wrapped up in the feisty feline's adventures and accompanying songs.
We had the pleasure of attending the Center for Puppetry Arts performance of the popular book series. A.J. enjoyed the hands-on aspect of creating his own Pete the Cat puppet in the craft room.
Although Pete the Cat performances tour nationally, you can catch the Dean or Litwin around Atlanta at festivals and book signings.
3. Stephanie Davis
Media executive Stephanie Davis start launched the Kayla the Great series which follows the active 6-year-old and her family in Atlanta. Kayla is biracial, has big, curly hair and a
"Kayla The Great™ loves the color red and her favorite dress is the subject of the first book in the "Kayla The Great" series.  When her beloved red dress comes up missing, Kayla The Great™ goes on a mission to find it."
Stephanie regularly visits storytime events around Atlanta and shares great photos on the Kayla the Great Instagram to promote diversity and literacy.
Coming soon: Kayla The Great and The Spelling Bee
4. Sharna Fulton
Illustrator Sharna Fulton created the character, Chloe Pink who's known as the original #BossGirl.
"Chloe Pink is the seven-year-old girl in each of us and she is here to cheer you on daily with her messages of hope, encouragement and success tips for life."
Her publications include The Chloe Pink & Brooklyn Doodle and Dream Coloring Book and The Tell Your Secrets & Stuff Chloe Pink Diary.
Original Chloe Pink paintings are now at Markay Gallery in The Marietta Square. Sharna is also an elementary school art for Fulton County and a mentor with the Butterfly Club to empower our female students and provide leadership training.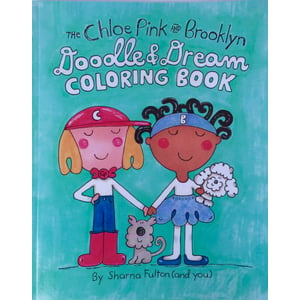 5. Krystal Grant
I know Krystal personally, just like I know Denene. Krystal is a blogger and public school teacher who's hilarious – if you ever meet her in person.
As a busy wife and working mom, Krystal still has time to write books. Her children's book, Poppy and the Playdate, follows Poppy who is "an energetic four-year-old who hasn't learned how to play with others. Join her on this adventure as she tries to make a new friend."
You can meet Krystal at the Nancy Guinn Memorial Library (864 Green Street Conyers, Georgia) Saturday, Oct 14, 2017 from  1-3 p.m. at the local author expo.
Krystal gave me a tip: her new book Poppy Finds the Perfect Pet will come out before the end 2017.
6. Laurel Snyder
I don't know Laurel personally, but we have mutual friends who are writers and creatives in Atlanta.
The AJC reported on Laurel Snyder's five new books coming out in 2017. Among them, her Orphan Island made the National Book Awards for Young People's Literature. Rave reviewers delight in the imagination she used when creating an island for children, with no adults, and the challenges they surpass.
Laurel often appears at Little Shop of Stories in Decatur, local events and schools.
7. R. Gregory Christie
"Illustrator R. Gregory Christie hosts lectures and workshops for all ages. Discover your creative powers with family-friendly, educational programs." Learn more about R. Gregory Christie.