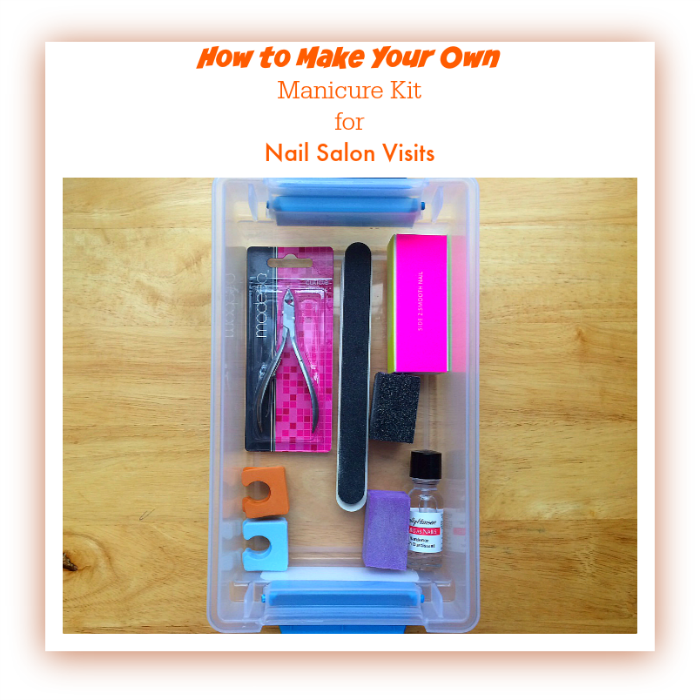 I'm the type of mom who splurges on a nail salon visit every once in awhile. It's my time to get out of the house and focus on getting pretty from the cuticles down. I have a few favorite nail salons in Atlanta including Candy Coated Nails where I've tried a few sets of gel nail polish, as well as Natural Body Spa Brookhaven where I reviewed a blueberry manicure-pedicure. Both of these salons will blow you away with how clean they are and the well-trained professional staff. Depending on your budget and where you live, you may prefer to pop in for a quickie manicure" at a salon that doesn't require an appointment. Maybe you don't have a regular nail technician you trust. I'd suggest you make your own manicure kit to bring along to salon visits.  I've also got a $25 Family Dollar Gift Card for you to spend on nail supplies or anything you need this summer. Good luck!
How to Make Your Own Manicure Kit
What you'll need to bring your own manicure kit on your next nail salon visit –
Manicure Kit Case or Container
Nail File
Nail Buffer
Top Coat
Cuticle Clipper
Favorite Nail Polish
Toe separators (for pedicures)
Manicure Kit Case or Container: I found an small Sterilite brand box at Family Dollar that was the perfect size. It was $3 and you can find it in the container section.
Nail File: Look for a washable nail file. My new addiction is the glass nail that's better for natural nails because it doesn't "shred" or fray the edges of your nail. I like to bring my own nail file so I know that it's clean.
Nail Buffer: In the beauty section of Family Dollar, I found a 4-sided nail  buffer. I've also kept a few buffers from professional salons that they allowed me to bring home.
Top Coat: One of my favorite, tried and true brands for a nail polish top coat is Sally Hansen Hard as Nails. Even though salons use top coat on your manicure before you leave, it's always great to have your own. I learned this from my Mother – keep a quality top coat handy while you're in the car. Add a thin layer before you take a drive. Let it dry along the way.
Cuticle Clipper: These are some of the most intimate parts of the professional manicure experience because a nail technician uses them to clip the delicate cuticles around your nails.
Favorite Nail Polish: If you bring your own nail polish to a manicure visit you can fix any smudges, cracks and breaks on your own when you get home.
Comment below – What else would you add to a manicure kit that you'd bring to your next nail salon visit?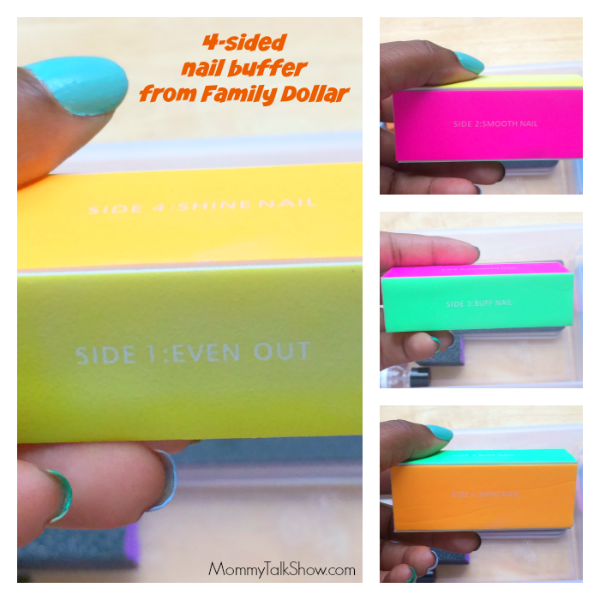 Nail Salon Tips
Talk to your nail technician about any concerns you have about health and safety at the salon. Do you bring your own nail file, polish or nail tools? Do you think your salon would appreciate it if you did?
Put your name, cell phone number and email address on or inside your nail polish kit in case you forget it at the salon. I taped my business card on the outside of mine!
I've got two Pinterest boards you'll love if you're into nails and beauty: Picture Perfect Mani-Pedis and Beauty & Spa Product Reviews.