I got my first set of gel nails in October, right before I had back-to-back blogging events to attend. Bloggy Bootcamp was here in Atlanta. Then I left to present at the Niche Parent Conference for influencers at Walt Disney World. Having a "picture perfect manicure" that lasted was important to me because I talk with my hands, knew I'd be shaking hands while networking and didn't want to deal with chipped polish. So I asked my new nail technician at Candy Coated Nail Spa (no longer in business) for gel polish in bright blue to match the outfits I'd picked out.  Since my Pinterest board on nails and manicures is so popular, I wanted to share something of my own with my followers there and with you! Here's a gel nails test where I show you day by day how they look until they chip or break. This is a must-read if you're considering investing in a professional gel nail manicure. They're about $30 for the salon service depending on where you go. My affiliate links are below.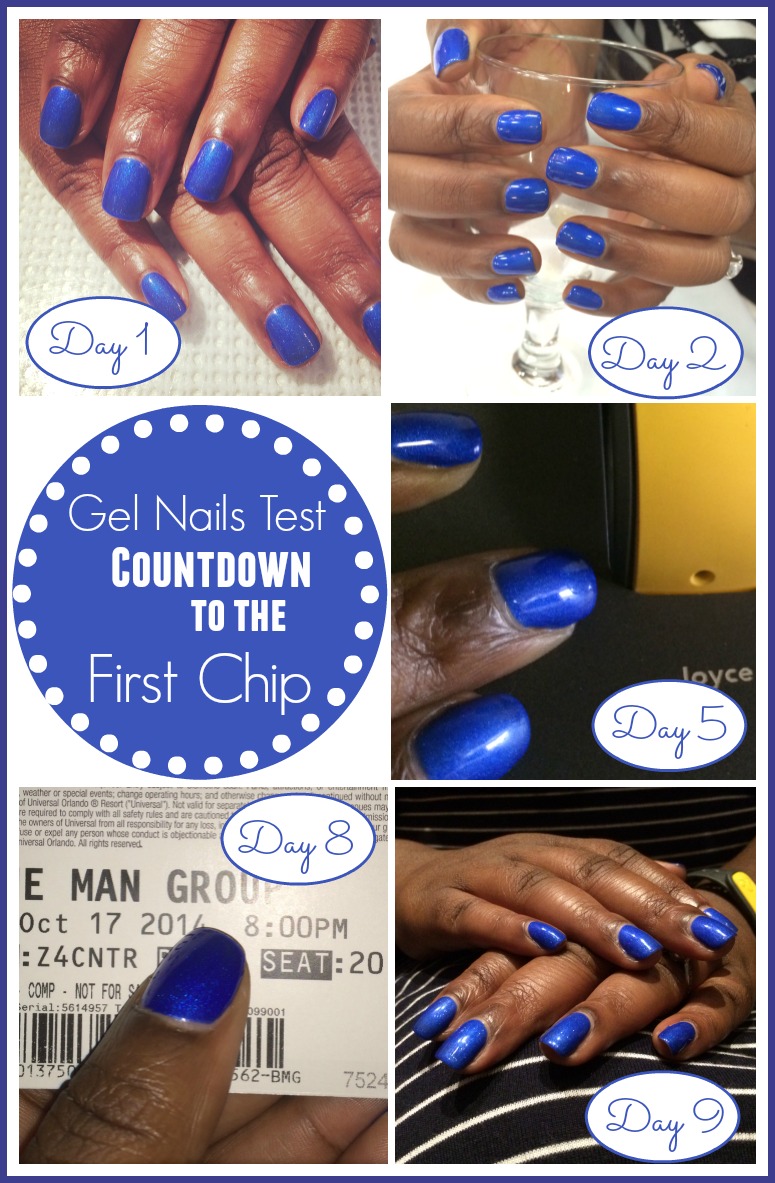 Gel Nails Test
Day 1 to 5: Enjoy your time as a make believe hand model. Since I got this bright blue gel nail polish, they really stood out. Thanks to Lashawn Wiltz from Everyday Eyecandy for taking this photograph at Bloggy Bootcamp. Don't you love the shine on gel nails?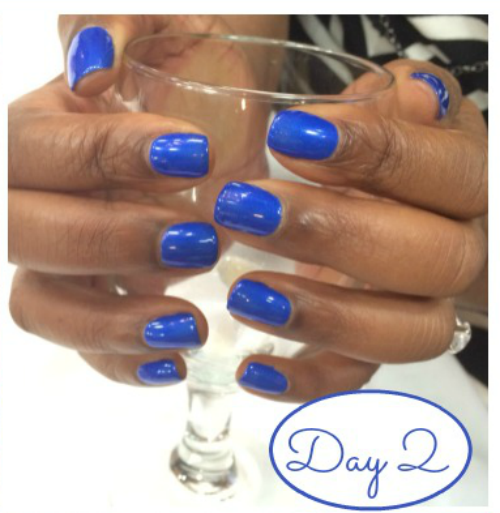 Day 6 to 11: My gel polish is still popping at this point. I've made it to Walt Disney World with my Mom and A.J. We're having a ball. Networking is going well and my nails still look fab.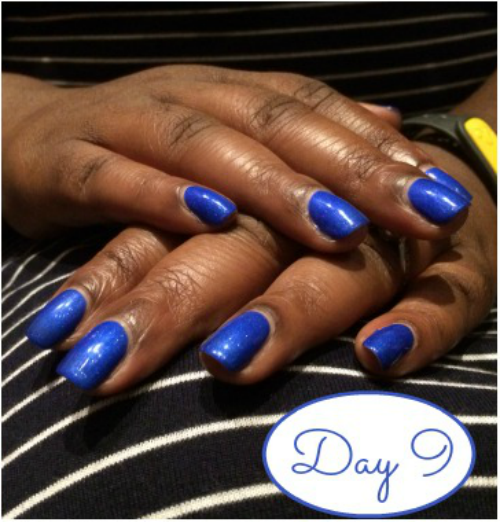 Day 12 to 18: This is the ideal time to get a fill-in of the same gel polish color or remove the gels entirely to replace them with another color. Although they're still a high shine on my nails, this is when you're likely to see some lifting. Considering you just made a $30 investment in a professional gel polish manicure, it's still better than a standard manicure that lasts about 10 days.
Day 19 to 30: By now my nails were showing signs of wear and tear. Some of the gel polish was lifting around my thumb. My nails grow very fast when they have a protective overlay or gel nail polish covering them.
Day 35: This is when I got my gel polish replaced I (gasp) and by then I'd broken a nail, partly because my nails were longer.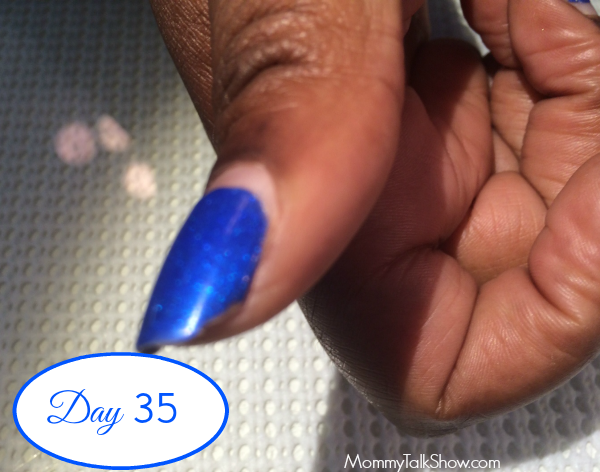 Gel nail polish is designed to preserve the polish, not make your nails harder or stronger. I initially thought they were similar to a protective acrylic nail overlay and realized I was quite wrong. You can also make a small investment for about the same price for one set of gel nails, the Sally Hansen Salon Pro Starter Kit comes with a prep polish, gel polish nail color of your choice and the required LED light to cure the polish to your nail bed.
Just to give you a well-rounded look at experiences, I asked a few of my blogging buddies about their experiences with a gel nails test to see how long they last before you need a fill-in of the same color or a new set.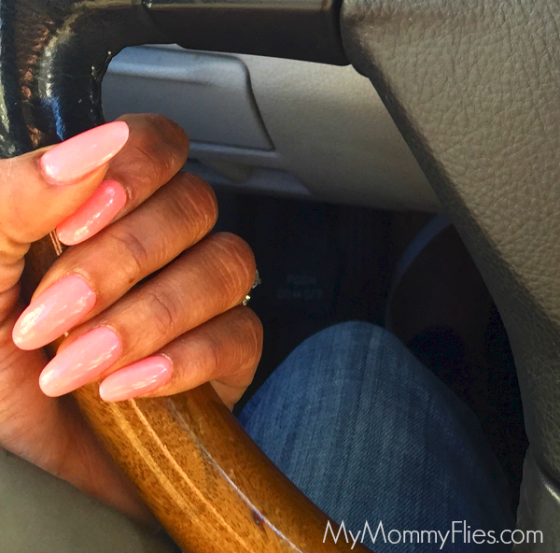 Katrina Morrison from My Mommy Flies is a professional traveler, wife and busy mom who said, "My gel polish can last 10-14 days depending on color and my activity.  I recently started using gel powder. It last twice as long, high shine but a little more money. I can go to 4 weeks with gel powder in a neutral color."
See, now she has me wondering about gel powder. I have seen a few new gel polishes that promise the same shine and wear – without using a lamp. Have you tried them?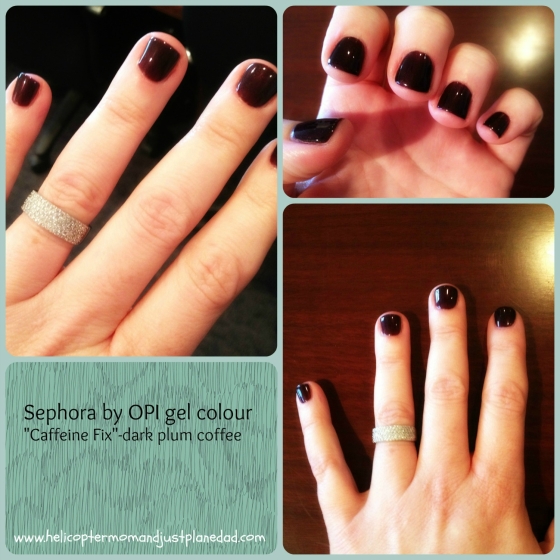 C. Lee from Helicopter Mom and Just Plane Dad told me,  "Day 7-9, the nail starts to grow out so you get a bit of "uncovered" nail showing and when this happens, water and wear get around the edges.  Day 10 and beyond for fingers, they start peeling at corners and I typically peel the rest. Never had my nails break underneath or crack, they do get a white film over them so I always follow-up with nail oil." She's also used gel nail polish on her toes and said it stayed better on her fingernails.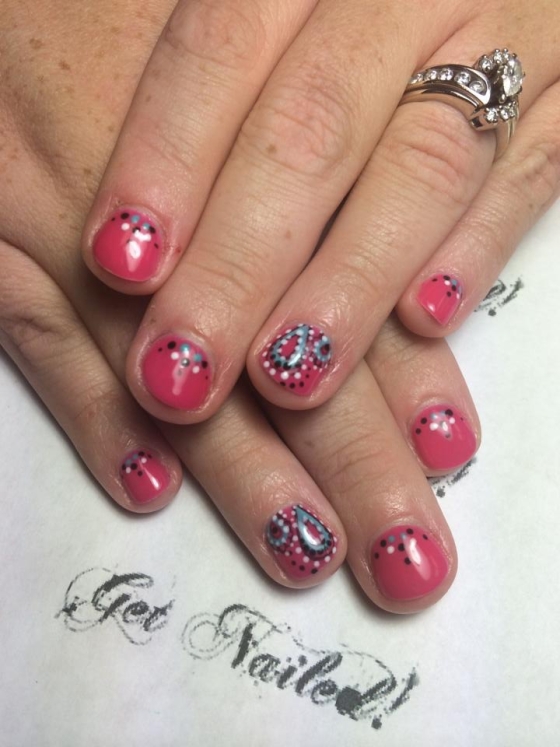 Candace Papke from Purposeful Bliss shared that she enjoyed sporting gel nails for a beach vacation since regular polish would have worn off. "I was able to go almost 3 weeks before needing them redone. Cracking seldomly occurred, however, I noticed the growth the most in my nail beds."
Protect Your Manicure
Wear gloves when washing dishes or doing any cleaning with your hands.
Add a coat of clear nail polish over your gel polish. Some people, even my Mom, add a clear coat daily.
Keep your gel nails short and manageable. The longer they are, the more likely they are to snag on your clothing, scratch are break.
For another beauty review, check out the colorful options from formaldehyde-free Dermelect nail polish.