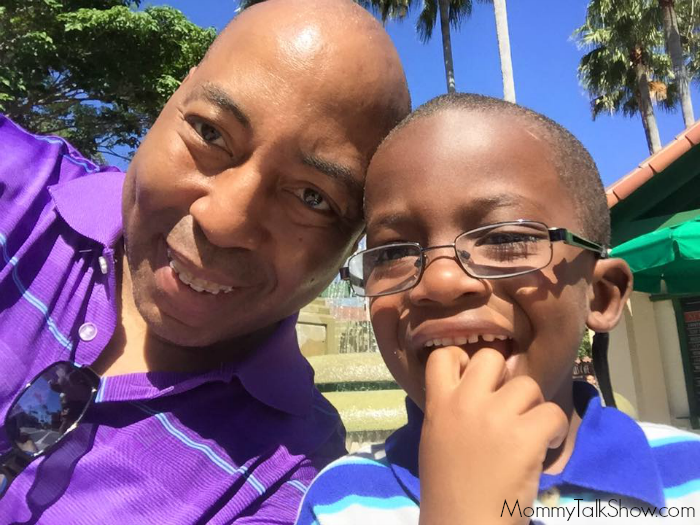 When work demands kept my husband from joining us at the invitation-only 2015 Disney Social Media Moms Celebration, I immediately thought about inviting my brother to join us. He's retired, has never been to Disney and hasn't been on a vacation with my family yet. So I made the plans for us all to stay in Orlando at the host resort, the Yacht & Beach Club Resort. I highly recommend it for the amazing pool area, nearby lagoon with ferry service to Epcot and Hollywood Studios. In those four days, we made Disney Memories – many of which I didn't capture with a photo.
My brother is the closest A.J. will ever get to knowing my Daddy who passed away before the boy turned 2. My brother can re-tell some of my Daddy's best sayings, jokes and indiosyncries.
Traveling with your uncle is like traveling with your dad, with just a little more fun and just as much toughness.
Traveling with your uncle is also like traveling with a more energized and younger version of your grandfather.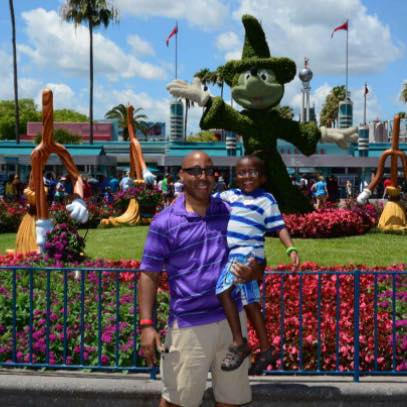 I didn't capture a photo when A.J. saw his uncle waiting for us in the waiting area of Disney's Magical Express, ran at full speed towards him and jumped into his arms. It's the way he tackles his Daddy after missing him for a few days. It's the way I imagine he'd jump into my Daddy's arms if lung cancer and diabetes weren't so vicious. Hot tears rolled down my cheeks to see A.J. so happy and loved by his uncle. If you've ever had the pleasure of being around a five-year-old, you know how much they anticipate an upcoming event, then burst with joy when it arrives.
I didn't capture a photo either when we all turned in the first night of the social media celebration. My brother, "I love you, A.J. Good night." My boy, "I love you too." Within minutes the boy was asleep and my heart was melting.
Our Next Disney Vacation
I'd love for our next Disney vacation to include even more members of our family. I've had my eye on the Disney Cruise because of all the on-board fun including his favorite Disney Junior characters who are on board! I've kept my eyes glued to the Disney Cruise Line Facebook page and knew my Star Wars Fan husband would be into A.J. enjoying the Star Wars millenium falcon inside the Disney Oceannear Club.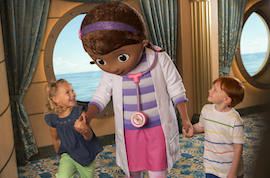 As the Disney Social Media Moms Celebration ended, we packed our belongings and got ready for the Disney Magical Express transportation to the airport. My brother left first because of his earlier flight. The boy hugged and kissed his uncle, then seemed to move right along with his excitement about going to Animal Kingdom to meet Russell & Doug from the "Up" movie.
Maybe an hour later, A.J. quietly said,  "I miss Uncle Vernon."  And I said, "Me too."