One of the first spas I've visited in Atlanta was Natural Body Spa in Morningside. It's in the first neighborhood where we moved four years ago. I've gone back for spa treatments and my husband surprised me with a spa day for my second Mother's Day. Now that I host this show and share amazing brands with moms, I've had the opportunity to tell you about a new nail treatment I enjoyed at Natural Body Spa Brookhaven. Keep reading for my review and details on how to win you own complimentary service.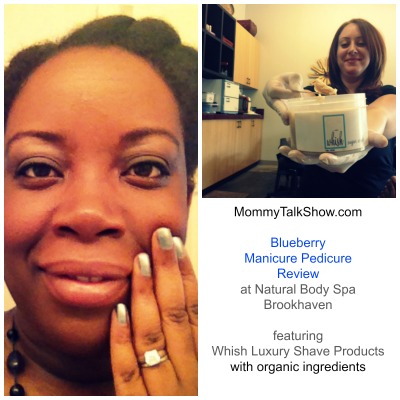 I first heard about the Blueberry Manicure Pedicure in the Natural Body Spa e-newsletter. It's described as "a luscious fruity antioxidant service for your hands and feet. Enjoy a brown sugar scrub exfoliation, shea butter moisturizing massage and an added hair inhibiting gel treatment, all with fresh and organic ingredients."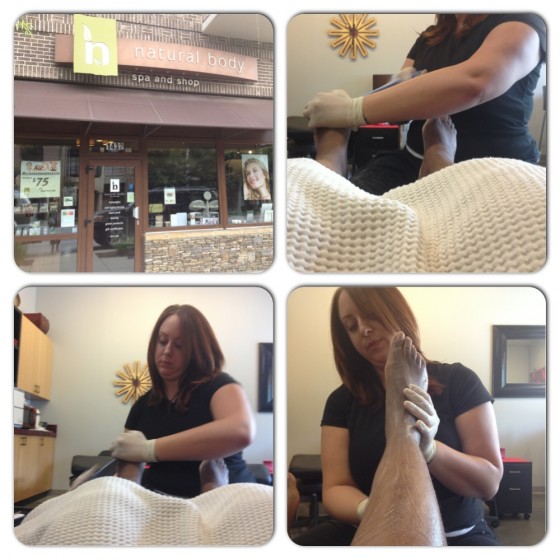 I reviewed the spa manicure pedicure on my first visit to the Natural Body Brookhaven location (1432 Dresden Drive Suite #300) where there's street parking and a parking lot in the back. The spa is also less than one mile (walking distance) from the Brookhaven/Oglethorpe Marta station. I love how the Natural Body Spa staff always offers tea or water before your spa service. My nail technician, Angela, greeted me and directed me to the pedicure chair. Cleanliness is a clear priority for Natural Body because your feet soak in a metal bowl for a pedicure, not a tub with jets.
As relaxing as it was to have a manicure-pedicure in the 10 Ten Nail Bar, I found the space a little cold because the AC was on. But Angela noticed I was chilly and covered me in a comfy blanket. I shared a photo on the Mommy Talk Show Instagram of how comfortable I was with a warm neck rest in the pedicure chair.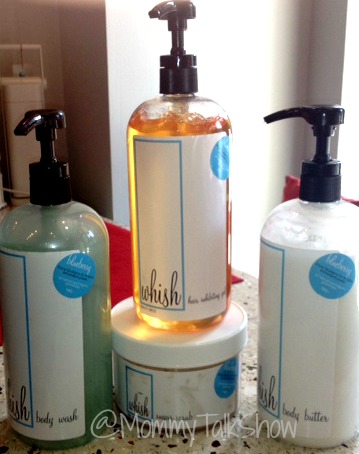 The Blueberry Manicure Pedicure features four products from the Whish Luxury Shave line:   Sugar Scrub, Body Wash, Hair Inhibitor Gel and Body Butter. Whish products are "made in the USA with Earth friendly packaging and ingredients. Tested on us, not animals.™" You can buy the product line featuring organic ingredients at Natural Body locations.
The scent of the blueberry body scrub was amazing. It smelled just like fresh blueberry muffins that you just removed from the oven. What's great is that blueberries are high in antioxidants that are great for your skin, especially since our feet and legs are getting more exposure to the sun during summer months.
After relaxing in the pedicure chair, we moved to the nail bar for my manicure. I had a great view of the Brookhaven shopping area as people walked and drove by. Angela used the same products and steps for my manicure. The scrub was amazing on my hands and to wipe it off, she used hot towels with a rosemary scent.
The entire spa experience was amazing, just like the Signature Spa Facial with Naturopathica products I reviewed at Natural Body Morningside in the 2012 Holiday Gift Guide.
Now, it's your chance to win a Blueberry Manicure Pedicure at Natural Body Brookhaven!
Enter the Natural Body Spa Brookhaven Giveaway
This prize does not include a gratuity/tip, so please leave one for your nail technician.  All of the entries below are mandatory. The manicure pedicure prize must be redeemed at the Natural Body Spa Brookhaven location. Enter by August 17, 2013. Good luck!
Disclosure: I received a complimentary blueberry manicure-pedicure (Value: $75) from Natural Body Spa in Brookhaven to review and share my honest opinion.