One of the goals I set for myself when I reviewed the Smooth Fitness Compact Elliptical was participating in a 5K race. I just found an upcoming Walk Wag N Run 5K and Fun Run that benefits Ahisma House for abused animals that I'd like to complete.
Join the #FiguringOut40 5K Team for the Walk Wag N Run.
When: Saturday, August 24 at 7:45 a.m.
Where: Lenox Park in Brookhaven, 1025 Lenox Park Blvd.
Cost: $25 early registration by August 17th; $30 from August 18th-23rd; $35 day of the race
Details: Pets are welcome, but not required.
Prizes: $450 cash purse split three ways for largest team, fastest team and most creative team name
Comment below if you have any questions or contact Mommy Talk Show.
Do you have any advice for me on completing my first 5k race?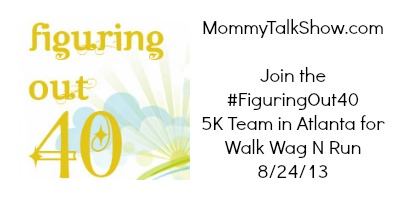 #FiguringOut40 is a theme I started since I'm turning 40 shortly and would like you to follow me on this journey.