I had a selfish mommy moment and bought two pairs of designer shoes at Famous Footwear this weekend for a "steal." Thanks to BOGO shoe deals at Famous Footwear my splurge was kind of guilt-free because I didn't buy shoes for A.J. or my husband. I'll show you the shoes I bought, explain how long the BOGO offer lasts through "Back to School" season and show you a funny video clip from the in-store event for bloggers.
The black and burgundy shoes in the corner of my Instagram are from the Carlos Santana lined and originally retailed for $80! But I got both pair for less than $25 since they were on the clearance rack for $15 each. The BOGO discount made it all worth it. Isn't that an amazing deal?
http://instagram.com/p/cVQ1SzPHJF/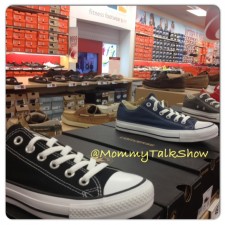 I messaged my husband a photo of these Chuck Taylor Converse and he immediately wanted to know if they had his size.
I walked around the store and noticed the cool colored women's athletic shoes (even though I usually only buy white-on-white).
For A.J. and other toddler boys, there were a wide selection of character shoes like Superman, Spider Man and Cars. Instead of picking something I wasn't sure he'd like, I can see us going back to the store so he can choose what he'd like. For BOGO half off, it's worth it to get two pairs. But if you only buy one pair, hold on to your receipt. Bring it back to take advantage of the BOGO.
The store manager told us Famous Footwear prides itself in being a "family-friendly store" with
plenty of aisle space for strollers
wide shoe sizes sizes
BOGO offers
e-coupon savings for frequent shoppers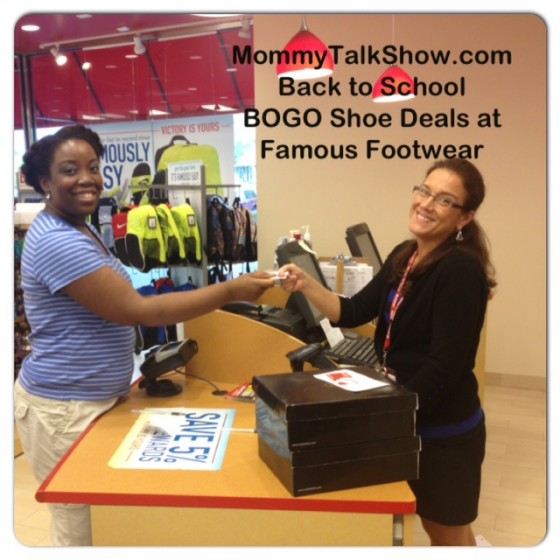 Don't miss the Famous Footwear "buy one get one half off" (BOGO) through September 14th. Near the register you'll see a variety of backpacks and socks that are eligible for the BOGO discount too.
Shoe Crazy Video

Thanks to an in-store contest, three blogger were allowed to go "shoe crazy" by racing around the store in 30 seconds to grab as many shoes as they could. Anything they grabbed was free.
@MacKidStephanie, @Classic_Mommy and @SeriousKrystyn busted some serious moves during the race and got as many as six pairs of shoes.
Famous Footwear
Stay connected with the Famous Footwear online store,  Famous Footwear on Facebook and follow @famousfootwear. Share your stories about victories while wearing Famous Footwear shoes and use the hashtag #MyVictory.
Disclosure: I attended an informational event at the East Cobb Avenues Famous Footwear store. I received gift card to shop and share my honest experience.