I rarely get nervous about speaking in front of crowds. I've been appearing on-camera for 20 years now. After interviewing an array of folks from Oprah to Al Gore with a white supremacist or two mixed in (I was a TV news anchor in  Mississippi) there's not much that can throw me off.
But my son rocked my world and took my breath away Saturday night.
As I stepped from behind the backstage curtain at the Atlanta performance of Listen to Your Mother, the sweetest voice God ever made yelled with all his six-year-old might!
GO MAMA!!!
Then his little hands clapped feverishly FOR ME.
I was stunned for a moment by the tears that welled up in my eyes.
A lump I'd rarely felt, took its unusual place in my throat. I felt like A.J. was the only person who'd hear my words on stage.
I couldn't see him clearly from the haze of stage lights as I stood by the podium. But I could make out an outline of him and the larger version of his namesake seated in the audience.
Once I shook off my emotions, I focused on my essay. My story of motherhood and parenthood wove in his name and my Mother's name. A.J. laughed at all the right places just like the adults in the theater. When I was done. He clapped and screamed again.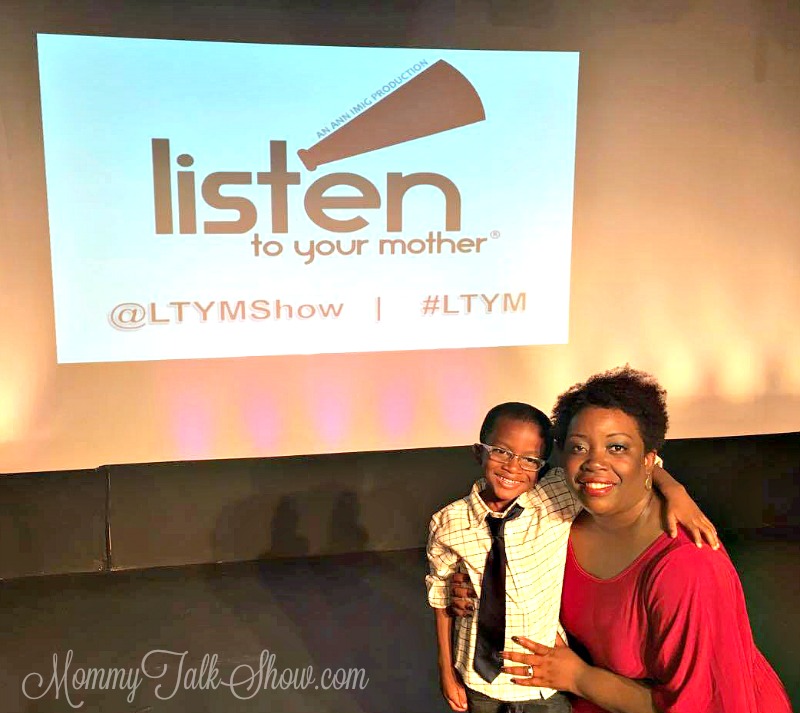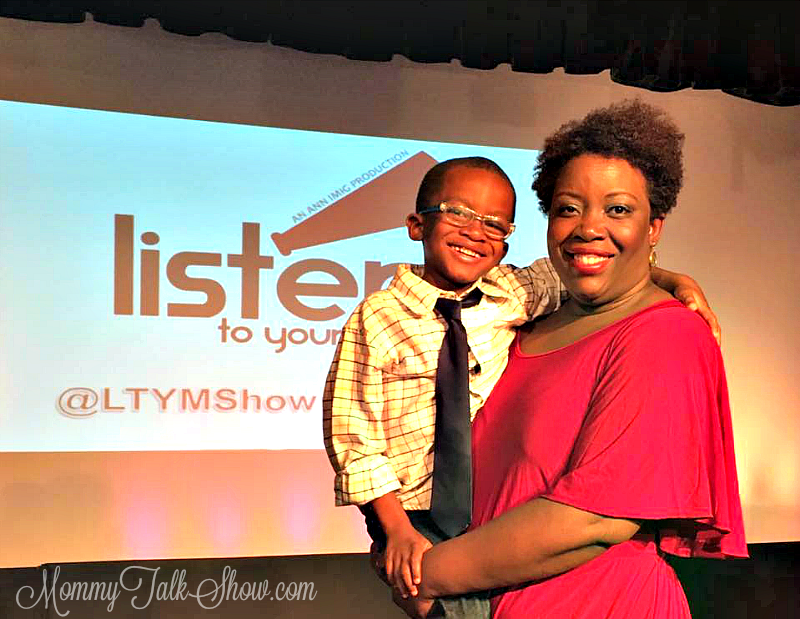 Our boy was beaming with pride. His MAMA was on stage in a red jumpsuit she'd trusted would fit when she ordered it from Amazon a week from the event.
Thank God for Amazon Prime!
My tribe was there too.
Michele, Kyle, Angela,  Michelle and her mom, Krystn, Julia and Lisa. They greeted me at the stage when the show wrapped for photos, hugs and kisses.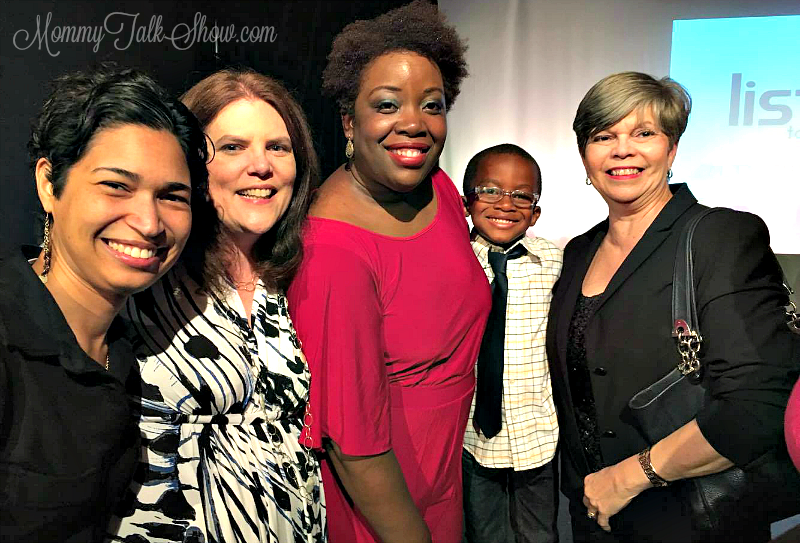 What made me so emotional about A.J.'s exclamation of support? He says encouraging things to me every day.
"I love you, Mama!"
"You're beautiful, Mama!"
"You're the best Mama EVER!"
"You're trying to lose weight, right Mama?"
Not so much with the last question, but you get my drift.
I realized I'm so used to being in the audience cheering him on at school or in the lobby at his weekly martial arts class – that I'd forgotten that he hadn't really seen me "at work" in awhile.
Two years ago, he wasn't cheering. He had an epic meltdown when I was a model in the plus-sized Macy's Fashion Show with Supermodel Emme.
A.J. and Antoine were perched at the end of the runway to get great photos of me as I walked out in a different outfit. But in A.J.'s four-year-old mind I was supposed to walk out to him. Thankfully, my blogging buddy @MommyWeek caught the emotional moment he couldn't take it anymore. He joined me on stage at Macy's and the audience's hearts melted.
I hope you let your little ones see you shine at work (wherever that is).
Let them cheer for you and celebrate you because you deserve it!
Support Listen to Your Mother
Wherever you live, share your original story of motherhood for the 2017 Edition of Listen to Your Mother when auditions open in a city near you.
See the rest of the shows in the 2016 series in various cities though May 8, Mother's Day Weekend. Bring your friend, your mom and your tissues.
[Tweet "Don't miss @LYTM Show before Mother's Day 2016 coming to a city near you! "]