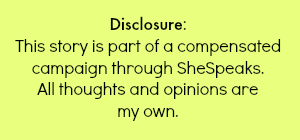 As someone who struggles with her post-mommy fashion, I leaped at the opportunity to cover a recent Macy's Event featuring Plus Size Fall Fashion. Emme, the world's first plus-sized supermodel was the host…then the poop hit the fan when I was asked to model in the show.
Keep in mind, I've been really rocking the t-shirt and yoga pants look. Or the track suit look. Or the grab anything that's clean and doesn't need to be ironed look. Ask anyone who works from home and doesn't have to see people everyday. It's really easy to slip into the comfy wear vs. dressing professionally like I used to when I went to work every day.
Pre-Fashion Show
The day before the show I went in for a fitting with the Macy's stylist, Michelle Lynch, and her team. I had to dig out my shape wear (which I hadn't worn since my wedding reception) and try on clothes. Michelle and her team were a lot of fun. I felt like a doll with all the different looks we tried. I learned terms like "arms" which means I needed bracelets to accessorize my look. I definitely had an opinion about what I wanted to wear, yet I was open to wearing things that don't "fit" my look.
Like most women, I wear the same 10-12 looks in my closet without a ton of rotation. So I sat back and learned, especially since I was the only non-professional model in the show.
Each model wore three looks featuring
– a soft pant (think pajamas, but stylish)
– a layered look with a cardigan or sweater (perfect for fall)
– a dress (show those legs, girl! I did!!)
The day of the show I was a bit nervous, but excited. I even started tweeting with Emme (@EmmeNation) and another SheSpeaks Influencer @YouLifeAfter25 about the looks the Macy's team pulled for me.
@EmmeNation @YourLifeAfter25 I'm delighted @Macys stylists picked looks for me that are fun & what my husband loves to see me in!!

— Joyce Brewer (@MommyTalkShow) September 5, 2014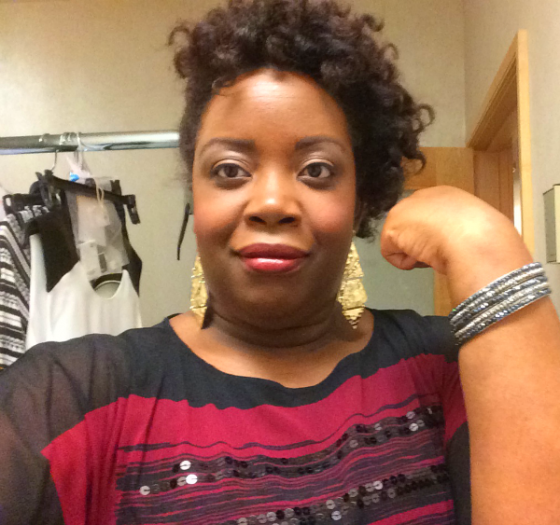 Fashion Show
Just like my days covering local news, being a model in a fashion show means you "hurry up and wait." We got there early, found out about last minute changes to our looks, then waited for hair and makeup.
Look 1: Black mesh knit winged blouse and loose pants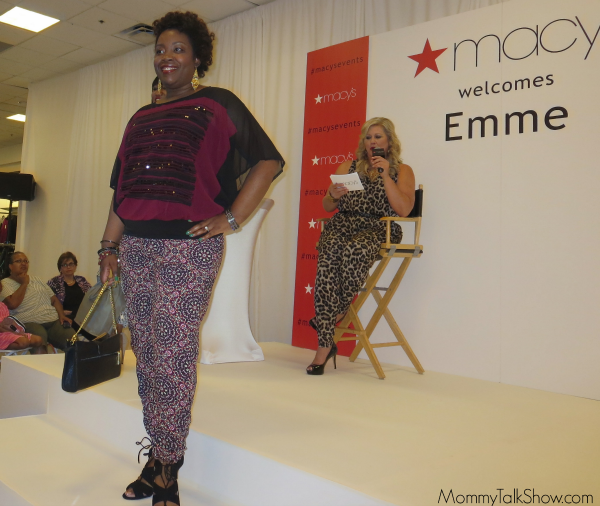 Look 2: white silk sleeveless blouse by Calvin Klein with Black perforated peep-toe bootie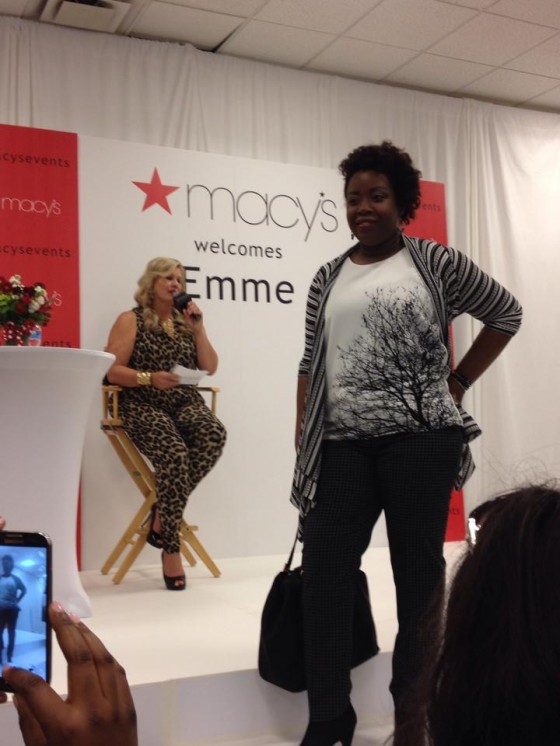 Look 3: Knit, fit and flair Hounds Tooth Dress w/ cobalt blue leather & suede pumps w/ zippers
I was beyond nervous about wearing new clothes and shoes that didn't really feel like mine. Would I do a good job showcasing the style?
Would I end up fashion road kill like Carrie on Sex and the City?
Those fears subsided quickly when I walked out with my first look and saw my blogging buddies there to cheer me on. Then I looked all the way down to the end of the runway to see my husband and son standing there cheering me on.
The show went by so quickly. I could tell A.J. wasn't understanding why I would come out on the runway, wave to him and then go back. By the end of the third look, he couldn't take it anymore. He was on the verge of a full-fledged meltdown. So I followed Emme's suggestion, picked him up and brought him on stage with me as I balanced his 35 lb. frame on my three inch heels.
The crowd…mainly moms…went wild.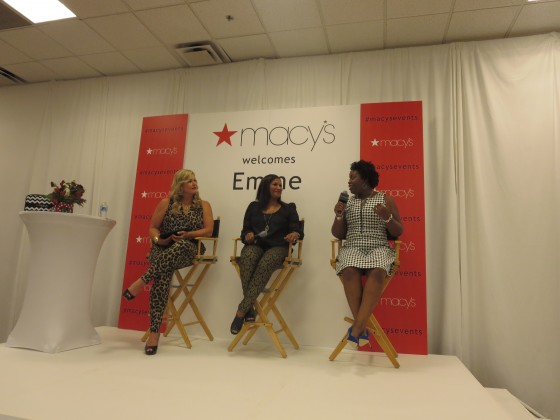 Post-Fashion Show
Emme hosted a panel discussion where the stylist and I chatted about Fall trends, whether plus-size is a "bad word" and the ever-controversial "Can we wear white after Labor Day?"
What surprised me the most? Designers like Michael Kors, Calvin Klein and INC. have plenty to choose from for those of us who are size 12+. It's a great reminder that I need to invest in my wardrobe, especially since I want to host more events and look picture-perfect.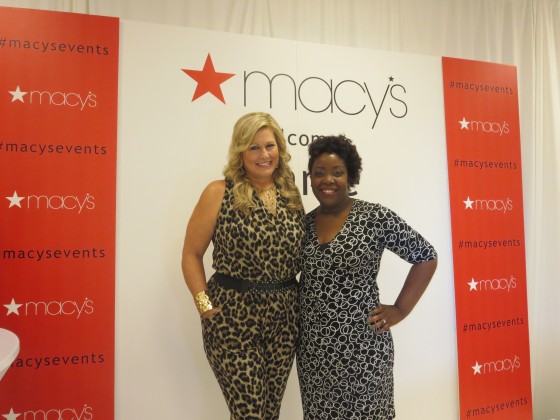 Special thanks to my blogging buddies who shared their photos and images with me like my friend Ashley from MommyWeek.com.
Read Jamonkey's:  "Macy's Fall Fashion Trends"
Lou from Product Review Mom wrote: "Macy's Fall Fashion Show Event with Emme"
Mamalicious Maria shared "Fall Fashion for Plus-Sized Women"