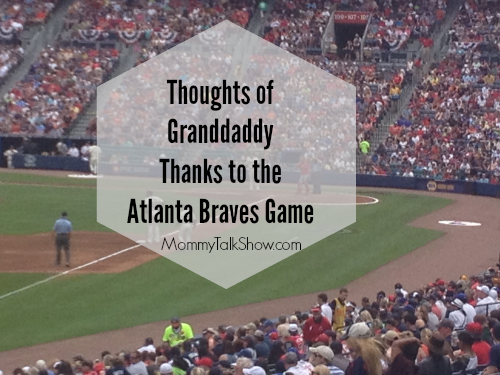 I'm constantly surprised at how much A.J. remembers and digests what I tell him about my Father, his Granddaddy, who passed away three years ago. A.J.'s sense of loss was even more evident after we went to our first Atlanta Braves Game as a family.
On the way there, I told A.J. how much my Father loved baseball and how much he would love to attend this game with us.
A.J. seemed to let it sink in and looked out the car window at all the traffic headed downtown.
We parked and walked towards Turner Field. Before I knew what was happening, A.J. told one of the greeters that his Granddaddy died. The greeter was taken a back, then I explained that my Father died and we'd just spoken about his love for baseball on the way to the game.
We had fun at the game. A.J. bounced between my lap and Sr.'s, snacked and watched a lot of the action on the big screens since we couldn't see a lot from our seats.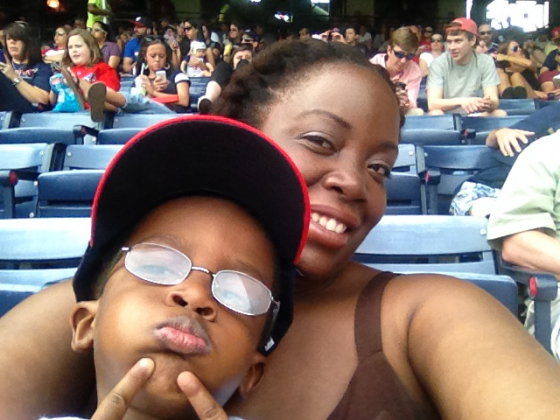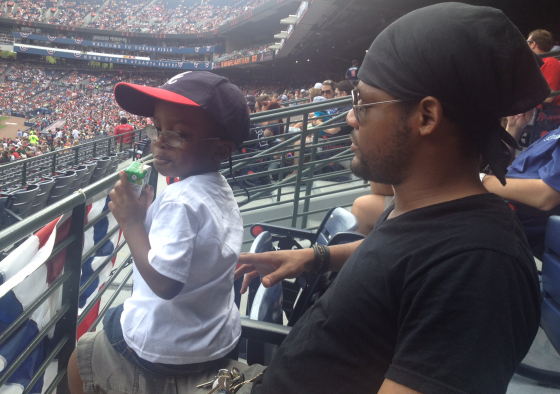 The people who sat around us all cheered on the Braves and mentioned how well behaved he was for his age.  They'd decided to let their toddler stay home. We knew A.J. couldn't make it through a whole game (just yet), so we got ready to leave right before the seventh inning.
On the way out, A.J. got his first time pass signed and even met another Braves fan and his dad.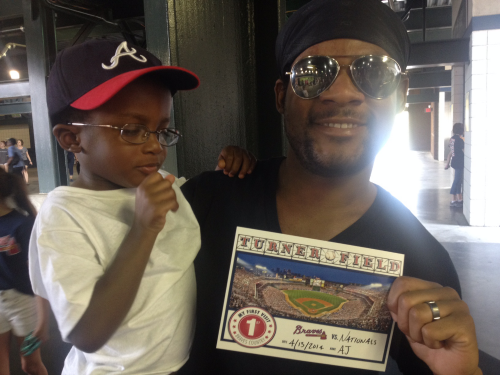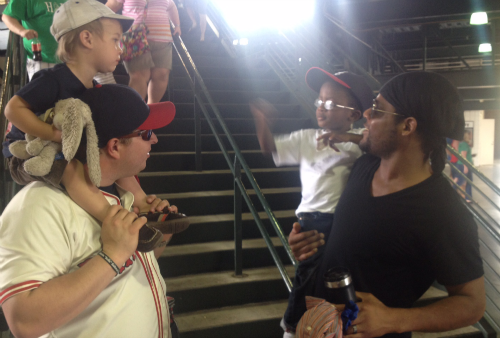 About three months later, we were watching local news coverage in our living and the Braves were mentioned. It must have sparked his memory of what I said in the car on the way to the Braves game. It led A.J. to ask a series of questions and by the time he was done, we were both in tears.
"Granddaddy loved baseball, right?"
"When you go to heaven, you can't come back, right?"
"You mean God can't fix him?"
"Grandaddy won't EVER be able to come to a Braves game with me?"
By his last question, I was sobbing and he was crawling into my lap. After a few deep breaths, we regained our composure and continued talking about missing Granddaddy and how it's OK to feel sad or cry. What's striking to me is how A.J. is grieving all the potential things he could have done with my Father. You may recall I shared some of the family photos we found in my Daddy's wallet. Last year,  A.J. and I appeared in a Wells Fargo YouTube campaign with African American bloggers telling Untold Stories where I discussed telling A.J. about the discrimination my Father faced in the Deep South.
Given A.J.'s deep emotions about his Grandaddy, I talked to my Mom and a few people I trust who suggested I find some children's books for A.J. that tackle death in a way he can understand, without being afraid. They recommended:
I Miss You: A First Look at Death
I'll keep you posted once we've read them and post a review.
Atlanta Braves Game
On a lighter note for those of you in Atlanta, the Braves season wraps at the end of September. We may make one more game and arrive closer to the end so A.J. can run the bases at Celebrate Sunday game.  To stay up to date on the team, follow @Braves on Twitter and like the Braves Facebook page.