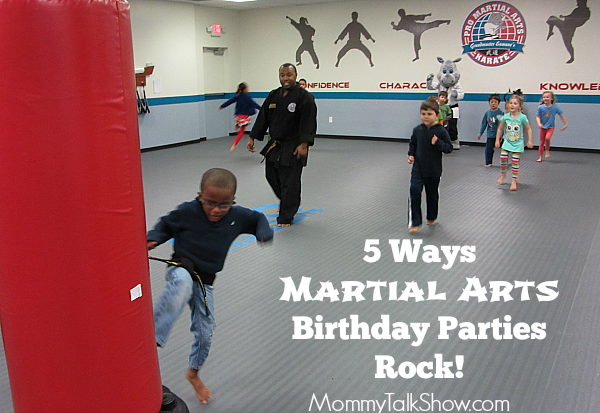 You may have noticed on the Mommy Talk Show Facebook page that I post late afternoon photos of A.J. participating in martial arts classes. He's already up to his second belt and working on his third. Not bad for a boy who just turned 5! To celebrate we partnered with Pro Martial Arts to invite his friends and share 5 Ways Martial Arts Birthday Parties Rock:
1.
All skill levels can participate
.  Although A.J. has been taking martial arts twice a week since the Fall, his friends (who were new to karate) were able to participate and have as much fun as he did. As the Pro Martial Arts website describes its Kick'n birthday parties are, "Hosted by trained martial arts instructors, teach your child and their special guests fun, safe and enjoyable karate techniques. Our instructors offer a kid friendly atmosphere offering you a unique alternative to the ordinary arcade or skating rink birthdays."
Don't worry if even the birthday boy or girl hasn't taken karate. The instructors can create fun games and drills that will keep them thrilled during the 90 minute event.
2.
Confidence is created
. Every child who left the party at Pro Martial Arts felt like they'd tried and accomplished something new.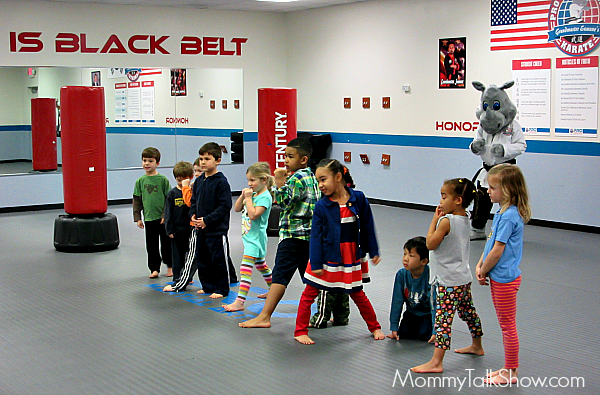 For A.J. it was an opportunity to show his experience and leadership skills. Can you tell from the look on his face – how determined and focused he was?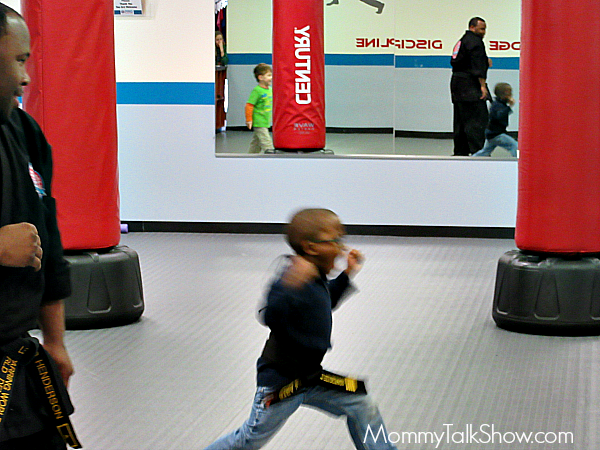 3.
Life lessons are taught
. A core part of martial arts is defense – against predators and bullies. Talk it over with your instructor if you'd like these topics addressed at your party. At the very least, they can show children how to escape an adult's grip in an emergency. See my previous post, "
How to Prepare Your Child for Bullying.
"

4.
Works up an appetite
. You won't have any leftover food after a martial arts birthday party. After almost 60 minutes of drills, running and games – everyone will have a huge appetite. We hosted A.J.'s party at 1 p.m., served pizza, fruit and cake. There wasn't a lot left over!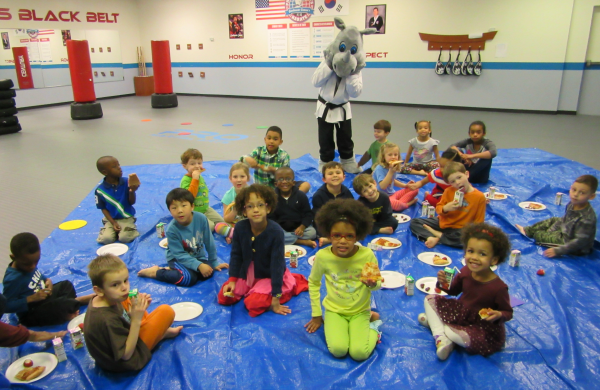 5. The birthday boy or girl gets a lot of attention. A.J. had a blast at his party and it culminated with him breaking a board all of us signed as a birthday keepsake.