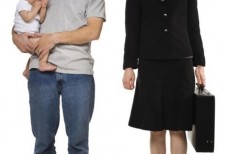 With the high cost of child care and high unemployment rate, it's no surprise more American families are choosing to have one parent stay at home with the children. In fact, almost 160,000 men are stay at home dads.
I asked the "Dads Edition" guests if they would want to want be a part of that trend. Their candid answers were so good I'm splitting them in to two parts. Here's part I:
Come back Tuesday to see Part II when the rest of the "Dads Edition" guests answer: "Would you want to be a stay at home dad"? Follow Mommy Talk Show and Bean Work Play Cafe on Facebook for a link!
Bean Work Play Cafe in Decatur is designed to help working and stay at home parents deal with all the demands of their busy schedules. It's a co-work space for parents and play space for kids, all the in the same building. I call it my "guilt free" option for working.