For the last two weeks, I've been shopping for a used car. I have cash in hand, I have a budget in mind and my mechanic is on stand-by to check all the important parts of the car BEFORE I drive off the lot.
The experience of shopping for used cars has been as enjoyable as chewing glass for breakfast OR root canal with no pain killer.
At first I thought it was because I'm woman shopping by myself at a few lots. I've gone to two used car lots with him and two with my husband. They've been equally miserable experiences.
First, I started my search online (I have a list of used car sites below). You can select the makes, models, mileage limitations and prices. There are plenty of photos of the cars and even video tours. But you have to go to the lot and test drive it before you can really be sure, RIGHT?
Very few used car lots in the Atlanta-area offer any type of warranty. They're mostly sold AS IS, no warranty or you can purchase an additional warranty for three months to a year.
My Horrible Used Car Shopping Experience
Used cars are NOT as described online.
I make an effort to scour each used car listing that I'm mildly interested in. I even e-mail the listings to my husband and my brother to look over. If there's a CarFax available where I can see the car's purchase history, I send that to them too. I went to a used car lot in Lilburn after looking at the online listing and website listing where the car I was interested in was clearly labeled as an AUTOMATIC. When we arrived and told the manager which car we were interested in, he said "You know it's a stick, right?"
A manual transmission? Are you friggin' kidding me?
You had ONE job. Describe the car online and they got that WRONG.
We were outta there in less than 10 minutes with no car.
Used cars lots can do a better job at cleaning.
I get it. These cars have been driven my multiple users and are not brand spanking new. But a vacuum, a wipe down of the dashboard and replacing a few broken parks would mean a lot to an a potential buyer.
I test drove a car yesterday with a broken handle on the interior driver's side. I wasn't sure I'd be able to get out without an engineering degree.
Cars have undisclosed problems.
Yesterday, I drove all the way to Cumming and Alpharetta to test drive cars. At an Alpharetta lot, as soon as I started the car the  –  CHECK ENGINE light –  came on!
I immediately called my husband before I pulled out the lot. His reaction: "You can just get out of the car now."
The journalist in me needed to dig a little deeper just to see how much more ridiculous this experience could get.
I drove the car around the corner and within 30 seconds heard a loud knocking sound. I wasn't sure the car would even make it back to the lot.
When we got back, I confronted the sales guy about the CHECK ENGINE light. He acknowledged that he saw it when he pulled the car out of its parking space and thought it would go off when I drove it a bit. Who DOES that? Really? Seriously?
The sales guy also stated the replacement part needed and the cost.
IN MY OPINION: He should have told me that BEFORE I test drove the car which would have given me an opportunity to decide if it's worth my time or not.
No female salespeople.
I haven't seen one woman selling used cars. Maybe they're more comfortable working at dealerships with newer cars. But I'd like to see if there's a difference buying a used car from a woman than a man. Some of these male salespeople have said some of the stupidest things to me about repairs and cosmetics. They were so dismissive of my concerns.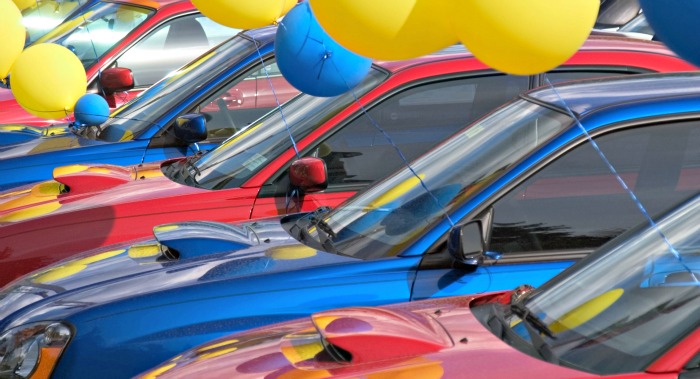 So What's Next?
I'm going to take a 24 hour break from looking online at used cars. It's making me a bit anxious.
I'll also revisit my budget and consider getting a small loan for newer used cars – although everything in my being says DON'T DO IT.
Used Car Websites
Craigslist (search locally)
Recent Car Reviews
See the new model cars I've reviewed in the Travel and Auto section of the show. I also just reviewed a 2016 Mitsubishi Outlander and was impressed by how well it did during the crazy week of wet weather in Atlanta.
Follow Joyce's Mommy Talk Show's board Auto Video Reviews on Pinterest.