Until this month our son A.J. had only seen New York's Times Square on television and in movies.  As a native New Yorker, I realized that our son had only really seen the New York suburbs when we visit my family and friends. Last month, we flew to New York to attend a memorial service for lifelong friend's mother. We stayed for a few days after the service to spend time with my family, so I decided to take A.J. into New York City by myself to visit Times Square. I'll show you step-by-step how we got there in case you're visiting over the holidays or over the summer. Thank you to National Geographic Encounter for the complimentary passes to enjoy the experience and share our honest opinion.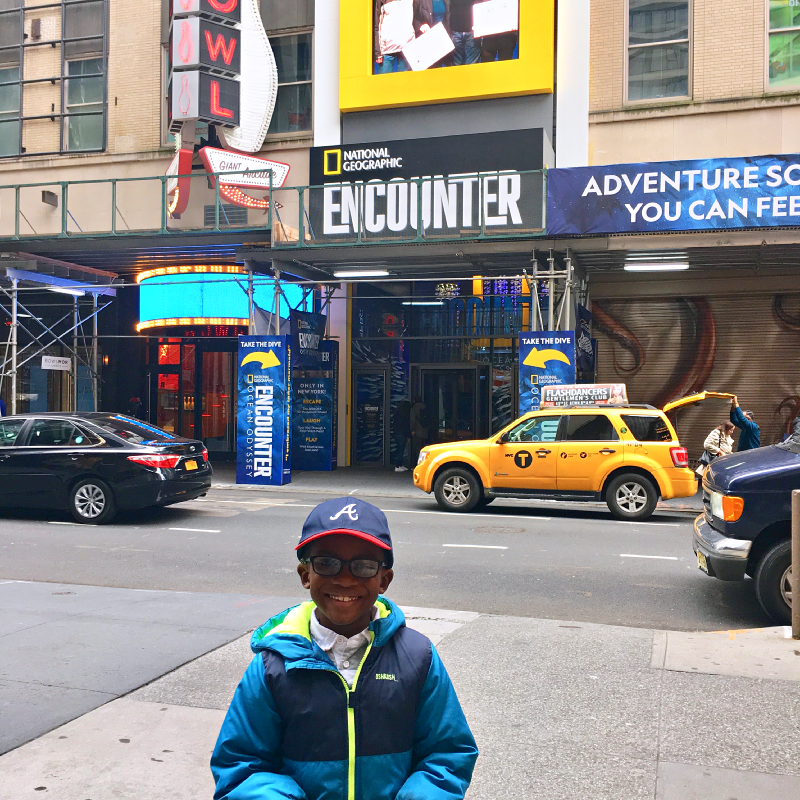 What is National Geographic Encounter?
National Geographic Encounter opened in 2017 within a few steps of Times Square. You won't see real wildlife there. But when you walk inside, you'll experience life-like videos and animations from the same people who worked on the movie, Avatar. The sea really comes alive!  It's a fun learning experience that allows you to escape the city's cold or the heat, depending on what time of year you visit New York City. You'll enjoy learning about wildlife from the South Pacific to North America.
"Developed and produced by the creative minds at SPE Partners, with a team of Academy, Emmy and Grammy Award-winning artists, Encounter is an unforgettable immersive experience certain to thrill explorers of all ages."
Whales, dolphins, sea lions, huge squid, and even underwater vegetation are inside the National Geographic Encounter through videos, photos and interactive screens.
How to get there
We traveled from Long Island to Times Square by taking the Long Island Railroad to Penn Station – then took the subway system. Times Square is a huge attraction in New York City with multiple subways lines that run directly to 42nd street, then you walk two short blocks to the National Geographic Encounter (226 West 44th Street between 7th Avenue and 8th Avenue, New York, NY 10036).
Of course, taxis, Lyft and Uber are other transportation option. Discounted parking nearby is available for visitors.
When we first got off the subway, A.J. was immediately struck by all the huge, animated screens and crowds of Times Square. He gasped. I would have recorded it – but I was focused on keeping my hands on my 8-year-old in the hustle and bustle of Manhattan.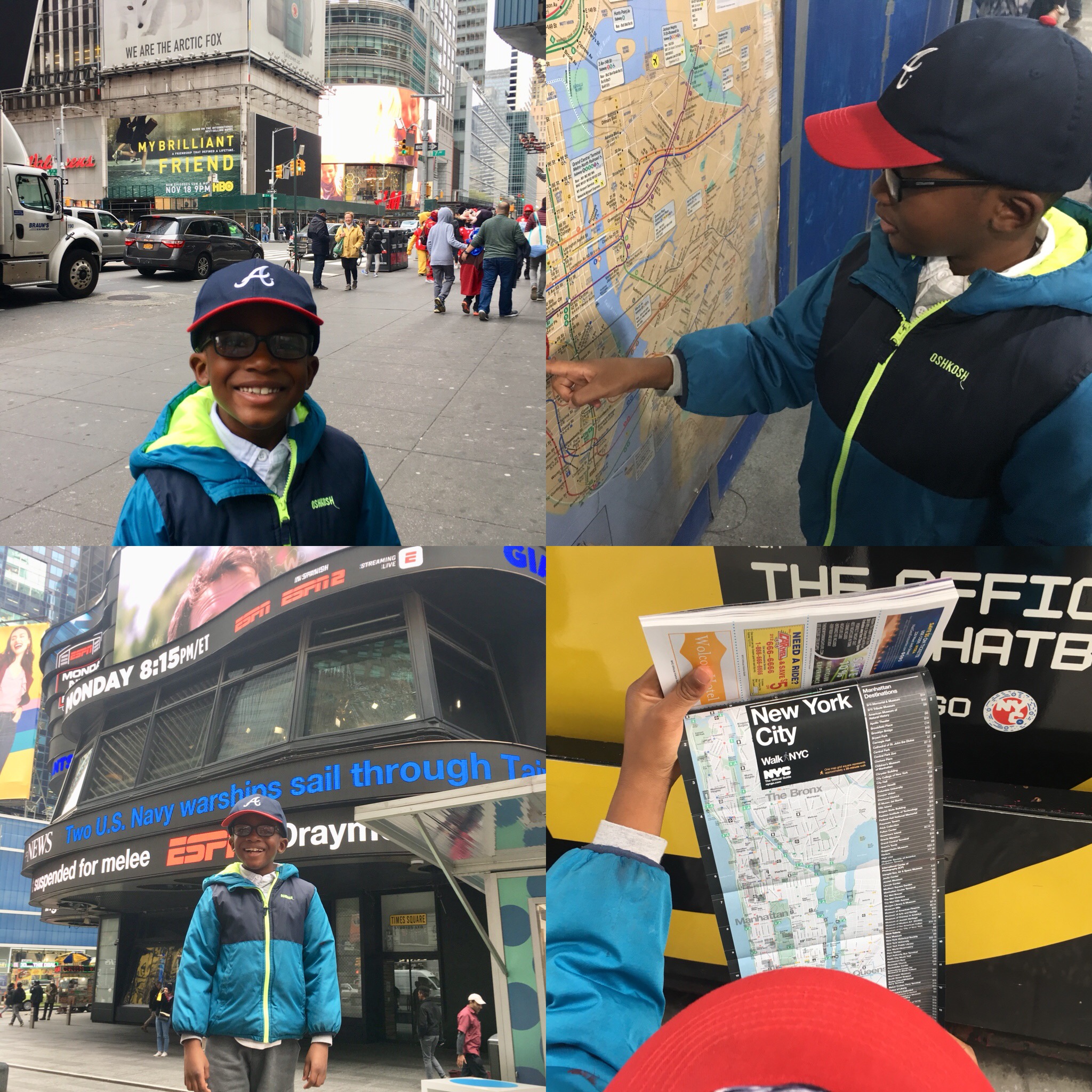 Before we made it to our scheduled 1:15 p.m. tour at the National Geographic Encounter, we stopped for the obligatory sightseer photos, a pretzel from a street vendor and a visit to the Disney Store. There are risers and seating throughout Times Square for photo opps.
You will feel incredibly safe in Times Square. We saw New York City police everywhere – from Penn Station – to the streets of Times Square.
How to save on tickets
Visit the National Geographic Encounter ticket page for updates on discounts and family packages so everyone can visit.
This Fall there's an $8 off with the code Fall18. But this code is subject to change.
"A portion of the proceeds from your ticket purchase supports the National Geographic Society's nonprofit work in conservation, exploration, research, and education."
Select the time you'd like for your 45 minutes guided tour through the National Geographic Encounter.
How to make it memorable
You're encouraged to take photos and videos of your experience at National Geographic Encounter. Use the hashtag #OceanOdyssey.
When you walk inside and the tour begins,  you will see life from the same underwater experience of sea life. Much of the sea appears blue. Many of my photos and videos will have a blue hue. Biofluorescent species like some of the coral appear blue. We experienced the 3D theater where things that were blue, like A.J.'s jacket appeared to glow.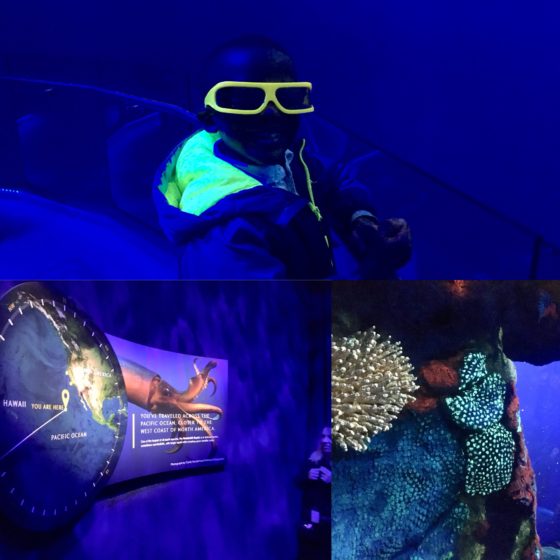 We captured this brief video of our experience inside where we learned about the coral reef, herrings, and stingrays in a ceiling-t0-floor experience. Don't they look like you're inches away from them in real life? Let me give you a heads up that the 3D theater is an attention-grabber. There was a moment when I screamed, but it was fun!
See the Coral Reef Inside National Geographic Encounter
I don't typically buy the professional photo packages available at attractions. They're usually too expensive or the photos come out crappy. In this case, the Nat Geo photos looked amazing AND the price for prints and digital images were too good to pass up. Plus, I rarely get into the photos myself. By handing over the picture taking responsibilities to the professionals, I was able to get into this memory for our family.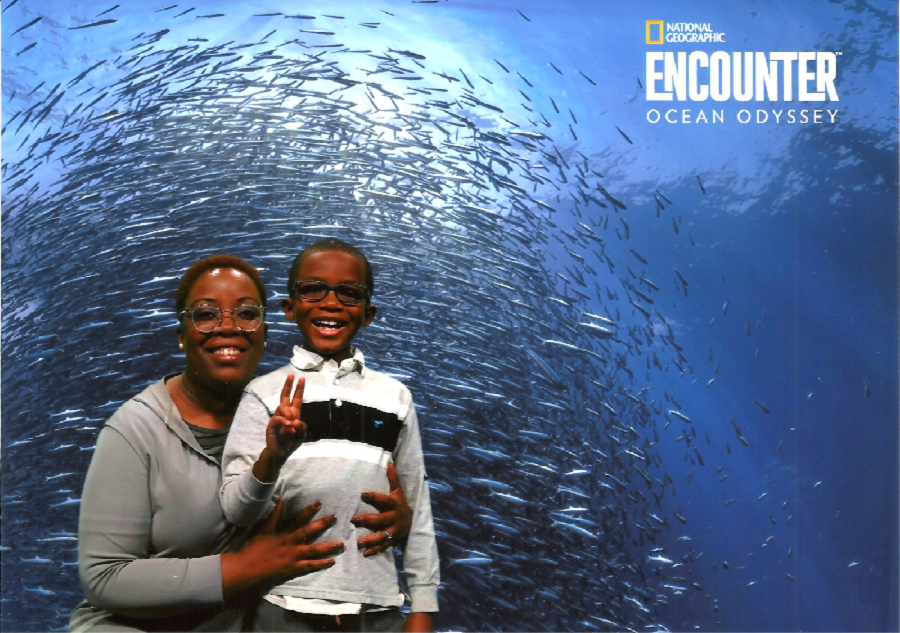 Make your mark on the efforts to preserve sea life. You can see from our Instagram post how A.J. contributed to the puzzle wall
Keep the conversation going once you leave. Talk to your children about the sounds shrimp make in the deep sea and which wildlife is so vicious that they will eat each other!
What to eat
There are street vendors on every corner in Times Square with delicious foods and snack.
A.J. immediately recognized Bubba Gump Shrimp from the Forest Gump movie as we walked down 42nd street. But due to his food allergies that was not a possible spot for us to eat.  Instead, we chose the Hard Rock Cafe where we had no waiting for a table, clean bathrooms, our food came out fast and we sat right by memorabilia for our family's two favorite artists: Beyonce and Jimi Hendrix.  A.J. thought his kid's pizza was too "cheesy" so we changed his order easily with the waitress.
Click to tweet: Headed to NYC's Times Square w/ children? Don't miss @NatGeoEncounter w/ guided tours, 3D experiences and up-to-date lessons on saving endangered sea life: LINK
For updates on the experience and ways to save, like National Geographic Encounter on Facebook and follow Nat Geo Encounter on Instagram.