One of our favorite family vacation memories was our seven-day Western Caribbean trip onboard the Carnival Cruise Glory. At first, we only told A.J. we were flying to Miami when we woke him extra early for our morning flight. Once we landed in Florida and boarded the bus at the airport to take us to the port, we broke the news that our next top was a cruise ship. For the next week, we had fun onboard the ship and the excursions in Grand Cayman, Belize and Cozumel. You'll find helpful insight below on planning your next cruise.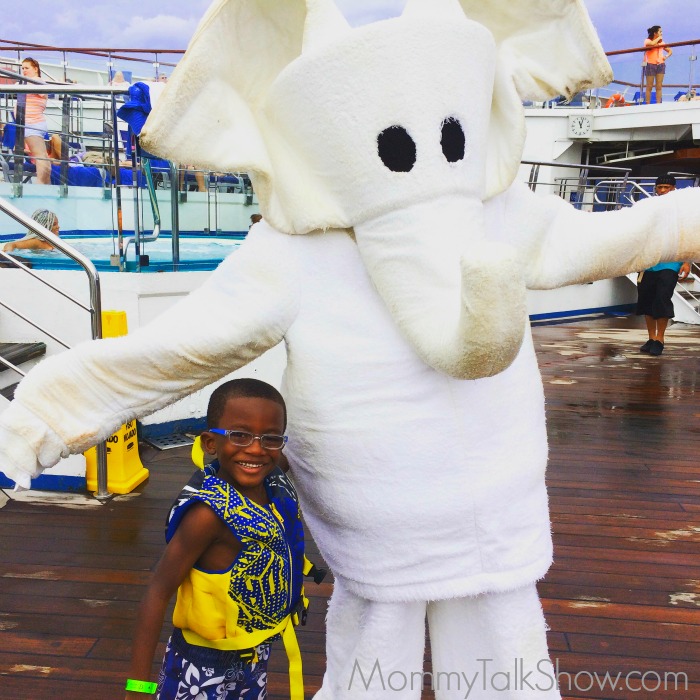 A.J. had so much fun on Carnival Glory that he asks at least once a month when we are taking another cruise OR if it's possible to live all year on a cruise ship.
For our next go-round, there are several things I plan to do differently. I hope you find the lessons below helpful whether you're booking a family cruise on your own or working with a travel agent.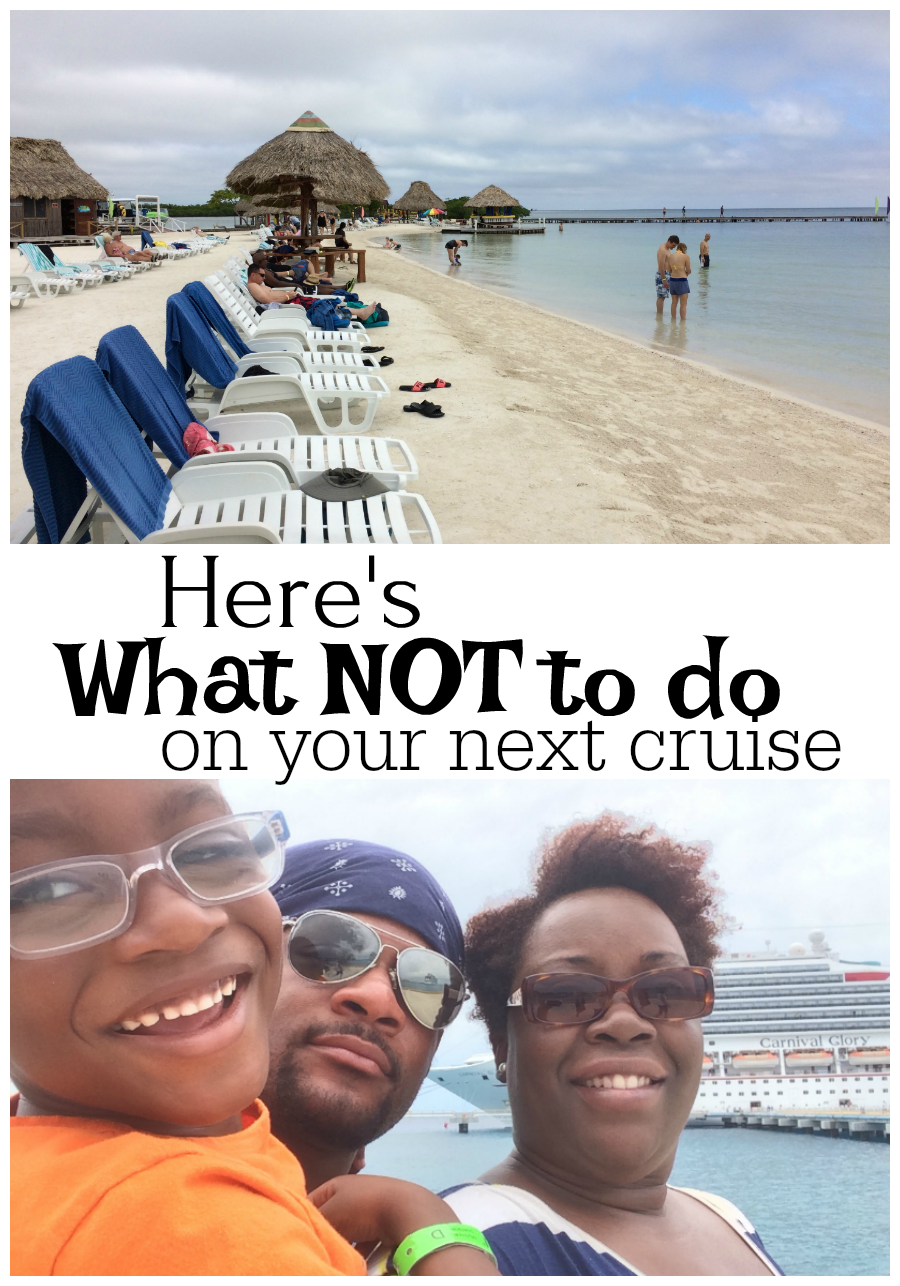 Our 2015 cruise was a partnership with Carnival Cruise. My referral links are below.
Our Cruise Regrets
Arrive in port city a day or two early
On our first day of the cruise, I struck up a conversation with a woman in the elevator. She looked relaxed and comfortable.  I'll call her "Lori."
Lori and I chatted about what we looked forward to over the next seven days on the ship.
Maybe I looked a little frazzled after flying in from Atlanta, getting our family to, as well as finding our cabin and luggage. Lori was the exact opposite.
She told me she'd arrived in Miami a day early, checked into a hotel and relaxed by the pool.
Say what?? Why didn't I think of that?
Cruise ships usually depart in the afternoon around 4 p.m. Thanks to an early direct flight from Atlanta, we made it on board with no problems, but a part of me was jealous of Lori who planned a relaxing day in Miami before our ship left.
Lesson: If your schedule and budget allows, arrive in your cruise port city a day or two early to relax and alleviate the rush of landing and transporting to the ship in a day.
Order Room Service
A few days into our cruise our family of three hit a brick wall of exhaustion. We knew we needed breakfast, but no one had the energy to make it to the dining hall.
Our breakfast room service menu (not gratuity) was included on the Carnival Cruise. Check with your cruise booking agent to be sure it's included.
Thanks to room service we slept a little later, relaxed in the room and I drank my morning coffee.
Lesson: If your family can't make it to the dining area, place your order from your room and wait. Be aware of extra fees.
Don't miss out on the experience of full-service dinner each night with the amazing staff, though.
Bring a 2-way radio or walkie-talkie
When your family is separated on board the cruise ship, one of the best ways to stay in touch is with a 2-way radio or walkie-talkie.
Lesson: You'll save on data fees for texting etc., but you may experience some interference with the 2-way channels.
Take adventurous excursions
Although I'd cruised a few times before, our Carnival Glory trip was A.J. & Antoine's first experience on a ship. Since A.J. was still getting used to swimming and didn't meet many of the age or weight requirements for some of the more adventurous off ship excursions. So there was no ziplining or tubing for us. We had to play it safe.
Every excursion we chose didn't involve a lot of walking so that he wouldn't get tired and always included lunch.
Our visit to the Grand Cayman Turtle Farm and the beach excursion in Belize were the perfect speed.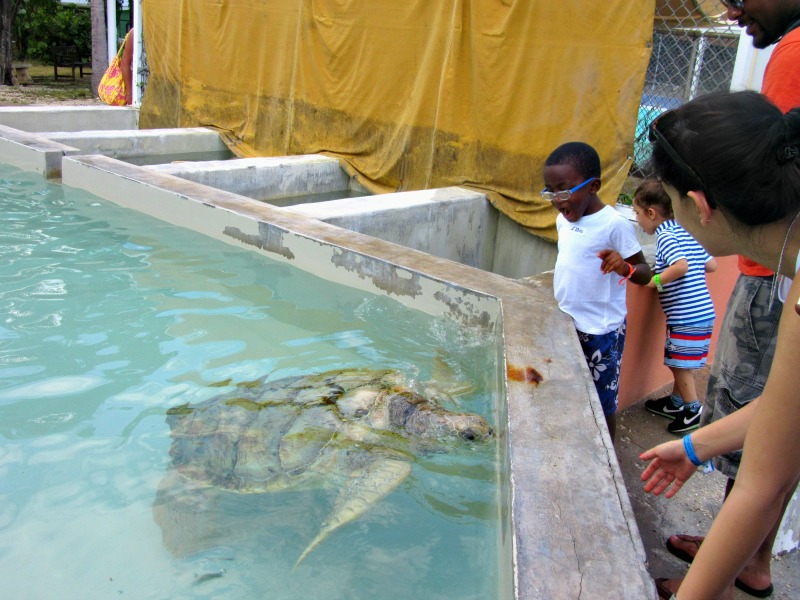 Lesson: If I had to do it all over again, I would have encouraged us to split up so that each adult had an active day of excursions. I would have loved to explore some ancient ruins.  My husband probably would have chosen cave tubing and ziplining. *Read the descriptions of each excursion to see recommended ages.
Stay in Port City Late
Disembarking from a cruise ship and racing to catch a flight home can be a hassle logistically. To minimize the rush and frenzy, consider booking a hotel for a day or two in the port city – then flying home.
For our next cruise: Swimming and fun in the water are what's most important to A.J.  I have my on the Carnival Horizon's expected preparedness in March 2018.
I'd also book a five-day cruise vs. a seven-day cruise with a day or two of relaxing.
Picky Eaters Get Just What They Want on the Carnival Cruise
VIDEO: A.J's Carnival Cruise Memories
My blogging buddy Herchel Scruggs from Gym Craft Laundry has an in-depth look at her
EPIC Disney Cruise Fails
.