For months, I have been waiting and watching every preview clip leading up to the debut of The High Note Movie starring Black-ish lead actress, Tracee Ellis Ross. Every time she posts something new on her Instagram account I get a notification on my iPhone. I love her THAT much. She is my BFF in my brain. I fantasize about what it would be like to sip wine in her presence, bask in her beauty and laugh at her jokes while we have lunch at her house. I love her THAT much. When Tracee described on Instagram what it was like to play her singing debut and theme song from the film for her legendary mother, Diana Ross, I cried along with her. Tracee isn't a singing legend. Her voice isn't dazzling. Her voice is honest and vulnerable and all the quirky things I love about her. The High Note, by all appearances, was a chance for her fans to see step out as a singer on her own. I couldn't wait until it came out. I love her THAT much. Even though The High Note movie wasn't playing in theaters (where I typically would pay $5 at the North Dekalb Mall AMC theater) due to the pandemic, I was willing to pay $20 to stream it online at home. I love her THAT much.
But I didn't love this movie and that made me so conflicted about whether Tracee Ellis Ross would ever agree to sip wine with me and be my BFF in real life for at least five minutes someday. I'll stop making this about me and make it about whether you should stream the movie yourself. Ready? Here we go!
My commission-earning affiliate links are below.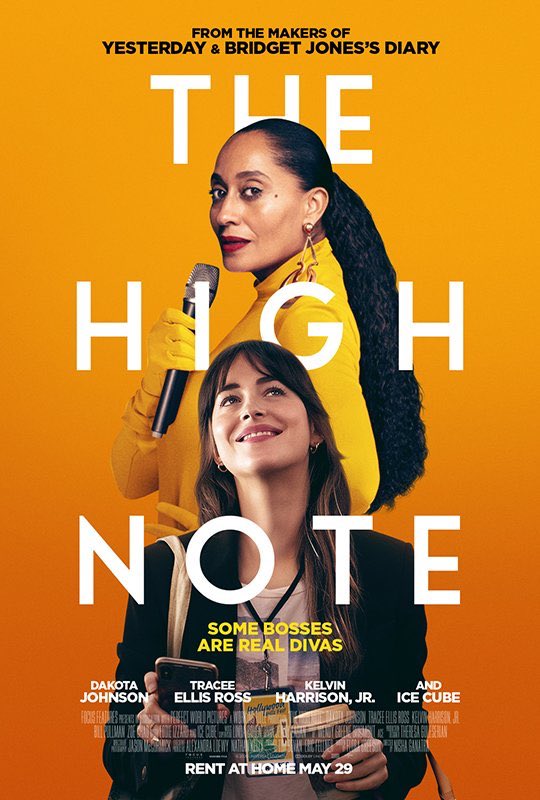 Marketing Mistakes
The High Note was marketed as a movie starring Tracee Ellis Ross. Every trailer I saw on Facebook and TV focused on her. Maybe because Facebook and all the advertising algorithms know I'm Black, my feed was filled with promos of the film featuring Tracee.
I was ready and waiting to see her lead a huge film. She's an Emmy award-winning actress after all. This was Tracee's time to shine on a huge screen!
In The High Note, Tracee plays Grace Davis, an R&B diva who's at a pivotal moment in her career. Her assistant, Maggie (Dakota Johnson), does all the things Hollywood assistants typically do with errands and schedules. But she secretly wants to produce Grace's next album. Maggie even works on a remix of Grace's classic songs behind her back.
I got my first indication that something was lost between the marketing and the film itself when I checked my cable guide to see how to stream The High Note online opening weekend. Dakota Johnson's name was listed above Tracee's. I thought it was an error, then I noticed the movie posters did the same thing. Suddenly, my hopes and dreams were fading.
When I showed the listing to our 10-year-old son, A.J., he got extremely defensive of Tracee's honor: "Wait, why isn't her name FIRST?" he wanted to know. I couldn't blame him. I was starting to think we'd be captured by a bait & switch for the storyline of this film.
From a marketing perspective, I felt like the mindset was to allow Tracee's name would carry the film, but they didn't give her anything meaty to move the story along.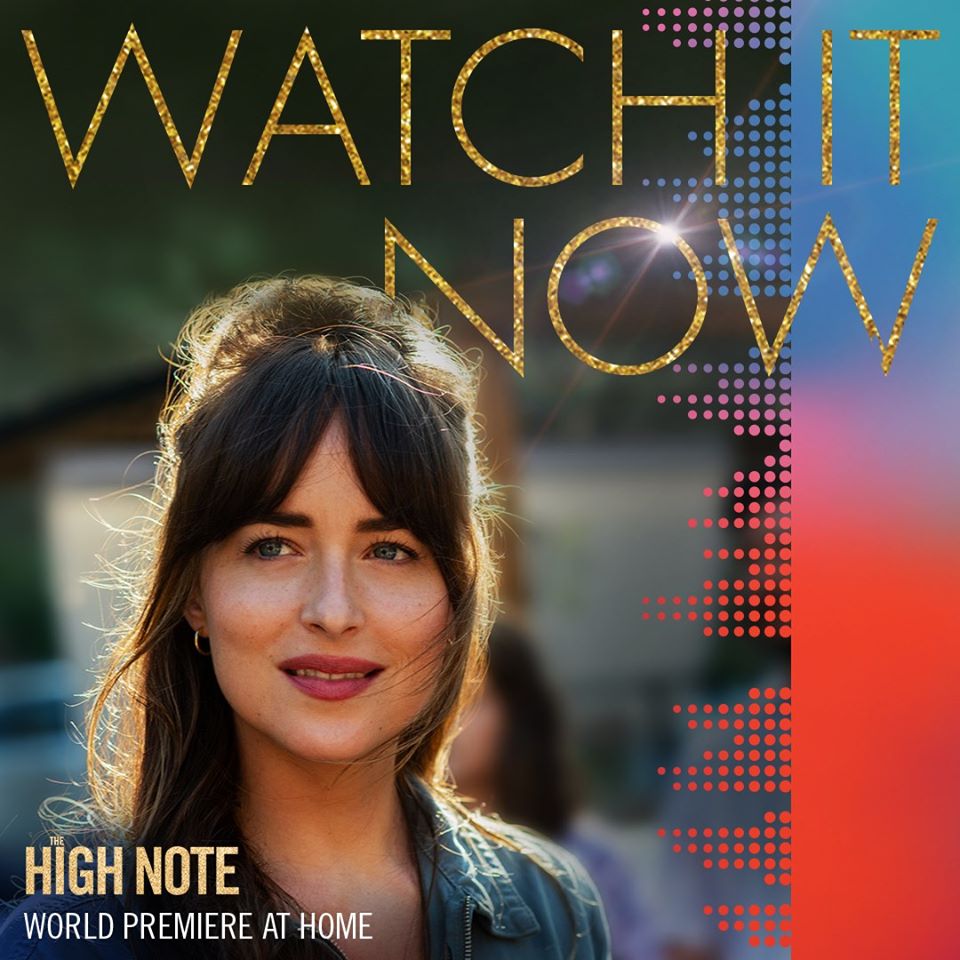 Storyline
As the billing revealed, The High Note is a movie STARRING Dakota Johnson, NOT Tracee Ellis Ross. Although Grace's career moves the story along, her character is not deeply explored throughout the film in a way that I think deserves it.
The High Note came off as a less than stellar attempt to be the musical version of The Devil Wears Prada. They had similar plots with overworked, harried personal assistants whose every waking moment can change if their boss beckons them.
The only problem is viewers didn't have a distinct reason to hate Grace Davis the way viewers hated Miranda Priestly (Meryl Streep). Grace's character is vulnerable, funny, diva-like and flawed. But her motivations were never as targeted and intentionally mean like Miranda was to Andy (Anne Hathaway) in The Devil Wear Prada. Anne Hathaway's portrayal of an overworked assistant was superb compared to Dakota Johnson's self-serving assistant and aspiring music producer. If anything, this film makes me dislike Maggie's rude, overbearing tone in her ambitious pursuits.
The High Note gave me some hints of coming off as a borderline "White Savior Movie" where a white character helps a Black person change their whole trajectory because they couldn't do it on their own. There's definitely more teamwork involved between Grace and Maggie than in problematic movies like Dangerous Minds or The Blind Side. Grace Davis is an established artist who's known worldwide, not a disadvantaged high school student.  Aside from producing Grace's music and having an optimistic outlook, Maggie's character wasn't the KEY to fixing things for Grace. An honest discussion with a real BFF or A Girl's Trip-like vacation could have done the same thing.
Of course, there's a romance in the film between Maggie and a budding new artist, David Cliff (Kelvin Harris, Jr.). I was surprisingly delighted by his song performances and how they were featured more prominently in the film than Grace's. You will love those songs and the throwback artists that inspire him.
I need to know more about how this script came to fruition. Considering it was written (Flora Greeson) and directed (Nisha Ganatra)  by women I find it even more troubling that there are these glaring missed opportunities to tell a better story and to celebrate all the nuances of Tracee's acting abilities. Tracee did a lovely job with the script and the character, even though I found Grace's character confusing at times.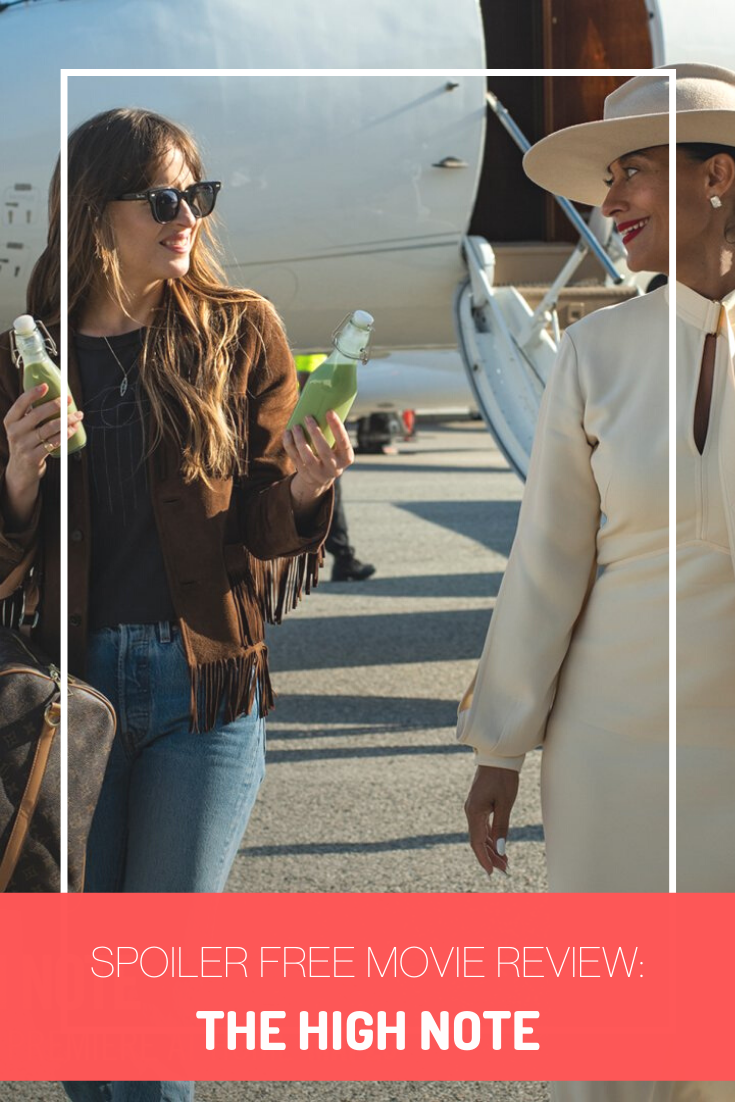 Conclusion
I hope you still watch the film because it's important for women-led films to do well, especially in this trying time in the movie industry post-COVID-19. I wonder what the opening box office numbers would have been if it debuted in theaters, as hoped.
Even with its script issues, The High Note's inspiring message about self-love and second/third/fourth acts of your career still come through. If you're looking for an escape from all the news coverage of the pandemic and racial upheaval in this country, The High Note IS an escape from that.
Listen to Tracee Ellis Ross's motivation for pursuing this film in this interview with The Undefeated.
"I love that the message here was about the fact that no matter the age, the phase, the stage of your life … never is it a good time to give up on your dreams."@TraceeEllisRoss tells @KelleyLCarter what made her want to be in the upcoming movie @thehighnotefilm. pic.twitter.com/RmpNGNvJ3f

— The Undefeated (@TheUndefeated) May 28, 2020
Love Letter to Tracee Ellis Ross
Dear Tracee,
I tried to love The High Note movie. I really did. I loved it when you were on-screen. I loved the big stage performances. I loved it when you rocked amazing outfits.
What I didn't love were the script and its flaws. You were superb. I felt every bit of your song, "Love Myself." It is my new summer anthem. I hope that if we ever meet IRL, you'll know that my review is because I expected more of you as Grace Davis and not a Dakota Johnson rom-com.
Lovingly awaiting your invitation to lunch,
Joyce 
In case you're new here, I've written several blog posts about women and film. You may recall my perspective on
Black Panther's Wakanda Beauty Standards
or when I explored how explored what the
female characters in Ocean's 8 and Black Panther had in common
.