This is our family's third Christmas taking to the air to see my family on the East Coast. Our Christmas travel experiences have been a mix of disaster and delight. A.J.'s first Christmas in New York in 2010 wrapped up with a huge snow storm that delayed our return to Atlanta by three days. Weather can be a beast when you're flying in December. But I've managed to learn a lot along the way when it comes to flying. I've done flights with A.J. by myself and with my husband. Both ways have their advantages. If you're going to survive flying with children for Christmas, you'll need to plan ahead and I'm here to help.
How to Survive Flying with Children for Christmas
Before your flight
Fly on Christmas Day. I know this sounds like the least festive way to celebrate Christmas, but take my word for it. You can save hundreds of dollars on your family's airfare if you fly ON December 25th. The airport lines are minimal. The airport workers are in the best moods ever and you can easily find your bags when you land. Don't believe me? Check the airfare for departing ON Christmas Eve vs. Christmas Day!
Ship gifts ahead of time. Airlines are getting bananas, cuckoo, crazy, ridiculous with their baggage fees. We're flying Southwest Airlines this time around. Plenty of families are devoted to Amazon prime for it's two-day delivery with membership.
Bring Santa and his elves on board. Let your child unwrap a gift on the flight. Bring a small Santa, snow globe or Elf on the Shelf along to spread the Christmas cheer.
Pack non-electronic games. Depending on your child's age, they may not adjust well to the flight directions to turn off electronic devices. So I ditched them entirely until A.J. was old enough to master transitioning from his tablet to something that doesn't light up Etch a sketch, coloring books are my favorites.
Pack meals. I use the same Easy Lunchboxes for A.J.'s school lunch along with some bagged items to bring his food on flights. We're a food allergy family so nuts are a no-go for us. Did you know you can ask airlines NOT to serve nuts on your flight due to allergies? I add that to our on board request. Another tip – take the first flight of the day when the planes are "cleanest" but I still wipe down his seat and tray tables for any residual food or dirt.
Go to the restroom. Right before the flight boards for departure, I take A.J. to the bathroom so hopefully we can go an entire flight without being forced to squeeze into an airport bathroom.
Bring a baby carrier. Strapping A.J. to my body for the first year of flights was a huge stress relief. I was able to grab bags and navigate a lot easier, especially if he was asleep or sleepy.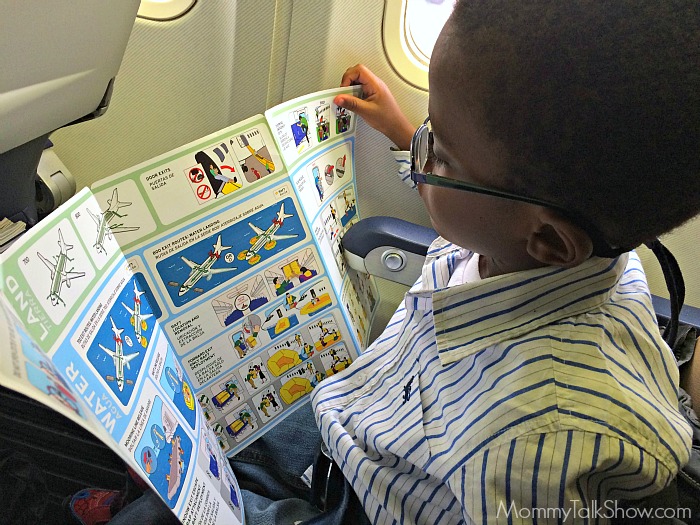 On board your flight
Break out those non-electronic games.
Dive into your meals and snack.
Enjoy an in-flight movie or TV show if possible.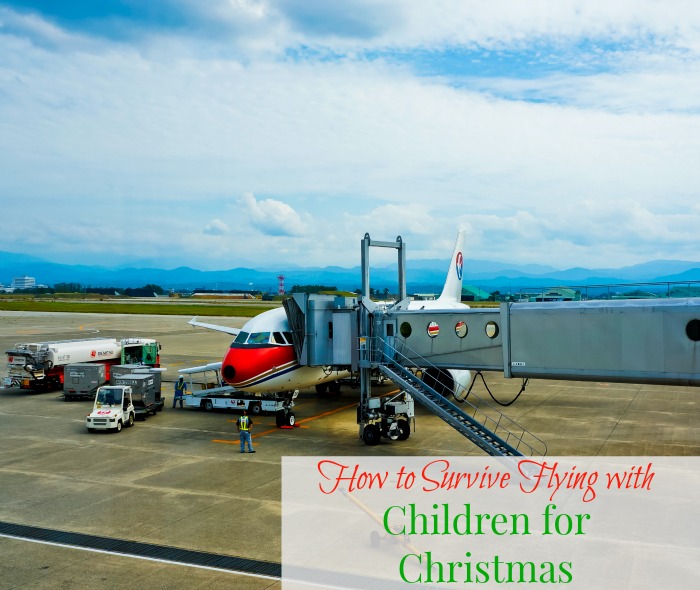 Once you land
Avoid the rush. Wait for the entire plane to empty and be the last to exit. The flight attendants can easily help you off the plan if you have carriers and strollers to re-assemble on the jetway. But if you've got a connecting flight you may have to rush.
Hit the airport rest rooms ASAP. Your children's little bladders will thank you. Go to the airport bathroom as much as possible. By following this rule when A.J. was an infant, I never had to change a diaper on board a flight. I always did it immediately before a flight and as soon as we landed.
Arrange for your car service or rental car service. A car service will pick you up at the curb and many families see the convenience of having someone ready for them when they land. If you're renting a car, check into the option to rent children's car seats when you arrive. As AAA members (here's my link if you'd like to join) when we use Hertz for rentals, car seats are at no additional cost. If you prefer to fly WITH you car seat, I highly recommend the J.L Children Car Seat Travel Bag. We've had ours for three years and it's held up well. Check it with your bags and it'll be there when you arrive.
Video Review: J.L. Childress Car Seat Travel Bag