Everywhere you look in the next few weeks, you'll see Spider-Verse merchandise for the groundbreaking animated film featuring Miles Morales as the new Spider-Man. Some of it will be easier to find than others. I got see most of the Spider-Verse merchandise during a press trip to Los Angeles to screen the film and interview the film's key players. Here's a look at the merchandise kids and "big kids" will want to play with and collect thanks to Spider-Verse in theaters December 14, 2018. My commission-earning affiliate links are below.
Where to Find Spider-Verse Merchandise
McDonald's
McDonald's Happy Meals will feature plastic toys with the Spider-Verse cast. We got to see the Spider-Gwen, Miles Morales and Spider-Noir characters during the Spider-Verse press event. The Happy Meal Spider-Verse toys include a variety of stickers you can use to dress or design each character. For example, A.J. is holding Spider-Gwen and Spider-Ham outside our local McDonalds.
Keep reading to see when I'm displaying all of them live on the Mommy Talk Show Facebook page.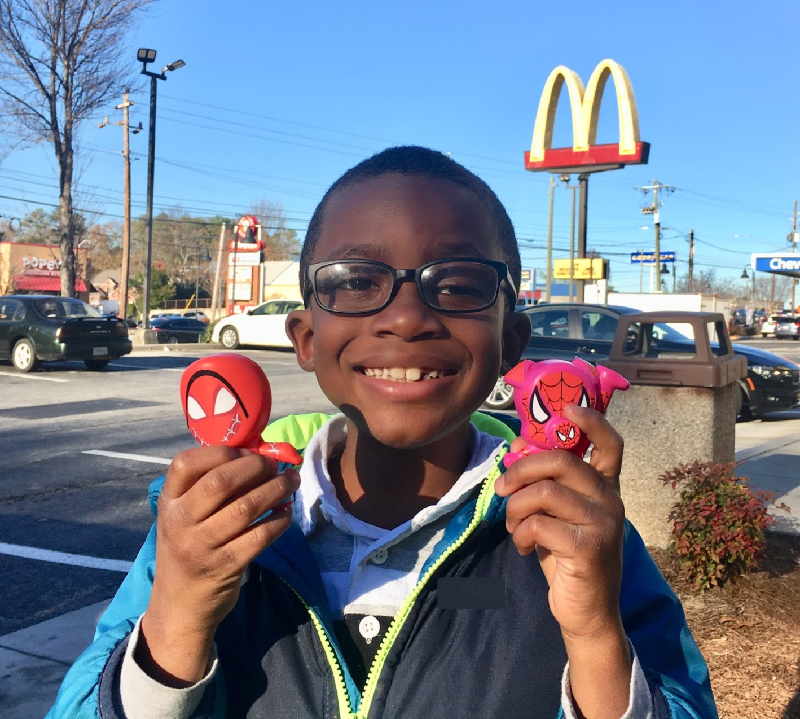 Toy Departments
In Los Angeles, I tried on the Spider-Verse mask for myself and felt like a genuine part of the team.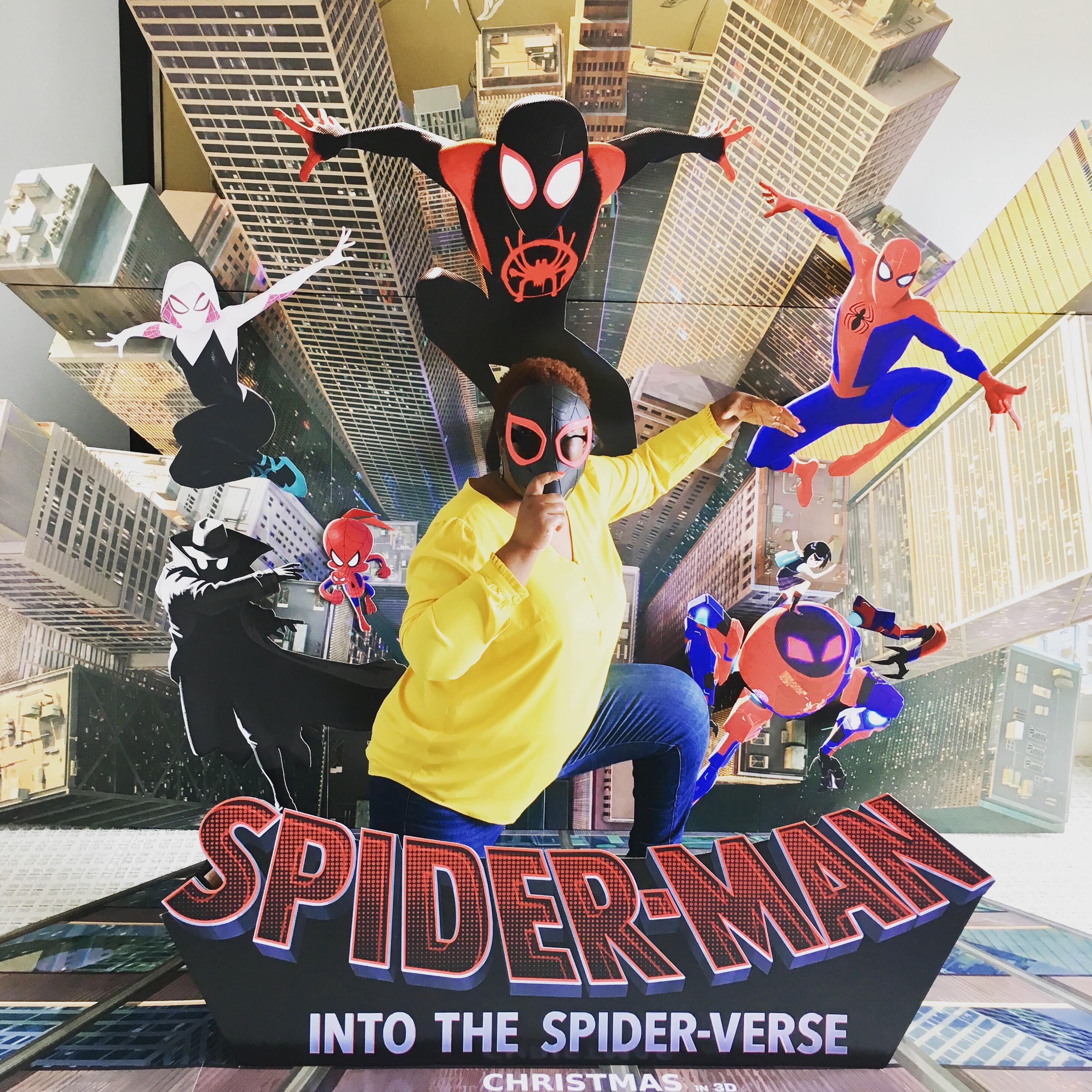 I can already foresee the Miles Morales costume being quite popular for next Halloween. There are new masks and the Spider-Verse costumes featuring a spray-painted spider that's Miles' tag. You can find full-size action figures of all of the Spider-Verse cast in toy stores this holiday shopping season. To me, Spider-Ham is a keeper because his character is hilarious in the film. Check out your favorite toy department or Amazon for a look the Spider-Verse action figures and costumes.
Shockstrike is the action figure that makes sounds and fires projectiles. The Super Web Slinger shoots webs and water. A.J. has asked for the Super Web Slinger since Halloween!
Nike stores & website
Throughout the animated film, Miles rocks the Air Jordan 1 Retro OG in red, black, white and blue. According to Sneaker Bar Detroit, they went on sale December 1st in LA and are available online at Nike.com (retail: $160) "Dressed in a Chicago-like color scheme, the shoe comes in a mix of Gym Red, Black, White, and Photo Blue. It features a textured reflective upper paying homage to Miles Morales costume. An iridescent-styled Nike Air tongue label gives the shoe an OG-vibe, while sitting atop an icy sole."
I got to see them up close in Los Angeles. Although I'm not a "sneakerhead" I can easily see these becoming a collector's item.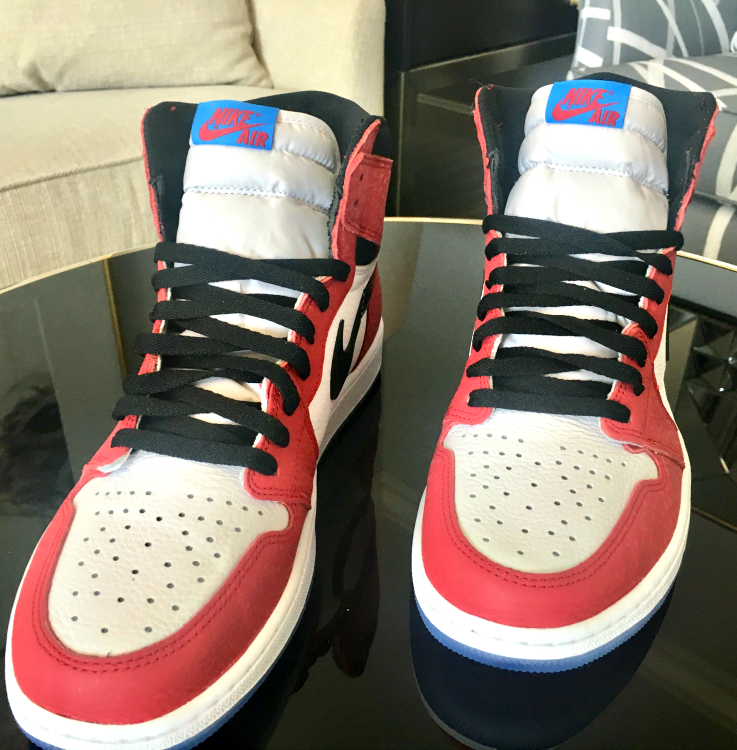 You can see Miles sporting them on this film poster between Spider-Gwen and Spider-Man.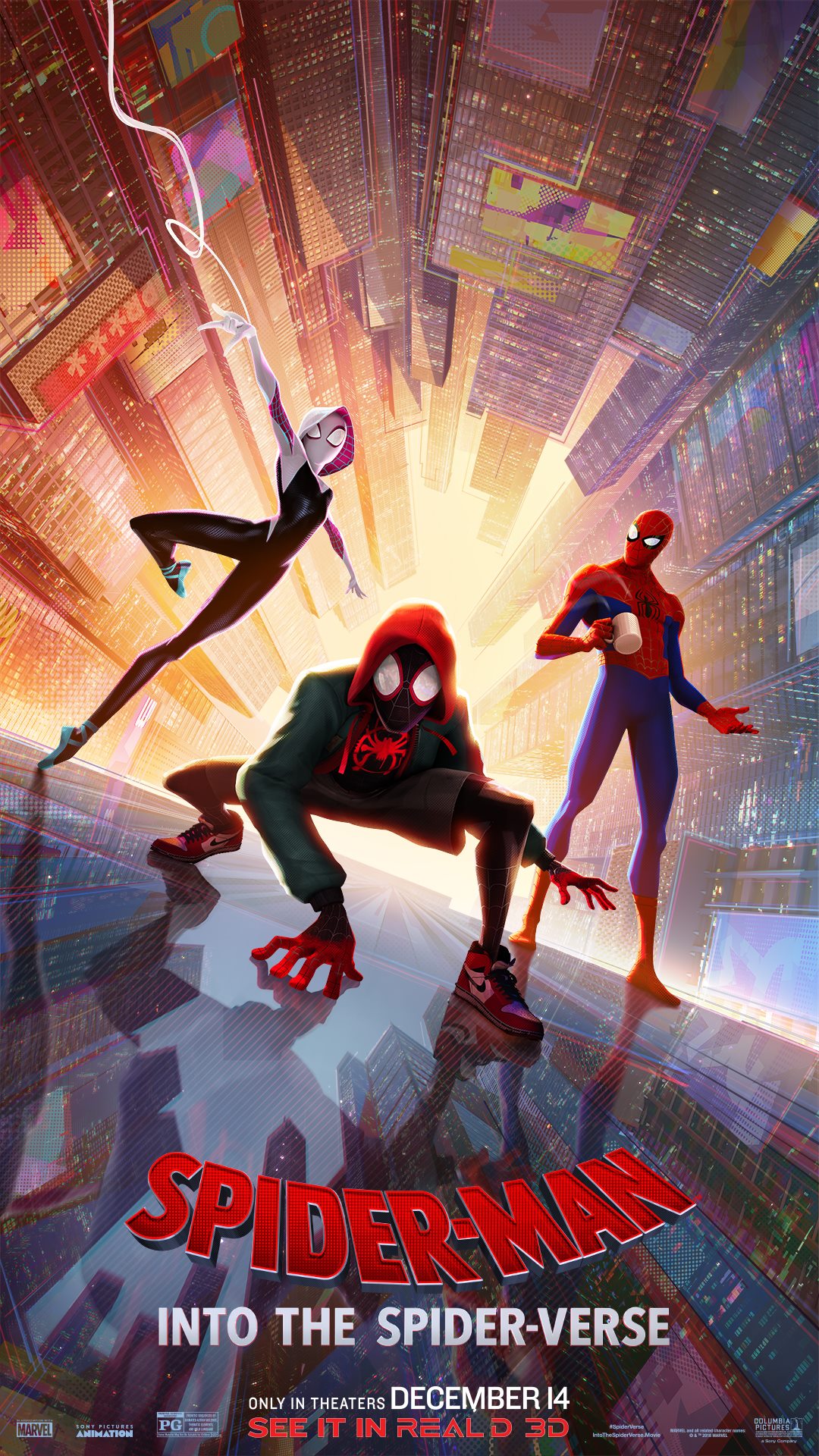 Cereal Aisle
In the cereal aisle, you'll see General Mills Cereals like Cinnamon Toast Crunch, Cookie Crisp, Lucky Charms, and Cheerios will include free Spider-Verse action decals. Look for the family size and large size boxes that show the Spider-Verse logo.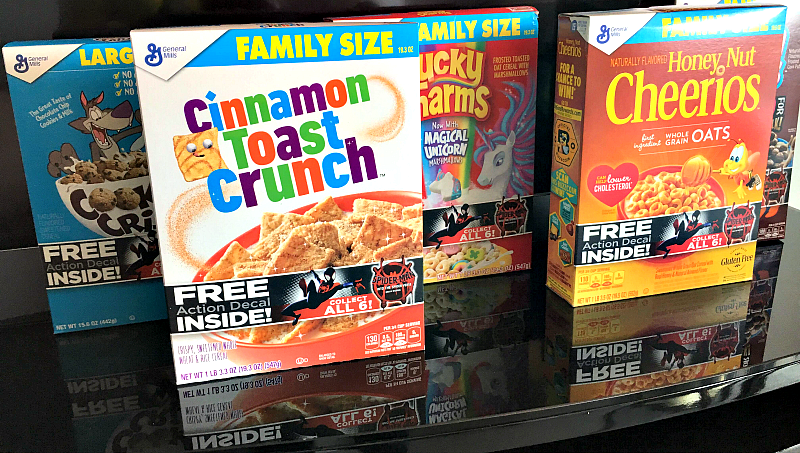 From what you've seen so far, which Spider-Verse merchandise are you most excited to bring home?
If you splurged and bought the OG Jordans, would you wear them or keep them on display somewhere?
In case you missed my movie review, here's the Every Generation Will Connect with Spider-Man: Into the Spider-Verse.
Pin this to your Disney/Marvel/Entertainment Board: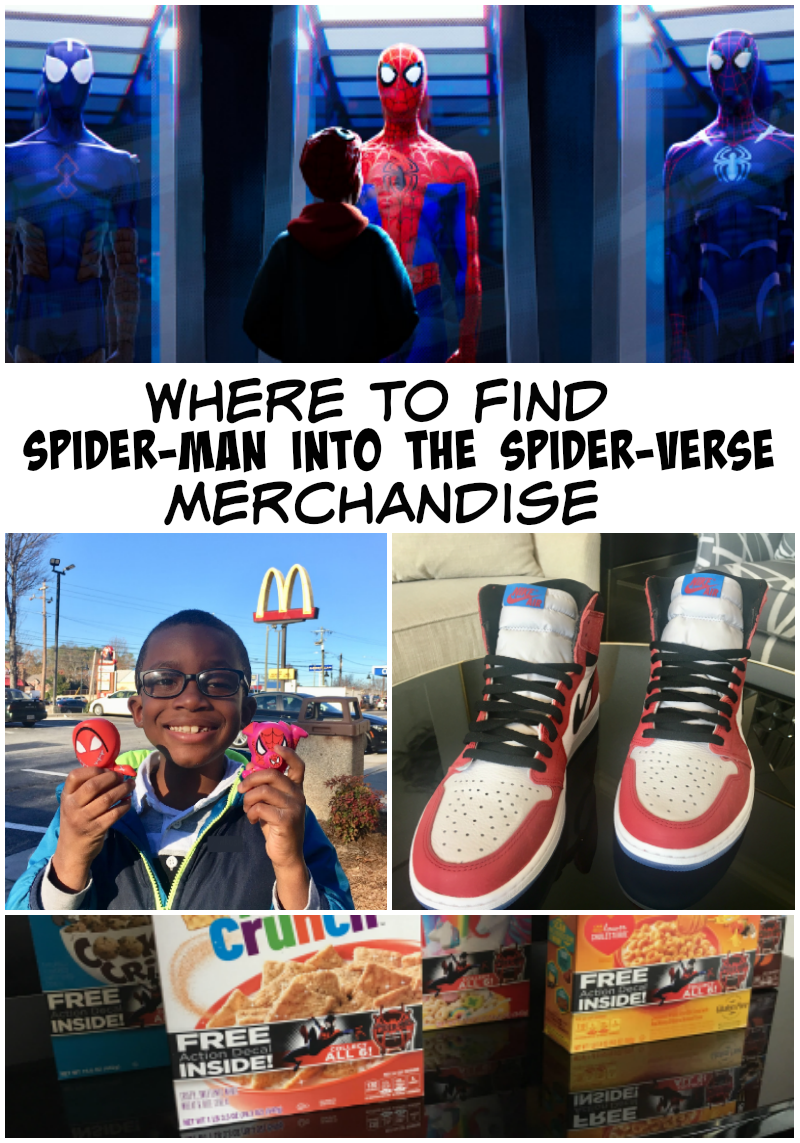 Join us Thursday, December 13th at 7 p.m. EST for a Facebook Live featuring more Spider-Verse Merchandise. RSVP on the Mommy Talk Show Facebook page and you'll get an alert to watch live or watch the replay.