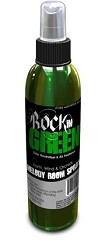 The story of Rockin' Green Cloth Diaper Detergent is pretty cool. Parents wanted something safe and healthy for their family, so they created it. Besides eco-friendly cloth diaper detergent, Rockin' Green Soap carries a number of diaper-related products like the new Melody Odor Neutralizer Spray. It comes in the same whacky, cool names as your favorite cloth diaper detergent.
According to Rockin' Green Soap, "Melody works by taking the smell out of a room or items such as shoes, pillows, clothing, and linens with a simple spray over the smelly fabric. Just like all Rockin' Green products, Melody is made from safe, phosphate-free ingredients and contains no fillers or enzymes, ensuring that it's good for the planet and safe for use on all fabrics."
Enter to win (Congratulations to Krystyn for winning!)
Rockin' Green Soap is giving away a Melody Odor Neutralizer Spray (value: $8.95) and a Shake it Up! Pail Freshner (value: $8.55) You pick the fragrance or scent.
Giveaway Guidelines
Complete all 5 entry guidelines.
Like Rockin' Green on Facebook.
Like Mommy Talk Show on Facebook.
Subscribe to the Mommy Talk Show monthly e-newsletter and confirm.
Click Like on the Amazon page for Melody Odor Neutralizer and "share" the link on Facebook.
Comment below to say which entry steps you took AND share your favorite Rockin' Green Soap fragrance.
Entry deadline: Saturday, February 18, 2012 at 8 p.m. EST. Giveaway is open to U.S. residents only.
Disclaimer: I will receive a complimentary odor spray
and pail freshener in return for this giveaway.