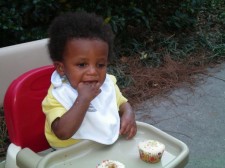 A.J.'s second birthday is less than two months away and I'm trying to get a lot of details squared away so I'm not swamped at the last minute. His first birthday party was low-key because we hosted it at home with a cookout. Thank goodness the Atlanta weather warmed up for the weekend.
This year I'd like to do things a bit differently because he's quite active. He has a few more friends from pre-school and play dates who we would like to invite so we won't be hosting the party at home.
Here are some links to Atlanta venue suggestions and discount offers on decorations to help you plan your little one's birthday party.
Birthday Party Venues
Of course, having an at-home birthday party keeps costs low. But you can find unique venues and activities to host your child's birthday party that cost little to no money. Consider asking your church or house of worship if you can use an activity room or playground. Host the party at a neighborhood park in the Spring or at a public pool in the Summer.
Three Mommy Talk Show location sponsors host on-site birthday parties and events for a fee.
Living Social has an Atlanta families section of deals to dance schools and art schools that host birthday parties. The deals are always changing so sign up to get Living Social deals e-mailed to you.
Coupon Codes & Discounts for Decorations 
Once you've picked a date for your child's birthday party and booked a venue, you'll need to pick a theme with coordinating birthday party decorations.
Join the Melissa & Doug Treasured Toy & Birthday Club & receive 10% Off Your Next Order! & 15% Off Orders Placed During Your Birthday Month .
Save up to 40% on party supplies
 from Birthday in a Box with themes under $25.
By July 1, 2012 use the coupon code: MOMTALK2012 at 
Squared Party Printables
 custom do-it-yourself themed party decorations and invitations.

Disclaimer: This post includes links from sponsors and affiliates.