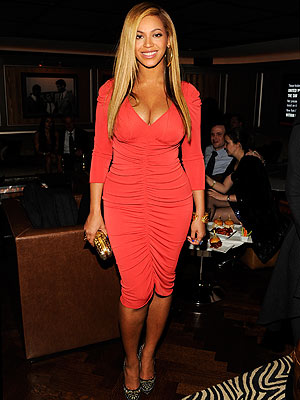 Just when I thought I couldn't admire Beyonce (my best friend in my head) any more than I already do, she had to do something like this!
In this photo from her appearance at Jay Z's 40/40 club after his benefit concert at Carnegie Hall, she looks like the L-B's from her pregnancy with Blue Ivy just melted away.
Darn it! I didn't look this good on my wedding day.
Guess I need to step up my work out and change my diet. A.J. is about to turn two so the weight I'm carrying around can't be blamed on him. My post-baby weight dropped off pretty quickly thanks to breastfeeding, but working from home, snacking and no time for the gym has set me back.
Clearly, I'm in a bit of denial too since an author sent me a post-pregnancy weight loss book to review and I haven't done it yet.
Do you have some weight loss advice for a work at home mom with a toddler who wakes at 6 a.m.? Please share below