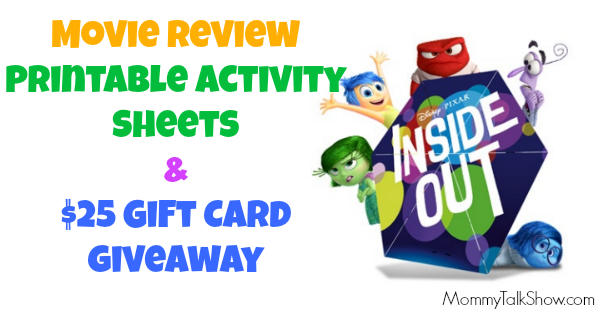 Thanks to the preview of the INSIDE OUT Movie we saw at Walt Disney World for the Disney Social Media Moms Conference, A.J. and I created this short movie review. In true 5-year-old style, he compares INSIDE OUT to another popular Disney-Pixar Movie: UP. I'm sure you'll see the parallels too. Enjoy our review, share it, download the printables and activity sheets featuring the emotions in the film, plus I'm giving away a $25 Movie Gift Card for you to enjoy the film. The giveaway ends July 1, 2015 and I promise to put the card is the mail as soon as it's over!
VIDEO: INSIDE OUT MOVIE REVIEW

Comment below: If you've already seen INSIDE OUT & UP, did you notice the comparisons A.J.'s made between characters? Did out INSIDE OUT Movie Review peak your interest in seeing the film?
Oh and before the featured film, get your emotions ready for LAVA, the eight minute short that will move you to tears. Seriously. I was CRYING my face off from the music and longing this short movie made come to life with two loving volcanoes. But back to INSIDE OUT…
Joy (Amy Poehler), Anger (Lewis Black), Fear (Bill Hader), Disgust (Mindy Kaling) and Sadness (Phyllis Smith) will surely keep you entertained in the film. You can enjoy them now thanks to the printables and coloring pages you can download below. Print and color them to your heart's desire!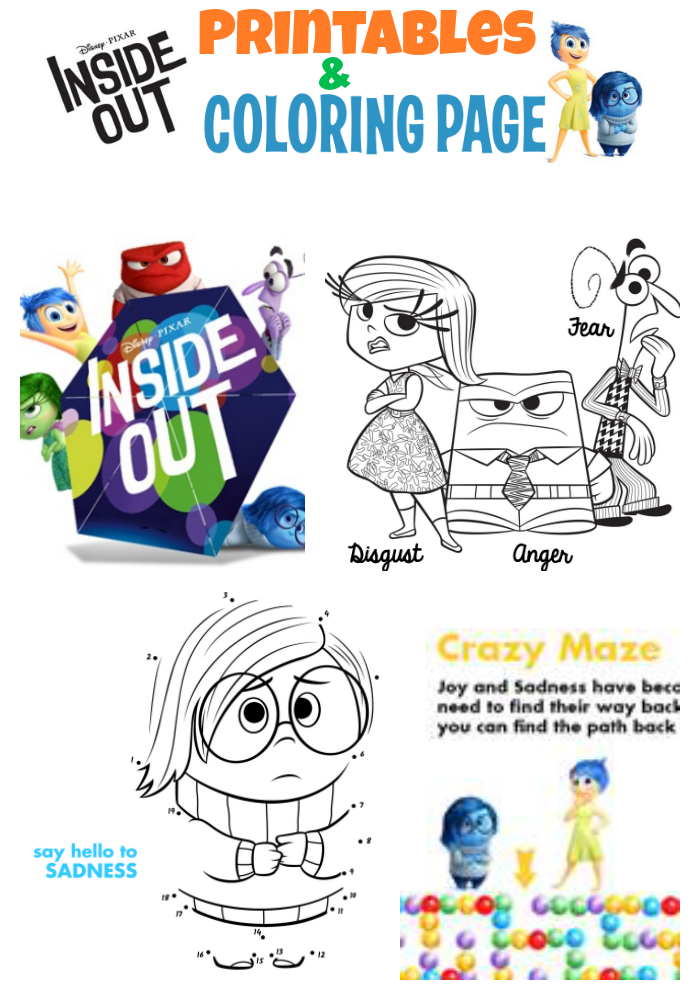 INSIDE OUT PRINTABLES
Inside Out Printable  Connect Dots Printable
Like INSIDE OUT on Facebook: https://www.facebook.com/PixarInsideOut   
Follow INSIDE OUT on Twitter: https://twitter.com/PixarInsideOut and https://twitter.com/headquarters
Follow INSIDE OUT on Instagram: https://instagram.com/PIXARINSIDEOUT/
Follow INSIDE OUT on Pinterest: https://www.pinterest.com/disneystudios/inside-out/
Visit INSIDE OUT on Tumblr: http://insideoutheadquarters.tumblr.com/
Follow Disney/Pixar on YouTube: https://www.youtube.com/user/DisneyPixar
Inside Out Giveaway
To help you enjoy the INSIDE OUT movie this summer, I'm giving away a $25 Movie Gift Card to use at a theater. Follow all the entries below by July 1, 2015 at 11:59 p.m. EST. Good luck!