Just in time for the holidays I had to share this amazing sweepstakes with you because the prizes will be enjoyed by your whole family. I've told you about the globally inspired children's fashion clothing line, Tea Collection when we reviewed Chinese-inspired shirts and pants for A.J. and when it provided school fundraiser options. Now Tea Collection has partnered with global and food brands to give away goodies to help your entire family create connections to new cultures, new ideas and cherished loved ones.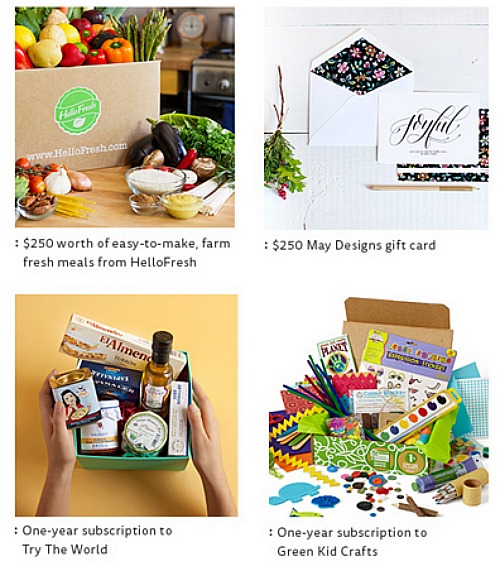 Three (3) lucky winners who enter by  November 22nd, 2015 will each get
$250 Tea Collection Gift Card
$250 worth of fresh meals from Hello Fresh
$250 May Designs Gift Card for notebooks, stationery, calendars and more.
One Year Subscription to Try The World, a monthly subscription box to try foods from around the world
One Year Subscription to Green Kids Crafts, a monthly subscription box for hands on learning with science and crafts (value: $215)
Special Occasion and Holiday Dressing from Tea Collection
Tea has infused its special occasion styles with the romance and spirit of tango, from whirling skirts to buttoned shirts, lace accents and music-inspired graphics. These new styles are perfect for the holiday family photo, a trip to grandma's house or their holiday school play. New this month, you'll be able to shop any two pairs of pajamas for only $60. Perfect for long nights, lazy holiday mornings and family movie nights, our PJs are extra comfy with their brushed cotton interiors and now you can get them for less!
Tea announces their new arrivals inspired by Buenos Aires and Argentine tango. Tango was born in the barrios (neighborhoods) of San Telmo and La Boca, more than 200 years ago. And today, Buenos Aires, the dance, the music, the poetry of tango is everywhere. For girls, you'll find dresses (starting at $29.50!) with full, swing skirts great for twirling, sateen's with embroidered floral details and menswear inspired stripes. For boys, Tea offers styles that can be dressed up and dressed down. New cozy wool-blended jackets, French terry vests and herringbone pants starting at $39. For Baby, Tea has great new styles that will match older siblings – just in time for your family's holiday photos! You won't want to miss these new arrivals, share the news with your readers today. Shop Boy Argentina & Tango Inspired Styles at Tea Collection