Disclosure: This post is sponsored by AT&T Digital Life.

I first toured a home with AT&T Digital Life automated home during the 2013 Type A Parent Conference in Atlanta. AT&T sponsored a tour and reception where influencers got an up close look at a completely automated home in Brookhaven, Georgia. With the touch of an app, the homeowner could unlock doors, dim the lights, control the temperature and even get alerts of any weird movements inside. As a child of the 70's and 80's, the home tour was like watching a scene the old cartoon "The Jetsons" in real-life.
Don't you just love the connection between the father and son in the video? It's like looking 10 years into the future at a conversation between my husband and son. Besides safety and convenience, AT&T is also committed to bringing people together to build brand new homes. This year, it's donating at least 150,000 to Habitat for Humanity. Their employees in five cities; Los Angeles, Dallas, Miami, Newark and here in Atlanta; will donate their time to Habitat Homes. In fact, work starts on the Atlanta location this week! Keep your eyes on the Mommy Talk Show Facebook page and I'll update you on the progress.
How can your family donate time to causes like Habitat for Humanity? Will summer downtime give you the chance to volunteer? Let's talk about it and summer safety at the #ATTDigitalLife Twitter Party. We'll also share summer safety advice for your family while you're away from your home.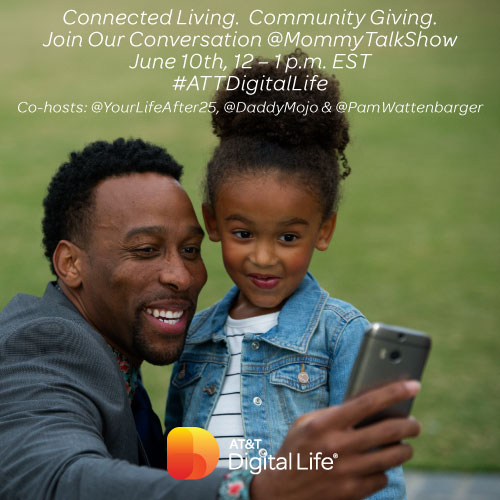 #ATTDigitalLife Twitter Party (read the official rules below)
DATE: Wednesday, June 10th
TIME: 12-1 pm EST
RSVP: Add your Twitter handle in the link below, not in the comments
HASHTAG: #ATTDigitalLife
PRIZES: Three (3) $75 AT&T Gift Cards. Note: these cards can not be used to pay for services. They can be used to purchase and upgrade devices.
HOSTS: @MommyTalkShow
CO-HOSTS: @YourLifeAfter25, @DaddyMojo, @PamWattenbarger
PARTY GRID: http://twubs.com/ATTDigitalLife
Disclosure: Thank you to AT&T Digital Life for sponsoring this conversation and Twitter Party.
I'm going to #ATTDigitalLife #TwitterParty! Join me WED 6/10 Noon ET – http://t.co/Cjek0Bj6iK #ad pic.twitter.com/XCLlHNc6Ij

— Joyce Brewer (@MommyTalkShow) June 9, 2015
#ATTDigitalLife Twitter Party Official Rules:  By participating in the Twitter party all entrants agree to these Official Rules, which are final and binding in all respects.
Twitter Party Defined.For all purposes of this contest, "Twitter Party" or "Party" refers to the #ATTDigitalLife Twitter being held June 3, 2015 from 12-1 p.m. EST on www.Twitter.com.
No Purchase Necessary To Win.
Twitter Party Entries. Participants posting to Twitter during the Twitter party between June 3, 2015 from 12-1 p.m and until the party is officially closed are entered to win one of multiple prizes offered during the Twitter Party.Only entries using #ATTDigitalLife are considered.  Entries may not violate Twitter's Terms of Service, any applicable federal, state, or local laws or regulations. Mommy Talk Show in its sole discretion determines whether entries are valid for this contest.
Selection of Contest Winners. Must be 18 or older and a resident of the United States to win. Winners may not substitute, assign or transfer a prize or redeem a prize for cash, but Presenter reserves the right, at its sole discretion, to substitute a prize with one of comparable or greater value. Winners agree to comply with all applicable terms and regulations in connection with the prize. The winner is solely responsible for all other costs and expenses. Winners will be selected at random among all eligible Entries received during the entry periods. All winners will be verified and must claim prize within 24 hours of being declared a winner by replying to @MommyTalkShow in a direct message on Twitter. Potential winners may be asked to supplement form as proof of entry or otherwise. Failure to complete form properly and within claim period voids winning.
RSVP: Leave a link to your Twitter Profile below to RSVP (ex. http://twitter.com/MommyTalkShow) for random selection for prizes.