This shop has been compensated by Collective Bias, Inc. and its advertiser. All opinions are mine alone. #RestEasyWithCVS #CollectiveBias
Our bedtime routine has gotten a little more complicated since we moved to a larger home in Atlanta last month. We packed up and moved right as the school year was ending and our six-year-old A.J. was getting ready for gifted testing before he moved to the first grade. (His scores were amazing, BTW!) With all these new changes and adjustments, I noticed he's a little more clingy when it's time to turn the lights out and go to bed.  He's lived in the same bedroom from the moment he came home from the hospital and now he's in a whole new environment.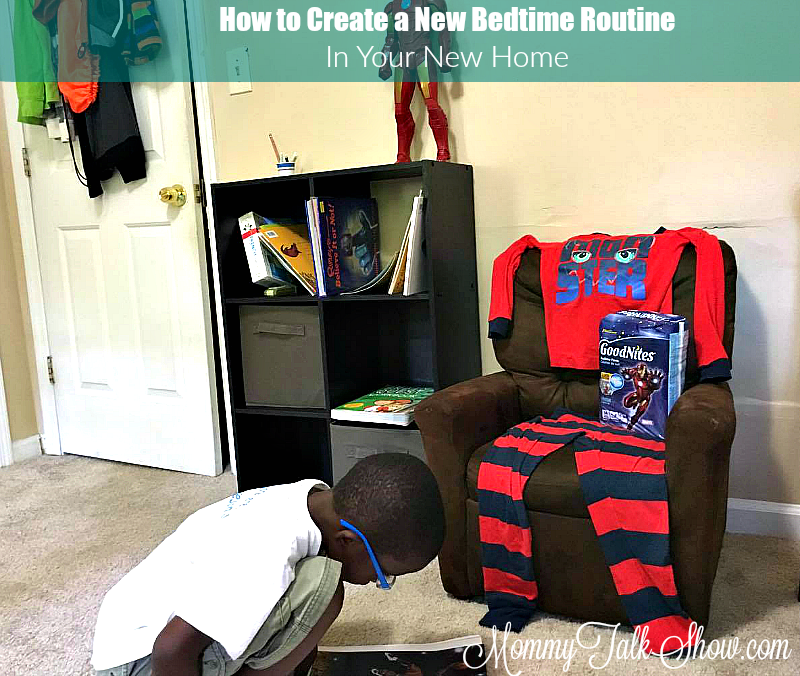 Create a New Bedtime Routine in Your New Home
If you're moving or making any major family changes, I'll walk you through our new bedtime routine, suggest some changes and offer a printable to spark a conversation with your children.
Pre-Plan Bedtime
Our bedtime routine begins right after dinner.
We do baths immediately after we eat, watch a little TV (our new favorite is Family Feud) and check the clock.
This summer he's been allowed to stay up a bit later, around 8:30 p.m., so I'll let him know around 7:30 that he has another hour before it's time to brush his teeth, wash his face and turn in!
Then I countdown from there with 30 minute and 10 minute warnings. It gives him time to do anything that's last-minute, ask for another snack or extra cuddles before bedtime.
Same Time, Same Manner
When you move to a new home, keeping a routine is pretty difficult. But if you can keep your children to the same bedtime it'll keep everyone on the same schedule.
Be flexible and don't stress if it takes a week or two to get back on track.
A.J. knows when I turn out his bedroom ceiling light, plugin his Spiderman nightlight, then get my bedtime kisses, the we says his memorized bedtime prayer and the Lord's prayer.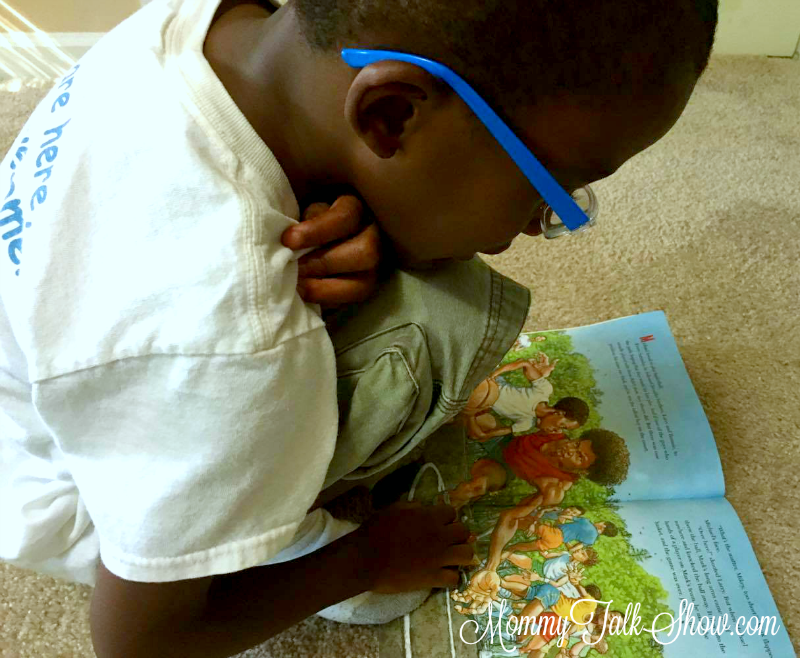 Bring Back Memories
A.J. can look around his new bedroom and see many of his old "friends" are still here. His initials are still over his bed. His stuffed animals are here too.
You'll notice he's still sleeping in his crib as a "day bed" style. Well he's a very wild sleeper. We were a bit reluctant to move him to a much bigger full bed at the same time we moved. Mid-summer, we'll make another adjustment so he can get used to the bigger bed before he starts his school year as a first grader.
Create a New Space
Even though A.J.'s new bedroom is a little smaller than his old one, I wanted to create a new space for him to hang out when he needs some quiet time.
I create a "book nook" by bringing his lounge chair from our living room to his bedroom and placing it near his book shelf.
Invest in a few new books about bedtime too.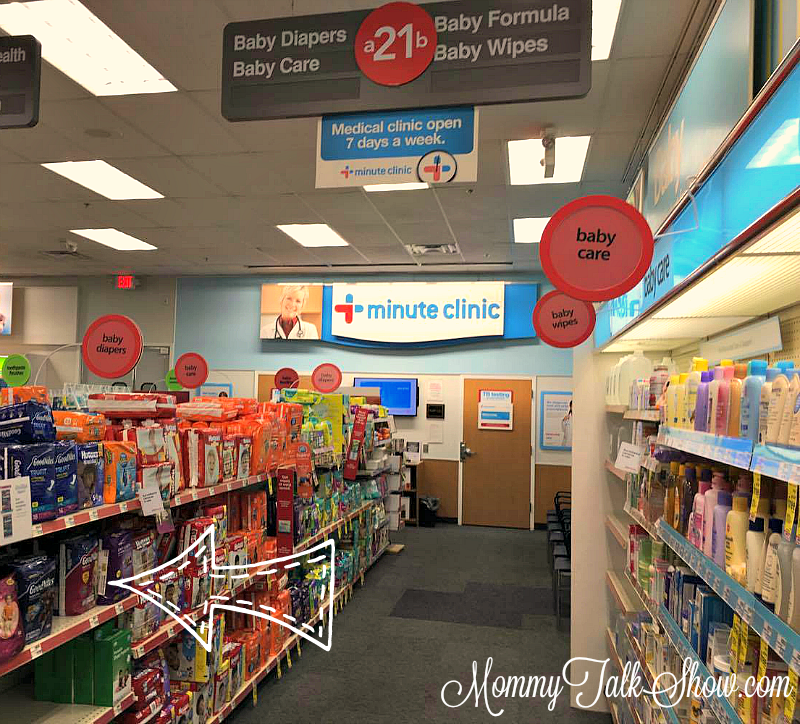 Prepare for Bedwetting Accidents
I wasn't prepared for a bedwetting accident considering how easily A.J. potty trained overnight when he was three years old. But the week after we moved, he wet the bed.
Don't be caught off guard if your child has a bedwetting accident in your new home. They may be more reluctant to get up and potty by themselves in a new environment.
He explained to me that he remembered dreaming about going potty and woke up when he wet the bed. I reminded him that bed wetting happens to all of us from time to time.
My exact words: "The same thing happened to me when I was about 10 years old. I dreamed I was on the toilet peeing!"
He was immediately relieved to know he wasn't in trouble.
Grab GoodNites® Bedtime Pants on your next visit to CVS. For A.J. it wasn't hard to convince him to get them a try.  One of his favorite Marvel characters, Iron Man,  is on the package! They feel just like regular underwear – except they offer five later protection and offer outstanding pajama protection.
You'll find a variety of cool designs like Iron Man (small/medium) or camo print and skateboards (large/extra-large).
Girls will find a Disney's Cinderella (small-medium) or hearts and butterflies (large/extra-large) for girls.
[Tweet "Follow @GoodNites® for advice on your family's bedtime routine #RestEasyWithCVS #AD"]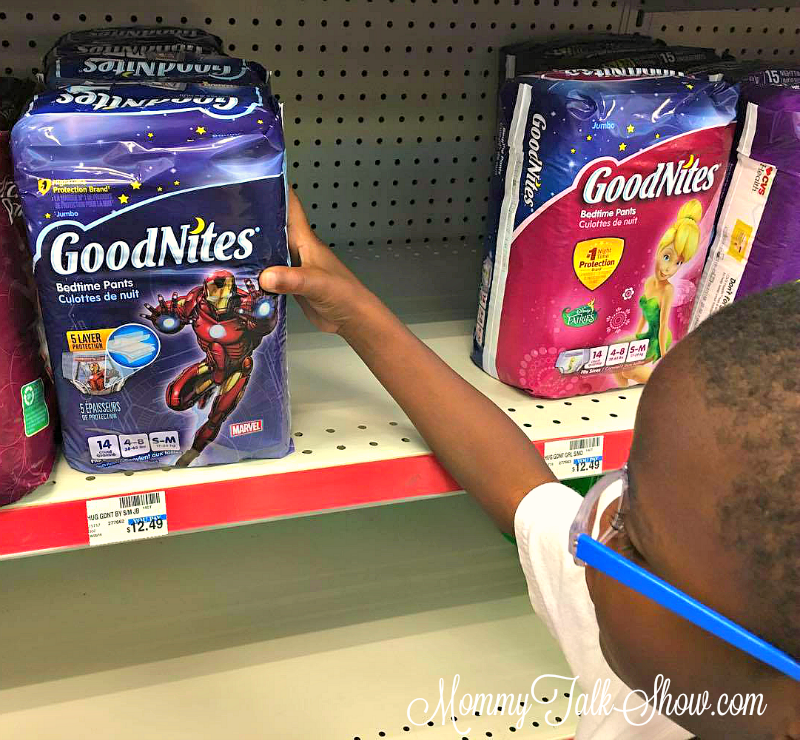 Ask for Suggestions
As parents, we automatically think we are experts at bedtime. That's not always the case. To gauge what your children need when it's time to wind down for bedtime, I created this Printable Bedtime Routine Survey that asks key questions about their needs. If your children are anything like A.J., he wants to be with us as much as possible. Bedtime for him isn't a "relaxing" time. Since he's an only child, he sometimes views it as a lonely experience.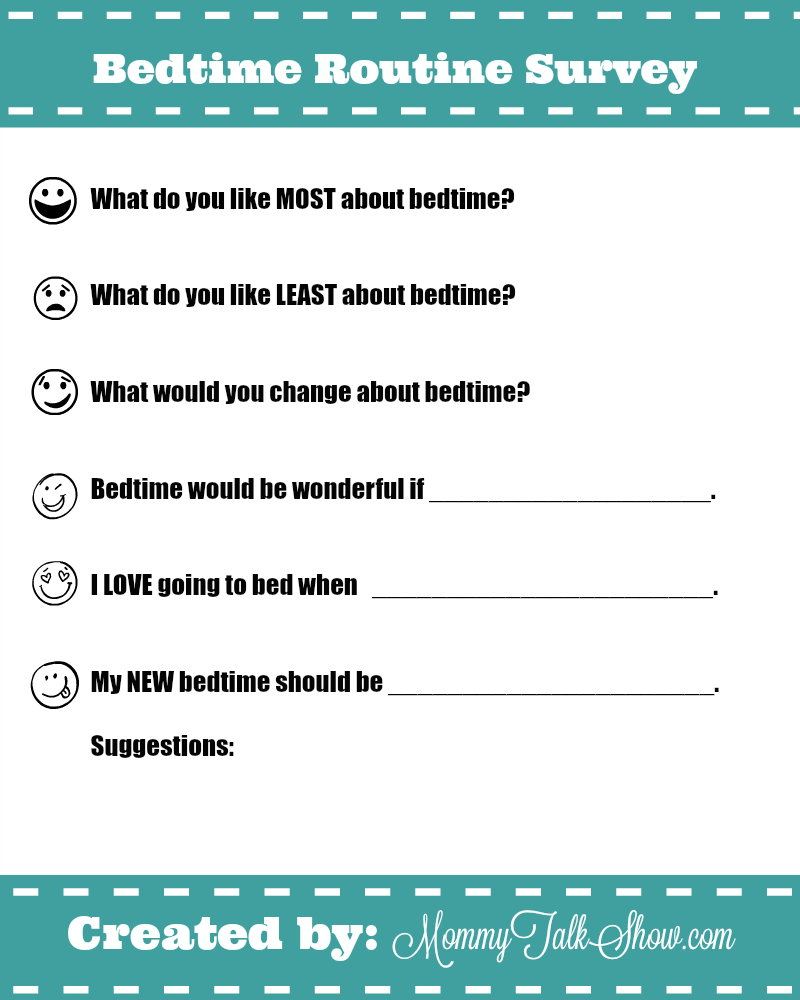 Here are the questions I included in the Bedtime Routine Survey:
What do you like MOST about bedtime?
What do you like LEAST about bedtime?
What would you change about bedtime?
I LOVE going to bed when ___________________.
My NEW bedtime should be __________________.
Then I left space for overall suggestions.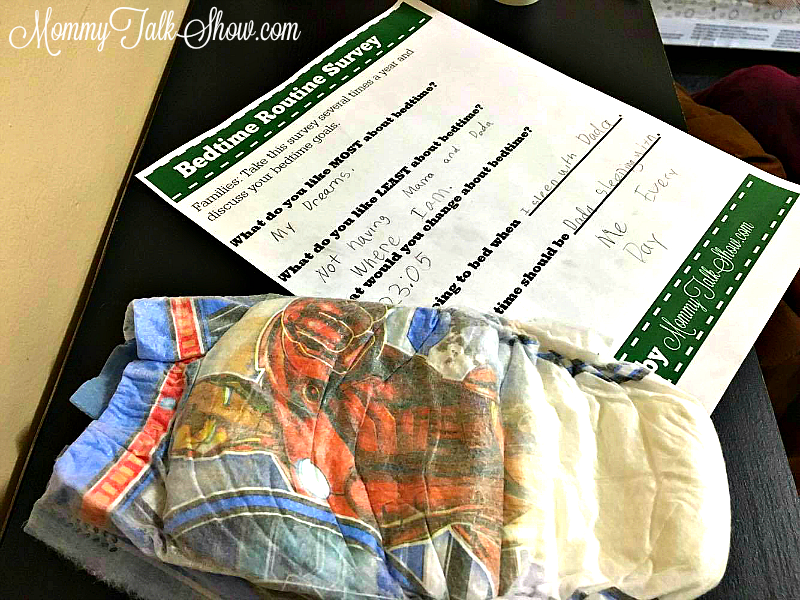 Watch me & A.J. answer questions for the BedTime Routine Survey in this Instagram video:
Comment below: How do you handle bedwetting and bathroom issues with your children who are four and over? How often do you adjust to a new bedtime routine? Learn more about GoodNites® Bedtime Pants and get insight on overnight bedwetting solutions.
In case you missed it, I also shared 5 HelpfulWebsites to Check When You Move to a New Neighborhood and 10 Common Moving Mistakes to Avoid.