Our move to a new Atlanta-area neighborhood this Spring was one of the most stressful times of my life. Everything had to coordinate perfectly between move-in and move-out dates, as well as making sure our new address would keep A.J. eligible for the elementary school where many of his friends will attend. I also did tons of research about where we'd live by driving around neighborhoods (my poor fuel tank) and researching online. Here are some helpful sites I visited to narrow down where we'd live and connect with our new neighbors.
BTW, is it me or do people rarely come outside their homes anymore? I miss the days when kids played outside!
Anyway, back to the list!
Helpful Websites When You Move to a New Neighborhood
1. SpotCrime
Knowing where crimes have happened in our new neighborhood is very important to me. I work from home and my husband has a weird work schedule where he's required to work long, late hours. So I called our closest police precinct in our county to chat with a shift commander. I was surprised that counties don't keep many of their crime stats online in one place, but refer you to national crime statistic sites like SpotCrime.com.
"SpotCrime collects crime data from validated sources, maps them, and provides crime alerts to the public at no cost to police agencies nor the public."
[Tweet ". @SpotCrime provides mapped & verified crime data"]

2. Nextdoor
Nextdoor has been an interesting lifeline for me to connect with my neighbors. Like I mentioned earlier, people don't really spend much time outside anymore. I hardly see kids playing outside and I'm working on ways to get A.J. more active outside without the huge "stranger danger" fears.
Download the Nextdoor app to your smart phone.
Register your address. You'll be placed into a neighborhood group based on your address.
Join or create a neighborhood group. If you create a neighborhood group through my referral link, we'll each earn a $25 Amazon Gift Card.
Members can post announcements, classified ads and safety information.

3. Facebook Groups
Although I struggle to spend less time on Facebook, Facebook Groups based on your interest or location are goldmines for information.
Search your county and neighborhood name in the Facebook search feature.
[Tweet "Search your county and neighborhood name in the Facebook search window to get connected in a new neighborhood."]
4. Yahoo Groups
Remember when Yahoo groups were all the rage and one of the primary ways folks connected online?
Well they still are for neighborhood info, just like Facebook.
People post events, safety concerns, real estate info and the like there.
Unfortunately, a Yahoo Email address is required and I'm allergic to new email addresses!
5. Neighborhood Scout
Neighborhood Scout offers free and paid access to various information about home prices, crime statistics and school rankings.
It "uses the largest database of neighborhood statistics ever created to build informative neighborhood profiles that tell you about locations."
[Tweet ". @SpotCrime @Nextdoor @NHoodScout are helpful sites to visit when you move to a new neighborhood"]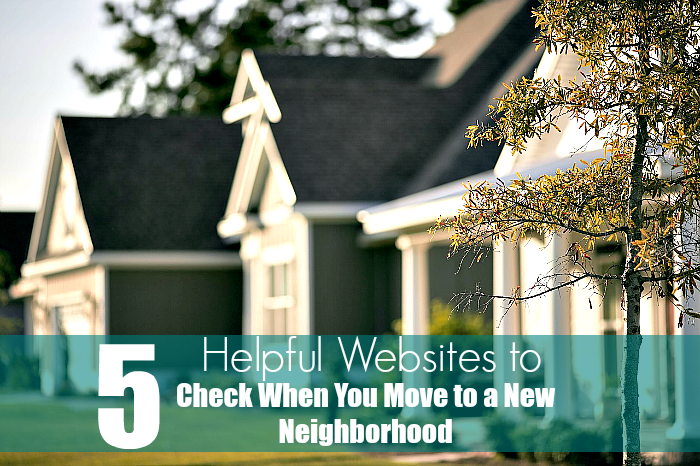 Comment below: How did you get to know your neighbors when you moved to a new neighborhood? Are there other websites or apps you use to stay connected?
Our experience packing and moving our belongings was not as smooth as I'd hoped, so I shared 10 Common Moving Mistakes to Avoid.