Would it surprise you to know that A.J. is nine-years-old and he's never had an Easter basket – until this year? One reason – his food allergies to nuts and egg make it hard to navigate. He grew out of his chocolate and soy allergies a few years ago – which offers a few more options for tasty Easter basket treats. This year I came up with three, themed Easter Baskets you can recreate for your child with food allergies. A few of them include safe and vegan snacks they can enjoy while having fun this Spring. Make sure you watch the video interview below with the CBS 46 morning team to talk about these creative baskets.  Thank you to the brands and PR reps who submitted ideas for consideration in this story about Allergy-Safe Easter Basket Ideas.
Fun, Allergy-Safe Easter Basket Ideas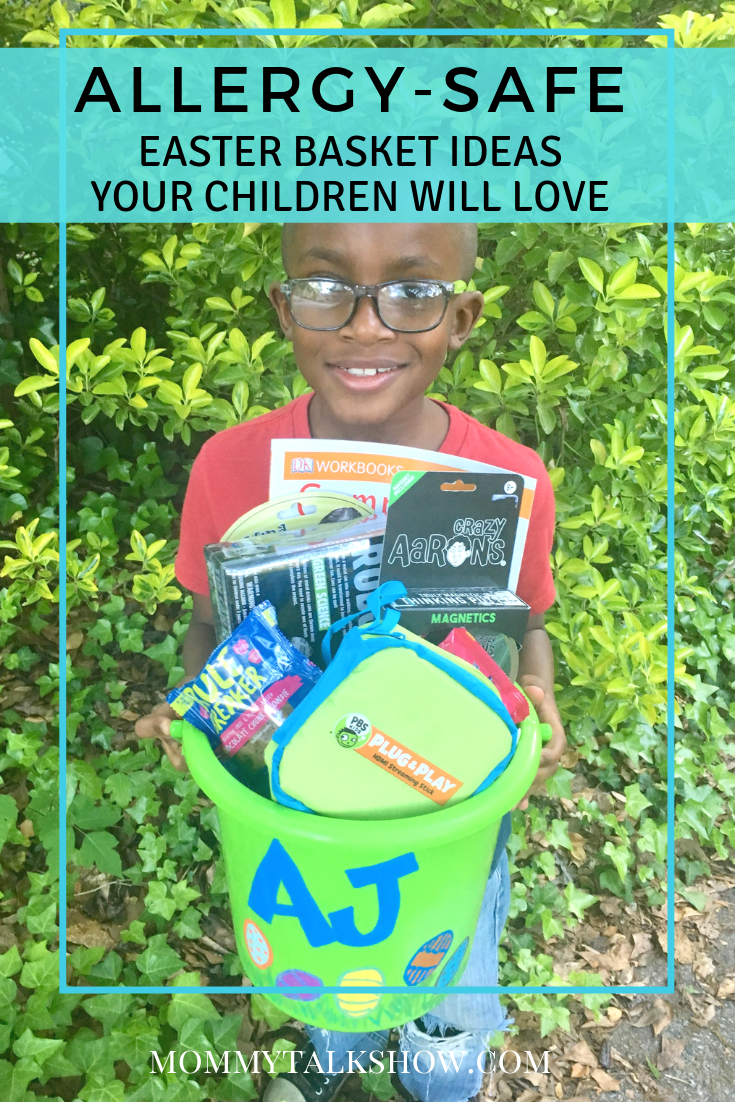 Movie-Lover Easter Basket Idea
When new summer movies hit the screen, we love to go check them out. Lazy summer days are the perfect time to pop in a DVD or stream an 80's movie on your favorite device. With these ideas, your child with allergies will be ready for all the new and old movies they'll love.
PBS Streaming Device: No subscriptions necessary to stream PBS shows on any device with an HDMI input.
Captain Marvel Doll: She rocked the box office this Spring. Carry her along with the action figures.
Star Wars Action Figures: The saga continues with brand new characters and throwbacks to the original ones who captivated our hearts.
Allergen-safe snack idea: Safe & Fair nut-free and gluten-free granola or chips; Pig-out Chips are infused with smoky bacon flavor without any of the animal products. They're vegan, low sodium.
STEM Easter Basket Idea
With the growing interest in Science Technology Engineering Mathematics (STEM), Easter is a wonderful time to re-energize your little one's interest.
Magnetic Slime
Spirograph
PBS Streaming Device
Pixel Kids Computer Glasses for safe use with computer screens to block out blue light. The Pixel Eyewear website says,  "The blue light emitted by screens reaches deeper into the eye and its cumulative effect can cause damage to the retina. Prolong exposure to blue light also causes symptoms of eyestrain, eye fatigue, migraines, and dry eyes."
Allergy-safe snack idea: Rule Breaker cookies are gluten-free, nut-free and made primarily of chickpeas, made in a dedicated allergen-free bakery.
Watch: Creative Easter Baskets on CBS 46

Pool & Beach Fun Easter Basket Idea
We can't wait for our friends and neighbors to invite us over to their pool this summer. To get everyone pool and beach-ready here are some.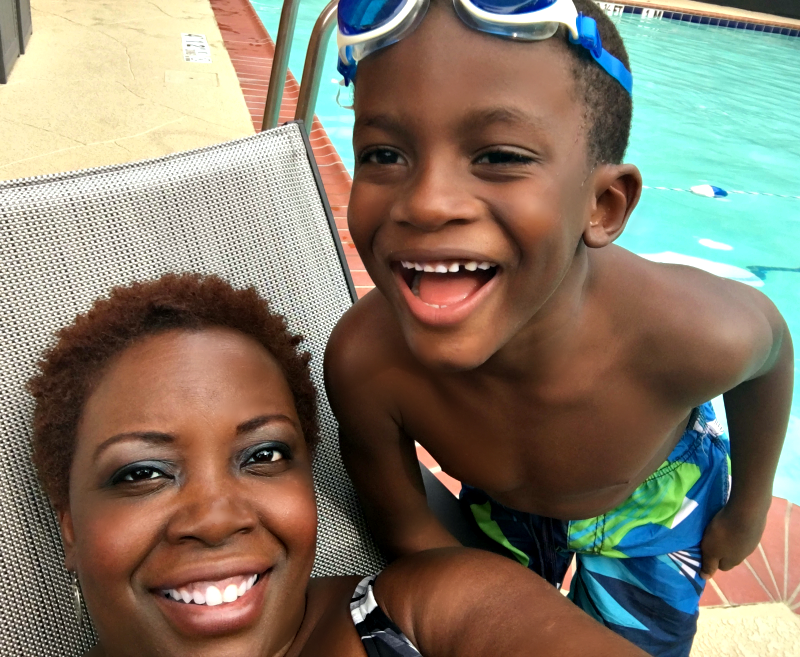 Sea Stars and Sparkle SPF50 Sunscreen: It has safe glitter!
Towels
Flip flops
Water bottles
Sunglasses
Skin Buzz Sunscreen: Bee-safe and Ocean-safe
Para Kito Mosquito Repellant Bands
Pool Candy Jelly Bean Super Pool Noodle
Click to tweet: Check out #allergy safe Easter Basket Ideas for pool & beach fun via @MommyTalkShow w/ @ParakitoUSA @WELoveSNG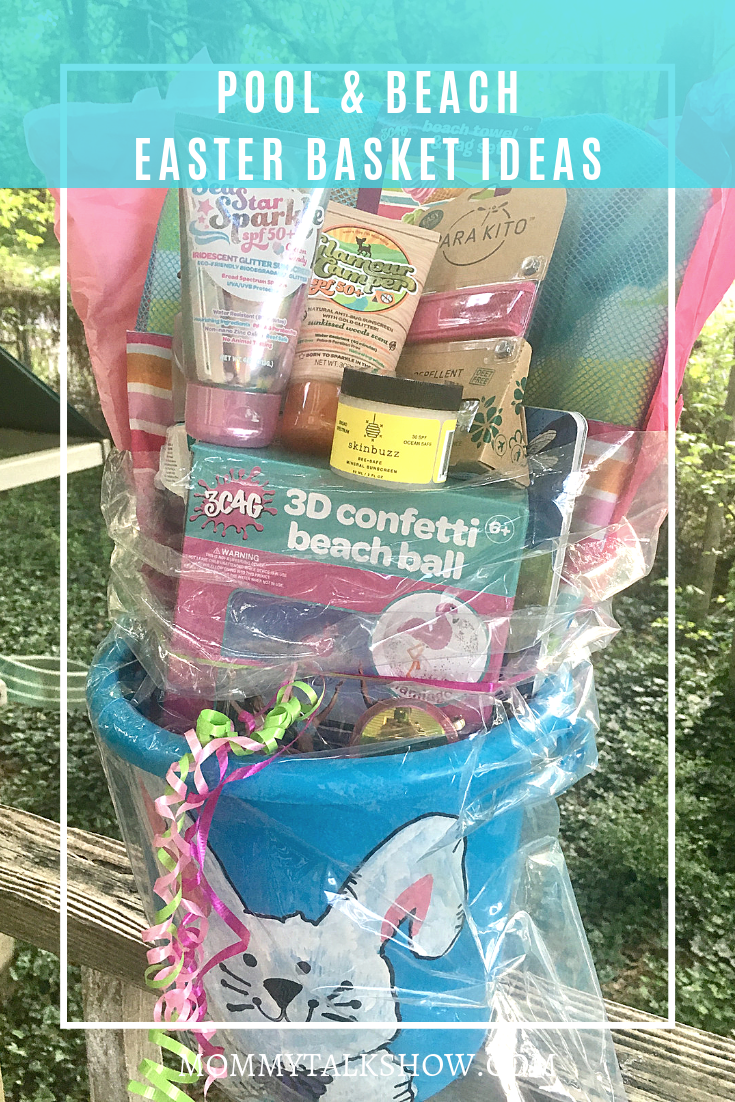 Atlanta Easter Basket Idea
Thanks to locally-owned  Learning Express Buckhead (4407 Roswell Rd NE, Atlanta. Call: 404-252-8881)
for providing A.J.'s STEM-themed basket. Select a colorful bucket, choose $25 in fun items to fill it, get it personalized for free. Here's how it works: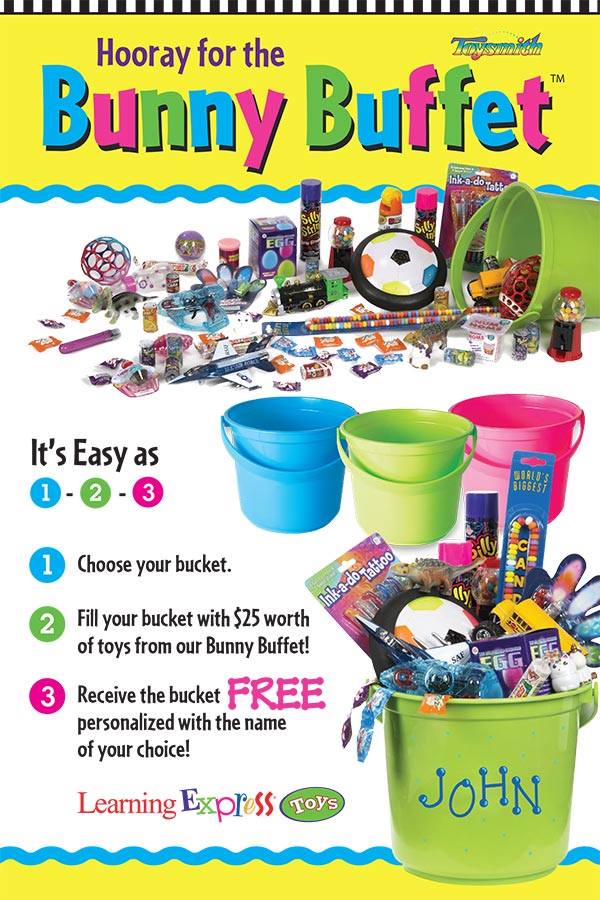 Talk back to me below: What would your children think of these creative Easter Basket Ideas? Do they look for fun items or food items inside their Easter Baskets?
RELATED TOPIC: No Cost Auvi-Q available at Walgreens