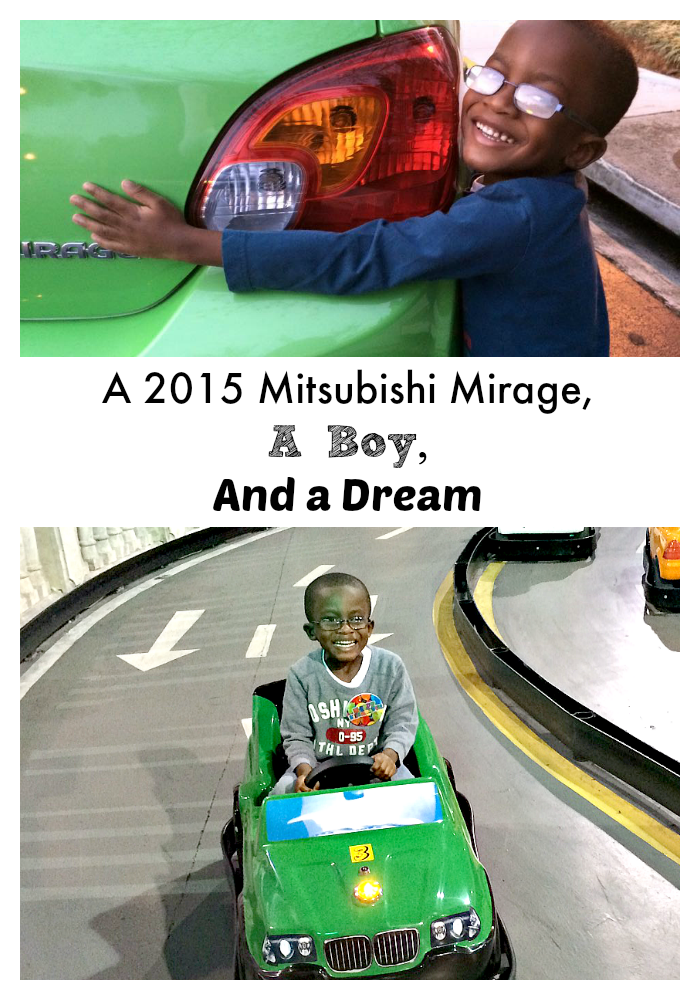 There's something about boys and cars. First, they play with toy versions. Then they upgrade to kid-sized ones. Finally, they want their own set of wheels. This month A.J. turned five and his love for cars has kicked in to high gear. Nothing could have prepared me for his obsession with the 2015 Mitsubishi Mirage we received to test drive for one week and share my honest opinions with you. It was incredibly compact and his favorite color, Kiwi Green.
When I picked A.J. up from pre-k, I could see the excitement in his face as he trotted down the sidewalk towards the Mitsubishi Mirage. He recognized his car pool number hanging on a tag from the rear mirror, yet I was not in my regular car. Throughout the week, we drove the fuel-efficient Mirage to a number of places. It was A.J.'s birthday week. So I used the hatchback area to transport the favors to his martial arts birthday party.  After the party, we had plenty of gifts to bring home. Most of them fit in the hatchback, but I also used the backseat.  The seats also folk for even more space once you remove the headrests.
After a few days, A.J. told "Momma, when I turn 16 I'm buying this exact car!" Eleven years is a long way to drive, so I obliged A.J.'s "need for speed" with a visit to Tiny Towne in Norcross. It has an indoor bumper car track for children as young as three. Since we went on A.J.'s birthday, the Mayor of Tiny Towne "deputized him and brought him along on a traffic stop. Hard to believe it, but people run stop signs inside Tiny Towne just like they do in the real world. A.J. and The Mayor issued a citation to the offender. Later I wondered why the Mayor was doing a police officer's duties. But in a kid-sized town, I guess you perform multiple duties.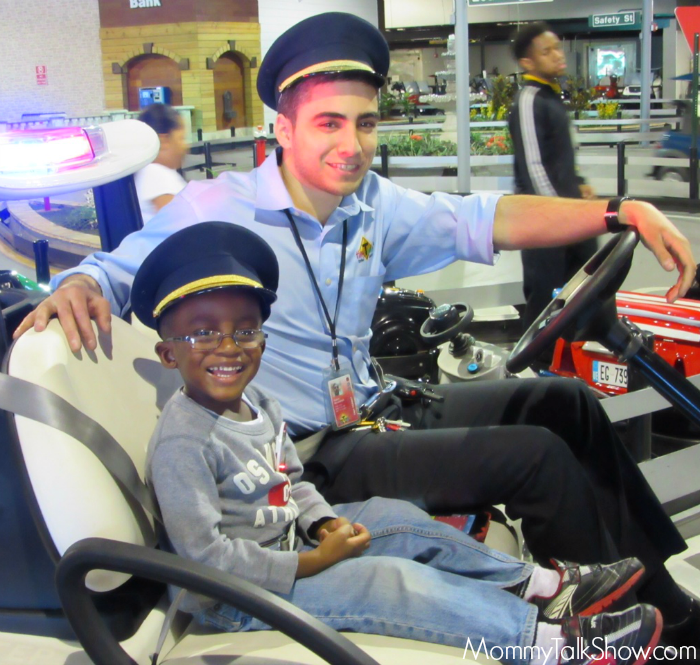 A.J.'s is anxious to turn 16. Last year, he started getting an allowance of $1 per week for his chores. I can't get him to spend one bit of it. He tells me he's saving for his first car. If you're in the market for something compact and sporty, check out my full video review.
Watch: 2015 Mitsubishi Mirage Review
The 2015 Mitsubishi Mirage we test drove features
– push-button start
– keyless entry
– front wheel drive
– 140 watt AM/FM/CD/MP3 Audio system with four speakers
– power windows and doors
– anti-lock brakes
– tire-pressure monitoring system
– LATCH child restraints
– child safety locks
The fuel-efficiency is by far the most attractive feature since it gets 37 MPG city and 44 MPG highway. For drivers with short commutes or a college student who just started their first job, this is the ideal car.
To learn more about the 2015 Mitsubishi Mirage and upcoming models, follow Mitsubishi USA on Facebook. Visit MitsubishiCars.com.
Comment below: Is there a car, make or model your children are drawn to? What's your favorite feature of the 2015 Mitsubishi Mirage?
Watch the rest of my videos featuring vehicles your family will love to talk about, including A.J.'s point of view.