This month's letter to A.J. focuses on what's been the biggest story of 2016: the U.S. Presidential Election. Our six-year-old is still coping emotionally with the idea that someone he considers "mean" is now the President of the United States. I created this Election Lesson to help him  feel more empowered about what he can do when he's old enough to go to the polls.
Your Election Lesson
Dear A.J.,
When you woke up Wednesday morning and I told you that Donald Trump won the presidential election, you were not happy.
Most adults I know weren't happy either.
So I created a lesson on the way the world works and how you can change it in the future. On the way home from school this week we had a chat about "Your Election Lesson" and I came up with 4R's to help us focus. The 4R's are:
Register
Research
Rally
Run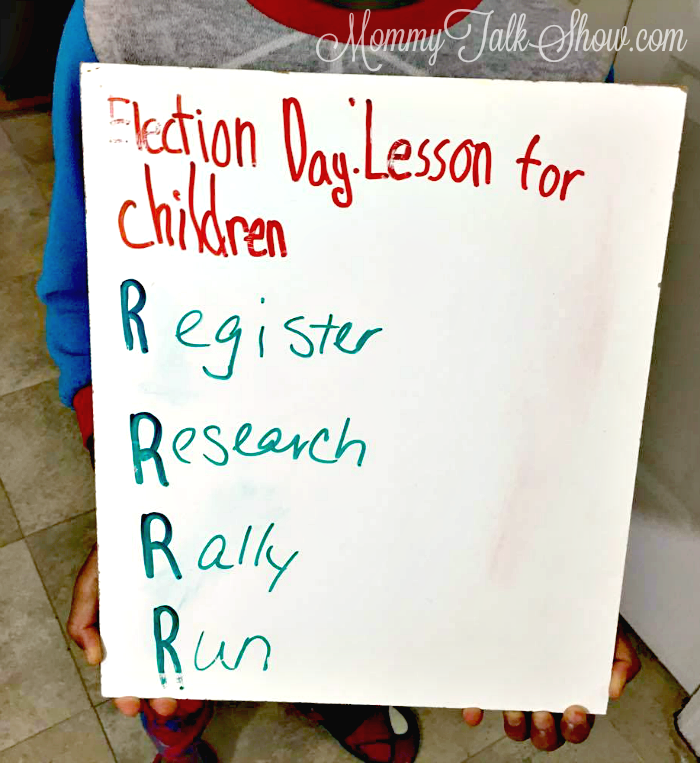 Let's step back and see how you can apply each of these when you turn 18 and a few of them even now at the age of six. I had you write each of them down on a dry erase board. It was a combination penmanship and politics lesson.
Register – When you turn 18 years old you can register to vote in all elections (local, state and national). We'll need your ID like a driver's license, birth certificate and social security card. Who knows? By 2028 you may be able to vote in a mobile or online.
Research – Look at a candidate's qualifications. Where do they stand on important issues? Have they ever held an office before? Were they fair and professional? What do others you respect say about this candidate? Explore the candidate's website. See who's donating to the candidate's campaign.
Rally – Once you've chosen your favorite candidate, attend their rallies and events. Listen to the candidate, meet them, see if you can volunteer and participate in the campaign. But if you decide to select a different candidate after getting to know them better, it's OK to change your mind.
Run – I believe one day you can run for office. You are brilliant. You believe in fairness. You're an excellent speaker. You like to work with others. Your family, classmates and friends respect you.
You said you'd like to run for Mayor of Atlanta one day. First, let's get more involved in county or city politics by working to solve problems. Once you have enough experience, you can pursue a larger office like Mayor.
I hope this lesson reminds you that elections are in your hands. You have the power to change things with your vote. I believe in you. You can change this world.
Love, Mama
In case you need a laugh, we shared a funny video about this election lesson on the Mommy Talk Show Facebook page.
I also recommended some of my favorite TV shows that have helped me escape from the election coverage.
LaShawn at Everyday Eyecandy inspired Letters to Our Children and wrote a November letter to her son.