As a work at home parent and former TV news anchor, I spend a lot of time watching TV. Usually it's not so bad because I watch a lot of morning talk shows. But lately the TV election coverage has been working my reserve nerve.  Nothing is positive from either side in this 2016 Presidential Election.
I'm over it.
I find myself wanting to turn off the TV a lot, which is more productive, but still. So I decided to share some of my favorite TV shows to watch and escape. Here are my suggestions on what you can watch the escape the election coverage.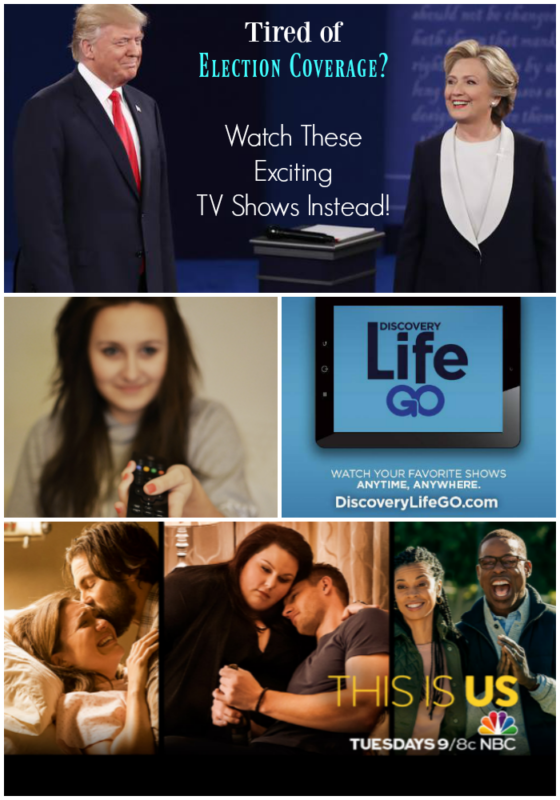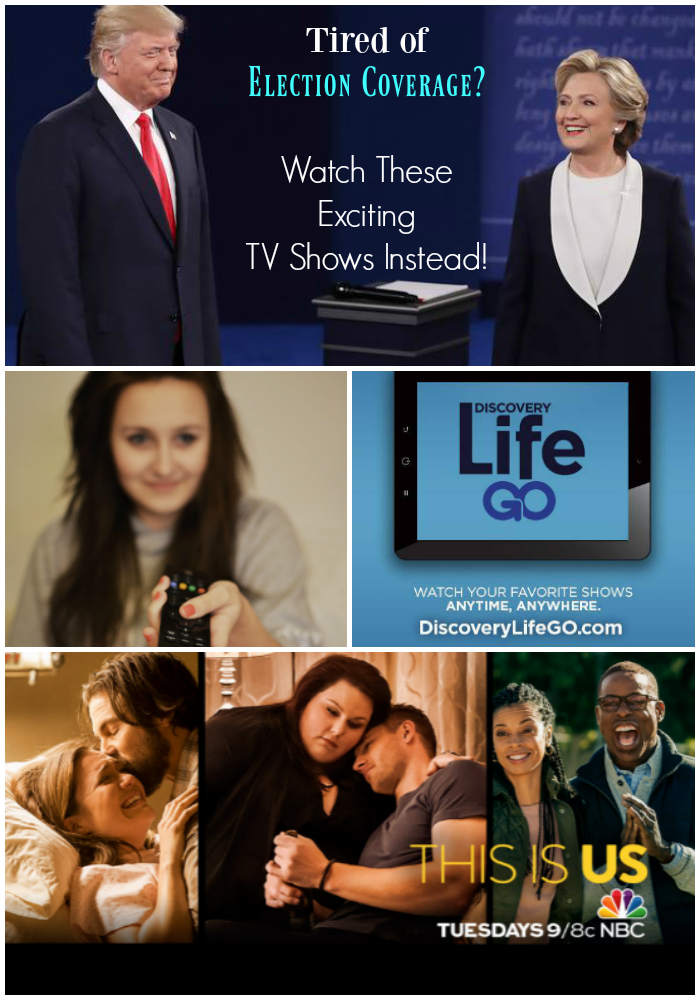 The Weather Channel
Anytime you turn on The Weather Channel, you learn something. In fact, I read something online about how the trusted weather source will remain election-free. Isn't that music to your ears? I'd rather learn about storms and funnel clouds any day vs. emails and sexual harassment.
This Is Us (NBC)
NBC has finally got my attention again with the family drama This Is Us. A lot of people compare it to Parenthood, Brothers and Sisters or Thirtysomething.
If you have NOT watched it yet: go to on demand or the NBC show and catch up. Have Kleenex handy. Get ready to cope with all your "daddy issues" because they're played out splendidly by the star dad, Milo Ventimiglia. I loved him in Heroes. Most people seemed to remember him from Gilmore Girls.
If you have watched it: It's probably your new favorite thing in the whole world. Tuesday nights you countdown to the show. You talk about Randall, Kate, Jack and William like they're your neighbors. I'm usually tweeting Tuesday nights as  @MommyTalkShow  if you ever want to join in the conversation or tag me there.
Sterling K. Brown who won an Emmy award for portraying Chris Darden in O.J. Simpson: American Crime Story, stands out every week. Mandy Moore and Ventimiglia round out the headliners.
TMZ
As a celebrity gossip enthusiast, TMZ is my escape. I put A.J. to bed promptly at 7:30 p.m. so I can watch the show and find out about all the ridiculousness that's going on in LA & NY. The videographers at TMZ usually camp out at restaurants and airports to ask celebs random questions and get the best answers.
In case you're new here, back in 2013 I took the TMZ bus tour where Van was our guide. I interviewed him about his favorite celebrity moms and created a fun video.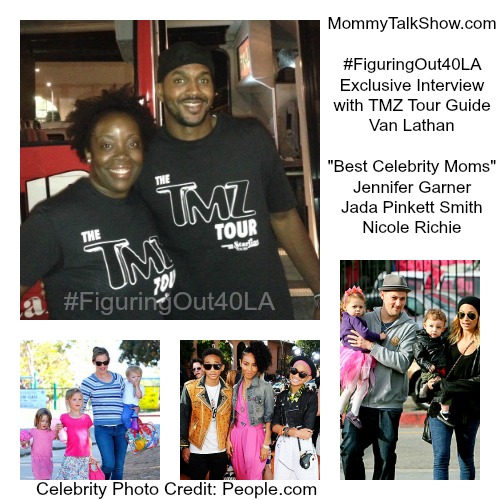 Grey's Anatomy (repeats)
The current season is working my "reserve nerve" because the story lines are not advancing. But you can catch the repeats on Lifetime or download them from your favorite app.  At least if you watch a repeat at least McDreamy and Mark Sloan will list be alive.
Kevin Can Wait (CBS)
I haven't watched this new CBS show, but my blogging buddy at Just2Sisters.com said Kevin Can Wait is a favorite Monday night must-see for her family.
Body Bizarre (Discover Life)
A.J. and I like and watch this every weekend. The Discovery Life channel features a group of people with weird body disorders. We're talking everything from Siamese twins, weird tumors and disorders. Most of them live in countries where doctors can't help them. But Discovery Life follows them as specialists perform life-saving surgeries. If you don't have cable, use the Discovery Life app to catch up the shows.
Between Grey's Anatomy and Body Bizarre, A.J. is confident he'd like to become a cardio-thoracic surgeon some day.
Law & Order
I've been a fan or Law & Order since it debuted in the 90's. Now I watch repeats on WE TV, TNT and anywhere I can find them. About six days a week, you can find a Law & Order repeat on round the clock.
I love the stories, the camaraderie between the detectives and seeing how NYC used to look years ago.
Mommy Talk Show on YouTube
Not to just blow my own horn, but I have some great information over on the Mommy Talk Show YouTube channel. For example, here's my video Celebrities with ADD & ADHD:
Comment below
: What do you watch when you're tired of election coverage? What TV show in your favorite?