The highlight of my #FiguringOut40LA trip to celebrate my birthday is this interview I snagged with Van Lathan from the TMZ staff on the best celebrity moms.  I took the TMZ bus tour around Hollywood where you see all the celebrity hot spots and "arrest" spots. I'm a huge fan of the Fox show TMZ and watch every night. Van does a great job and the show and he was so funny on the tour.
But without further ado, here's our interview (I apologize for the poor lighting):
Comment below:  Do you agree with Van? Who do you think are the best celebrity moms?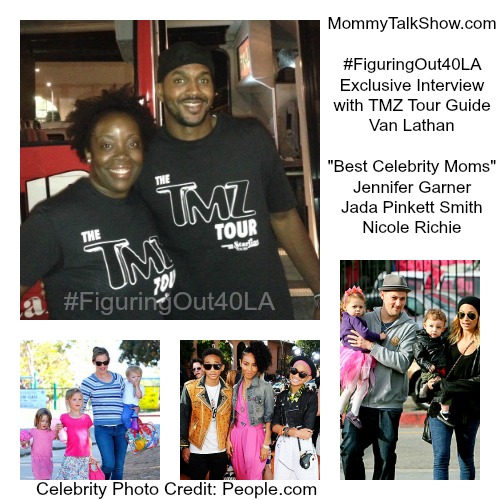 If you loved the interview with Van from TMZ about Best Celebrity Moms, use the social sharing tools below to like, share, tweet it or add it to a Pinterest board.
I shared several photos of my trip and the food I ate on the Mommy Talk Show Instagram feed.
Overall my trip was amazing with visits to see a Chelsea Lately live taping with a fill-in host, visit to The Grove in Los Angeles (where I missed a taping of the entertainment show, Extra!) and later this week I'll show you my "cameo" on E! when I stopped by a taping.
If you're headed to Los Angeles, besides the TMZ bus tour with celebrity sightings and run-ins with the law, I'd recommend the Starline CitySightseeing Hop-On Hop-Off bus tour.  There are a number of routes you can choose to see the sights around Los Angeles including suburbs and areas in the outskirts like Santa Monica. "Aboard an open-top double-decker CitySighteeing bus, visitors drink in the scenery while choosing to hop on and off at these famous places.  It's an historic tour of the city's culinary extravaganza and beautiful stargazing at the same time, without the hassles of driving or tipping the parking valet," according to Starline Tours. There are at least 20 restaurants on the tour line where you can hop off and catch a celebrity sighting.
My only regret about the Starline tour for the Hollywood line is we should have taken it earlier in the day so we could have gotten off walked around and picked up the bus later on routes. I would have spent more times in Beverly Hills. I last went there when I was 13 on a family trip, but I'd like to go back and treat myself to something from Rodeo Drive. Who knows? I may have run into Jennifer Garner, Jada Pinkett Smith or Nicole Richie there!