Pardon my rant, but I had a pretty insensitive comment this week that touched my nerve. But in true #NakedMoms fashion, I'm keeping it real. I still need  your help coping with the term "Working Mother."
Let's come up with a fairer term than "Working Mother" that reflects what stay at home, work from home and "stay at work moms" do.
Is the term Mother enough? Do we need to be categorized by what we do and how much time we spend inside or outside the home?
I also read a blog post from a pregnant woman explaining all the reasons why NO parent should stay at home and that income + stability surpassed any reasoning for one parent to stay at home.
Excuse me? She's still got a baby in her belly and has determined what type of mom she'll be?! You don't know until you know. What about special needs moms and dads who stay home? Hopefully, her child will be healthy enough NOT to need round-the-clock care from a parent.  If they do, she'll be eating her words.
It has not been easy to go from a regular salary with benefits to being a stay and home wife and mother. Ask my husband and he'll let out a long sigh. But if I went back to a TV job in Atlanta our lives would take some serious adjustments. I'd be reporting. Standing on the side of the road covering crashes and stand-offs. There is no set time for when work ends in TV news. During Hurricane Katrina, my TV station in MS stayed on the air for seven days straight with no commercials. During the snow and ice storms here in Atlanta, my husband spent several nights sleeping at work because the roads were so bad. Without grandparents and close family nearby, we are doing the best we can.
And if staying at home with our son, giving him an upbringing where his primary caretaker has a Master's Degree and an Emmy award is wrong…I don't want to be right. Our son is expressive, energetic, extremely verbal  and can read almost anything you put in front of him.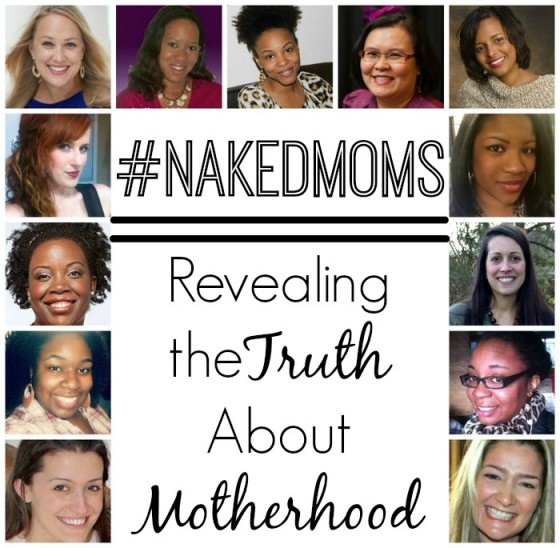 #NakedMoms
Read the rest of the #NakedMoms who take on reinvention and motherhood this month:
Motherhood and Reinvention by Stephanie at When Crazy Meets Exhaustion
After Motherhood, Any Other Reinvention Is No Big Deal by Jessica at A Parent In America
A Mother On The Cusp Of Reinvention by Thien-Kim at I'm Not The Nanny
Reinventing The Feel by Brandi at Mama Knows It All
Maybe It's Not Meant To Be by  Makeba at MelisaSource
Read my previous #Naked Moms posts: Motherhood & Media: Our Son Inspired My New Career,  I Loved You Before You Were Born and Motherhood: The Sacrifices You Need to Make and No One Tells You About.